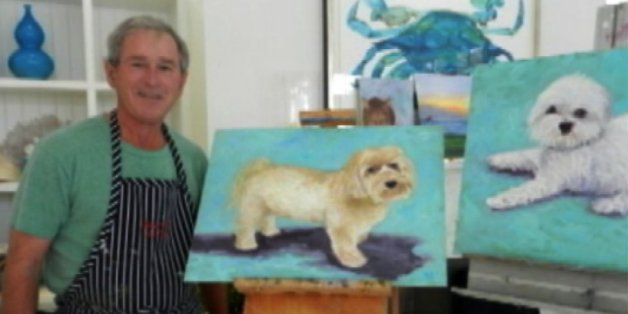 Former U.S. president and current watercolor enthusiast George W. Bush is back at the easel. "Finally!" shouted no one everyone who's been obsessed with Dubya's not-so-secret love of painting dogs, cats and bizarre self-portraits.
In a recent exit interview with the former director of Bush's public policy institute, James K. Glassman, president number 43 let it slip that he's planning a new painting series, turning his artistic eye from the world of furry, four-legged creatures to the more complex realm of political figures.
The New York Times reports:
After early self-portraits in the shower and then dozens of paintings of dogs and cats, Mr. Bush, it seems, has now moved on to world leaders. He told [Glassman] that he wanted to produce portraits of 19 foreign presidents and prime ministers he worked with during his time in the White House.
Bush has wowed us with his contemplative, personal-hygiene-themed works of art, first revealed to the world thanks to a hacker named Guccifer. But a series of political portraits of vintage statesmen? That's upping the ante quite considerably.
While we all mull over the idea that GWB is quickly becoming one of our favorite outsider artists (Men Who Have Once Commanded Our Nation's Military category), it can't hurt to venture a guess as to which international allies Bush will choose to paint. Behold, our 19 predictions for the upcoming series:
1. Vladimir Putin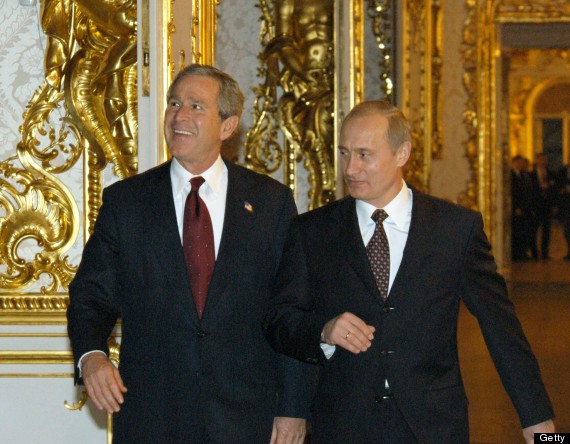 They both entered and exited office around the same time and enjoyed more than a few photo opps over the eight years they simultaneously served as heads of state. Plus, Vladimir Vladimirovich did recently wish Mr. Bush a speedy recovery after his heart surgery. Why not return the sentiment with a portrait?
2. Vicente Fox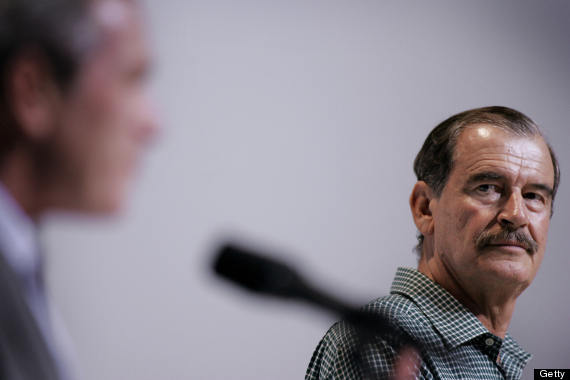 If Bush can get over Mr. Fox's claim that "windshield cowboy" Dubya is afraid of horses, we imagine the former Mexican president would make for an ideal ranch-side portrait.
3. Gordon Brown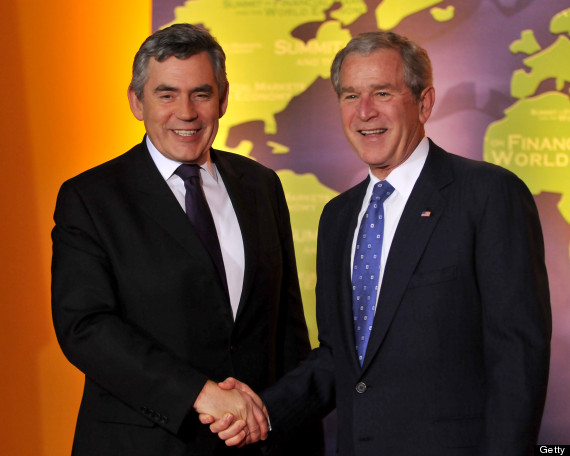 Brown and Bush shared an intimate moment when the latter surprised Britain's old PM with a "hip-hop style handshake" back in 2008. The next step in their friendship evolution: painted portrait, obviously.
4. Ariel Sharon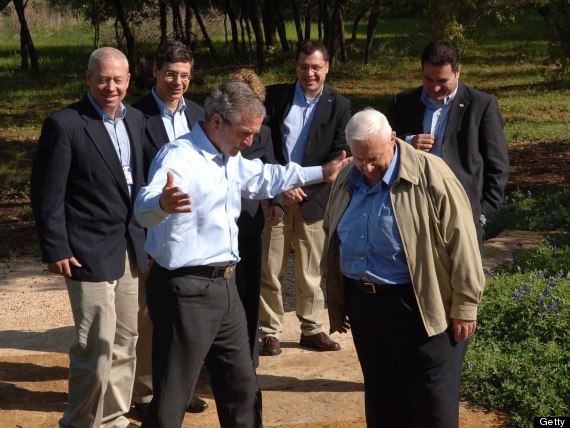 Bush and the former Prime Minister of Israel put in a lot of face time throughout the early 2000s, negotiating peace agreements and whatnot. Could a portrait be in their future?
5. Angela Merkel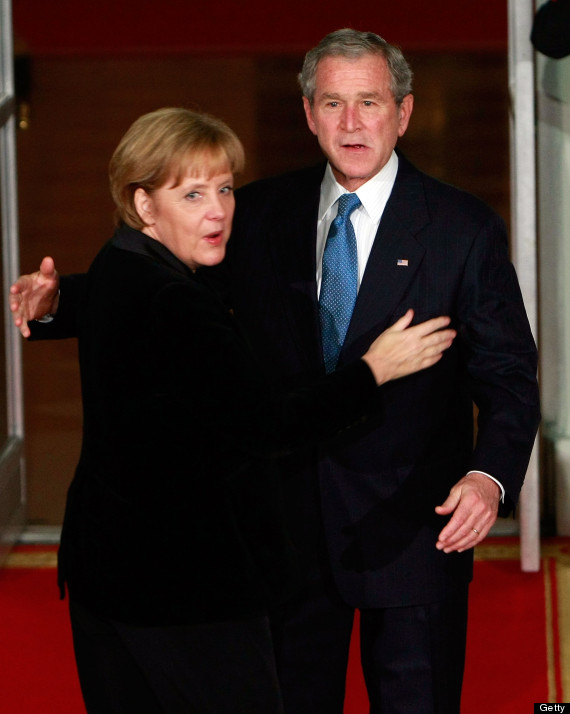 Remember that time Bush gave German Chancellor Merkel a neck massage?
6. Nicolas Sarkozy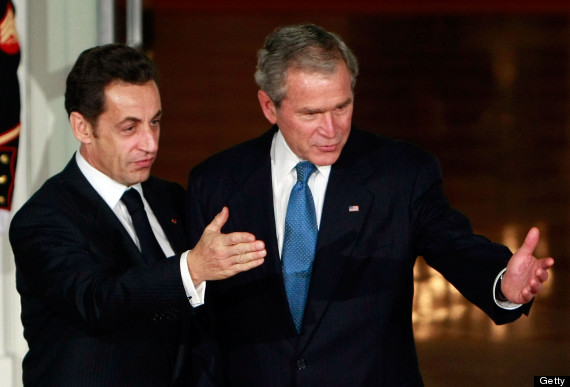 They were such good pals, Time wondered whether Bush and the former French president would start having "regular sleep-overs." Portrait worthy? Duh.
7. Silvio Berlusconi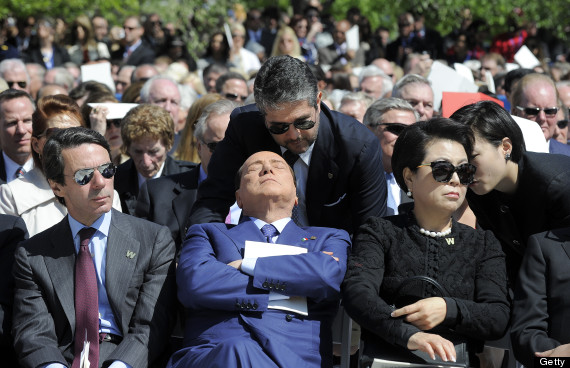 We would request that Bush's portrait of the former Italian prime minister focus on this illustrious moment.
8. Victor Yushchenko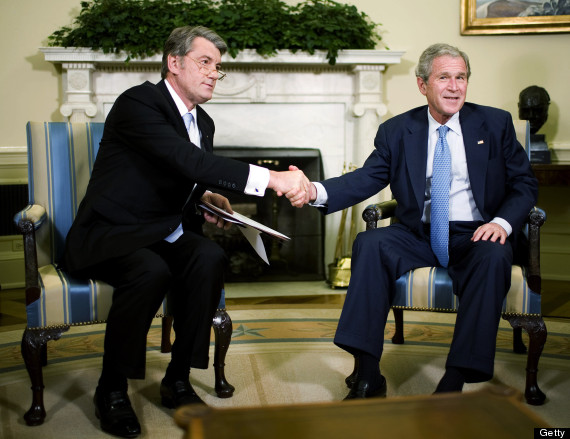 Bush gave the former Ukrainian president a public shout-out after the Orange Revolution. Perhaps, 43 could go satirical on this one, and give Yushchenko Yulia Tymoshenko-style braids?
9. Junichiro Koizumi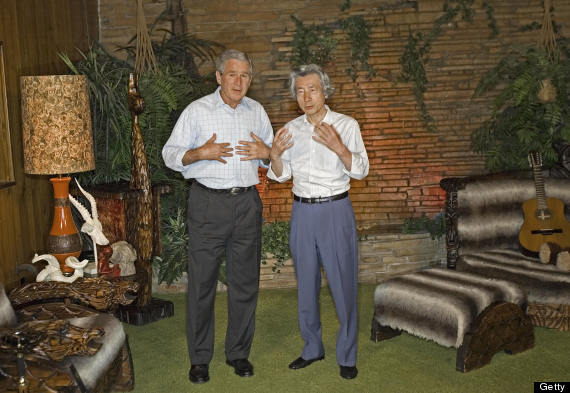 Come on, they toured Graceland together. That has to count for something.
10. Tony Blair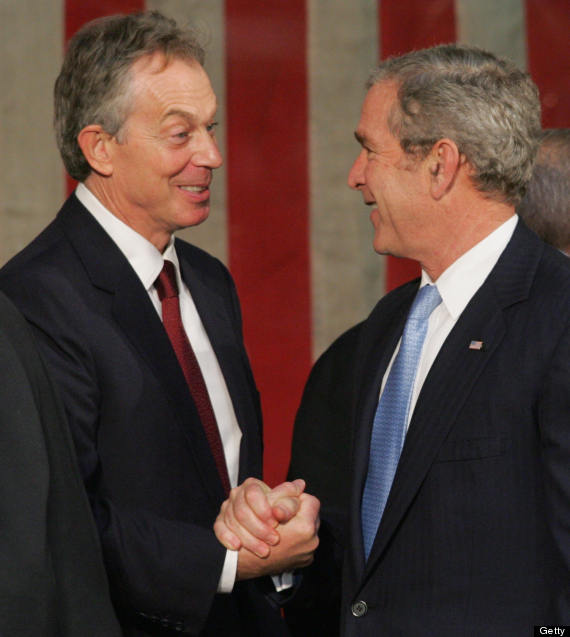 Bush's BFF-ship with the former British PM is hardly a secret.
11. Mahmud Abbas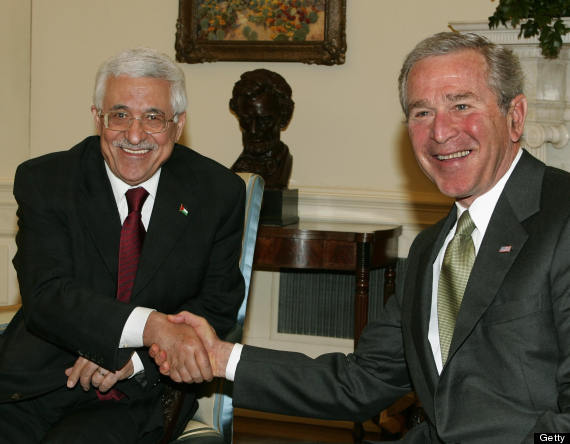 Bush probably wouldn't paint Yasser Arafat, but he had a significantly rosier relationship with Arafat's successor, Palestinian leader Mahmud Abbas. We vote yes for portrait.
12. Manmohan Singh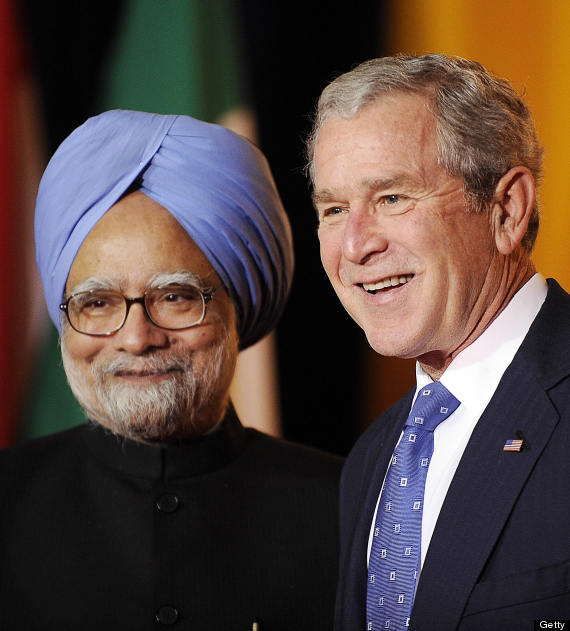 "I really like [Indian] Prime Minister Manmohan Singh. The Prime Minister is a wise leader." That's high praise, sir.
13. Ghazi Mashal Ajil al-Yawer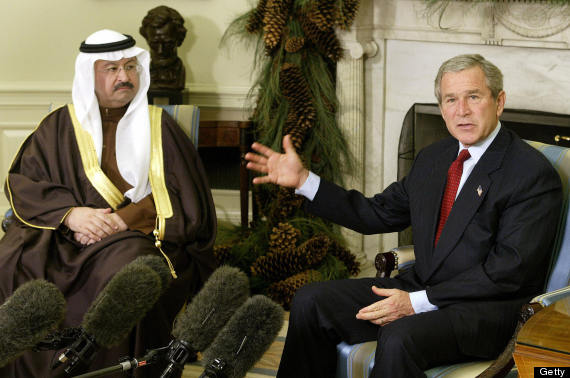 Can you imagine a shower portrait of the (largely ceremonial) former president of Iraq? We'd click on that.
14. Stephen Harper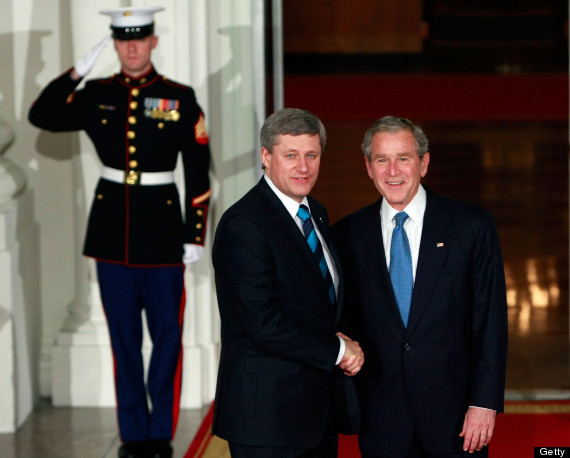 Bush and the Canadian prime minister were on a first-name basis... sort of. Steve's a shoe-in.
15. Hamid Karzai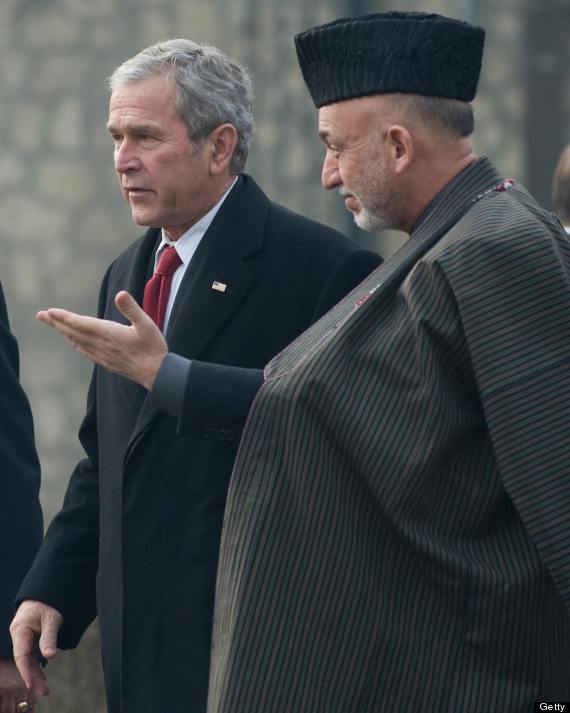 Not many global leaders yearn for the "Golden Years" of Bush's presidency, but the president of Afghanistan sure does.
16. King Abdullah II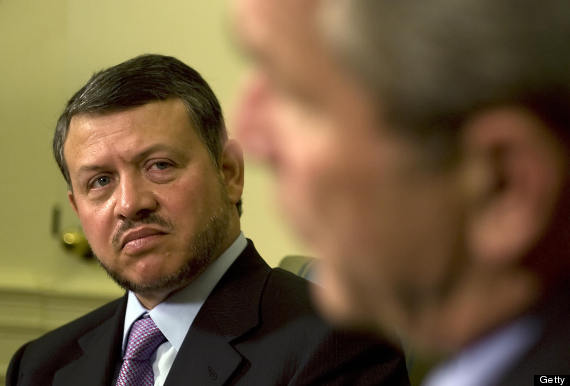 He's not a president or prime minister, but the king of Jordan did enjoy a few pro-democracy pep talks with Bush. And he always looked so happy about it.
17. Hosni Mubarak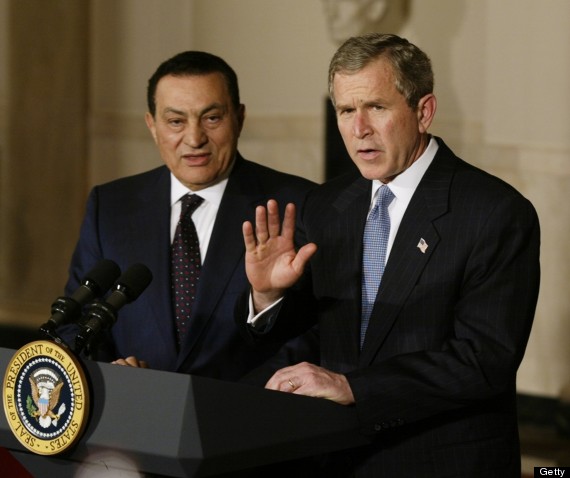 Despite the former Egyptian president's reputation as one of the villains of the Arab Spring, Bush has showered praise upon the politician many times before. Well, Bush knows where to find him -- house arrest.
18. Ellen Johnson Sirleaf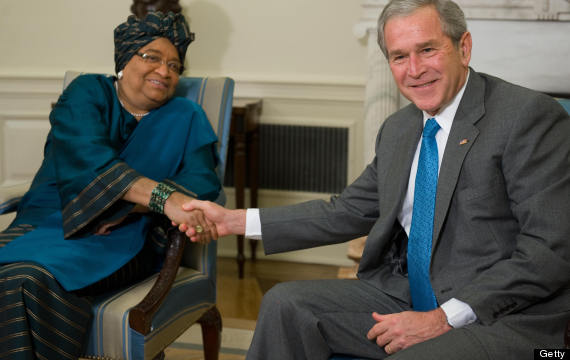 A portrait of the Liberian president seems plausible, and would likely be the best painting of the series.
19. Hu Jintao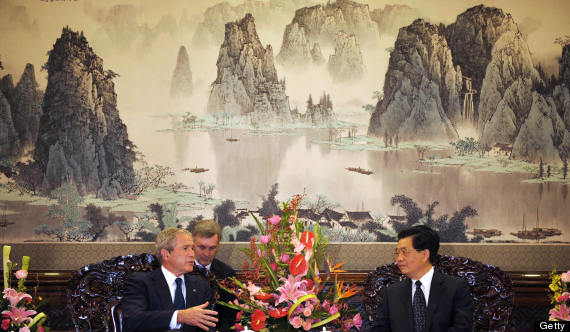 Ok, we're running out of world leaders who fancied Bush as president. Throwing a bone to the former Chinese leader.