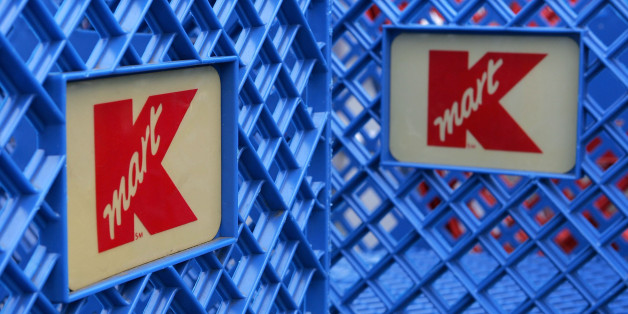 Kmart, a subsidiary of Sears Holdings Corporation, has decided to once again open its doors at 6 a.m. on Thursday -- that's Thanksgiving -- as part of "Black Friday."
Kmart did this last year too, but as Today Money notes, they at least had the decency to close for a couple hours on Thursday night. Not so this time -- because this time, we're getting 41 straight hours of shop-'til-you-drop Kmart fun!!!
The company announced the decision in a press release Monday. Sears, another subsidiary of Sears Holdings, will open on Thanksgiving at 8 p.m.
This trend toward earlier and earlier starting times for Black Friday, regarded as the biggest shopping day of the year, is infiltrating nearly all areas of the retail sector. Kohl's Department Stores, for example, last month joined the new tradition of celebrating Black Friday on Thursday, joining the likes of Walmart and Target, among others.
The latter two companies both inspired petitions against the practice last year after deciding to ask workers to come in on Thanksgiving.
Target last year claimed its workers looked forward to the opportunity to work on Black Friday. One worker offered a different perspective in an online letter to the company's CEO, Gregg Steinhafel:
I'm not complaining about being a minimum wage worker. Target, as a company, does some good and maintains a commitment to charity. Thanksgiving, though, is one of the three days retail workers get off a year, a day most spend with family. The issue is not black Friday, though it's not exactly this country's shining moment. Every year the opening time gets pushed up more and more. Midnight last year was pushing it. How can you expect workers to spend time with family and then stay up all night. It's inhumane and inconsiderate. You are most likely tucked away in bed while workers are in the stores pushing back a rabid crowd of shoppers trying to get an iPod. A 9pm opening disgusts me and symbolizes everything that is wrong with this country. Give Thanksgiving back to families. The world won't end if people have wait 7 more hours to buy useless junk that will be outdated in a year anyway.
BEFORE YOU GO
PHOTO GALLERY
Most Insane Black Friday Moments Caught On Video