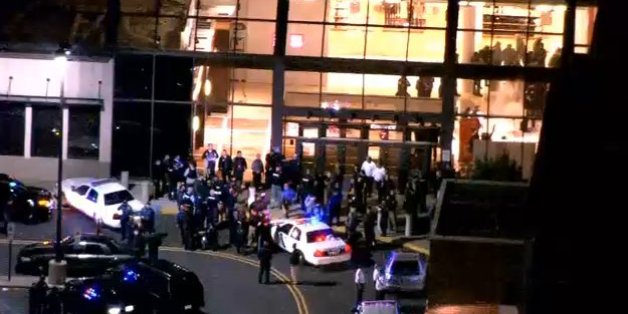 UPDATE: Richard Shoop, the suspected mall gunman, was found dead early Tuesday.
A lone gunman opened fire at the Westfield Garden State Plaza in Paramus, N.J., on Monday night, News 12 reported.
Witnesses on the scene said the shots were fired near the Nordstrom department store on the second level of the shopping mall just after 9 p.m.
Hundreds of police officers and SWAT team members responded to the incident, filling the mall's parking lot with cars, armored trucks and flashing lights. The mall was placed in lockdown for several hours as officers searched for the gunman and evacuated patrons and store employees.
Huge local and state police presence at Garden State Plaza Mall in Paramus, NJ where a man went on a shooting spree. pic.twitter.com/L9IzD7Nvnn

— Mentality Mag (@MentalityMag) November 5, 2013
By 11 p.m., authorities told MYFoxNY that it was no longer an active shooter situation.
Authorities believe the shooter left the mall, but his location is unknown.
The New York Daily News reported that the gunman was wearing some sort of body armor. Mall workers told Patch that the gunman had on black leather pants and jacket, a backpack and a motorcycle helmet with the visor opened.
Clarice Forbes, who works at Talbot's, told Patch that she saw the gunman walk by her, shooting a rifle into the air.
"It was very, very terrifying. Very scary," Forbes said.
Waiting for loved ones who work inside mall and are locked in. pic.twitter.com/2JyQMs9G7z

— Ida Siegal (@idasiegal4ny) November 5, 2013
Eddie Kahmann, who also works inside the mall, described a chaotic scene to CNN.
"There was just people running like crazy, so I quickly just closed my doors, ran to the back, turned off all the lights, music and everything, just to stay hidden," Kahmann said.
Paramus Mayor Richard LaBarbiera told MYFoxNY that only one shell casing was found inside the building.
At the time of this writing, there have been no reports of casualties.
At 1 a.m., Nordstrom took to Twitter to update the public about the shooting:
Everyone was safely released from our Garden State Plaza store. Our thoughts are with those still involved. We hope for a swift resolution.

— Nordstrom (@Nordstrom) November 5, 2013
The mall will remain closed on Tuesday.
MORE FROM THE ASSOCIATED PRESS
PARAMUS, N.J. (AP) — Multiple shots were fired inside a northern New Jersey mall shortly before closing time Monday night, and there are no reports of fatalities or injuries, a county official said.

Bergen County spokeswoman Jeanne Baratta told The Associated Press that a call went out that shots were had been fired at the Garden State Plaza Mall shortly before the facility's 9:30 p.m. closing time. She said authorities found one bullet casing.

Hundreds of law enforcement officers converged on a mall, which was put on lockdown. New Jersey State Police landed a helicopter in the parking lot of the 2.2-million square foot facility, one of the state's largest and most popular shopping malls.

Baratta said SWAT teams and police with K-9 units were going through the mall and working to evacuate anyone who is still in there. As of 11:30 p.m., authorities believed there were still people in the mall, she said.

Jessica Stigliano, 21, of Richfield, told the AP that she was sitting in the mall's food court when she saw people running and yelling "shots were fired."

Stigliano said she also began running. She said at the time she was thinking, "Not many people run for their life, but that's what I'm doing right now."

She did not see a shooter. "It was scary to think that you could be that close to something like that," Stigliano said.

A manager at Chili's at Garden State Plaza told the AP they were on lockdown and could not leave. She said a manager at Nordstrom ran over to use the phone saying there had been a shooting. She did not say if the Nordstrom manager witnessed it.

Althea Brown, 26, of Paterson told NorthJersey.com she was in a clothing store when she saw a man walk by and then heard three shots followed by two more. She said he appeared to be wearing body armor and was wearing a helmet with the visor pulled up.

Several frightened customers sent tweets saying they were escorted from the mall by armed state troopers. One woman wrote that she ran from the mall "screaming."

The mall is located in Bergen County, about 17 miles northwest of Manhattan.
BEFORE YOU GO
PHOTO GALLERY
10 Major Crimes That Shocked America (SLIDESHOW)