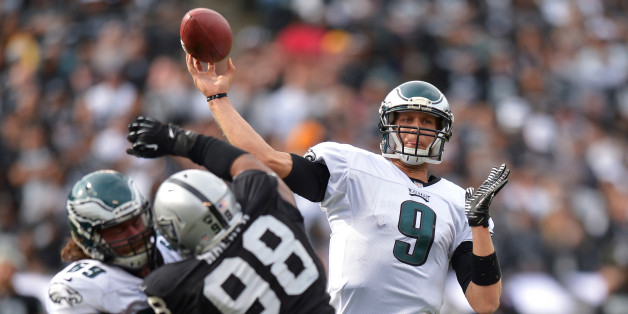 Eagles quarterback Nick Foles claims he wasn't keeping track of his touchdown passes as he shredded the Oakland Raiders' defense. It wasn't until he was taken out of the game in the fourth quarter that someone told him he tied an NFL record with seven TD passes in a game.
"You just try to stay steady because you want to keep going. No matter if you're doing good or bad or whatever, you just try to forget about the last play and keep grinding. I didn't want to lose my mentality that I started the game with, so I had no clue how many touchdowns I had thrown or anything," Foles said after Philadelphia's 49-20 win, per the team's official website. "Every time we got the ball, I was just trying to execute that play and see what they were doing."
When asked if he had ever had a performance like that at any level, Foles said, "only in a video game." So lets take a look at some of those video game-esque numbers.
Here are seven amazing stats and fun facts from Foles' record-tying game.
Foles threw more touchdown passes (seven) than incompletions (six) against Oakland. He went 22 for 28 for 406 yards and connected with seven different receivers.
Foles' seven touchdown passes equal the amount of TOTAL touchdown passes the Raiders have made as a team all season. Meanwhile, the Vikings only have 6 passing touchdowns and the Jaguars only have four.
Foles became only the third quarterback in NFL history to throw seven touchdowns in a road game, joining Chicago's Sid Luckman in 1943 and Philadelphia's Adrian Burk in 1954, per ESPN Stats & Info.He's also the third QB to throw seven touchdowns in a game without throwing an interception, via the team's official website.
Foles is the first player in NFL history to throw seven touchdown passes within the first three quarters of a game, per Elias Sports.
Foles was 8 of 10 on passes of at least 15 yards for four touchdowns and 5 of 6 for 49 yards and three touchdowns against blitzes, per ESPN Stats & Info.
Foles is the only quarterback this season to have a perfect passer rating in a game. He's also the second Eagles player to have a perfect rating since 1950 (Donovan McNabb in 2007).
Foles threw more touchdowns than he did in seven games last season. He had six TD passes going into the game. Now he has the same amount of TD passes as Tom Brady and Cam Newton. He has more TD passes than RG3, Eli Manning, Colin Kaerpnick, Joe Flacco and Andrew Luck.
BEFORE YOU GO
PHOTO GALLERY
PHOTOS: NFL Week 9