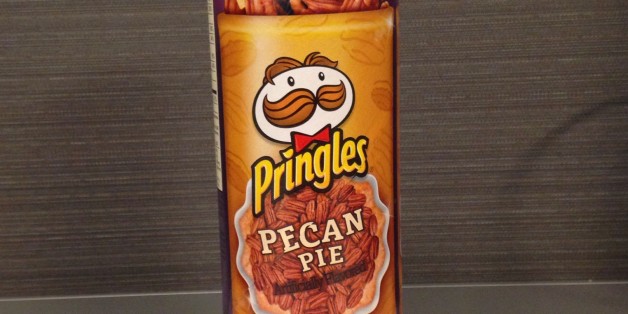 Last year's limited edition holiday Pringles flavors were kind of a mixed bag, here at HuffPost Taste HQ. While we found the Pumpkin Pie Spice flavor to be "surprisingly not revolting," we called the White Chocolate Peppermint flavor a "horrible abomination against humanity." So, when we heard that Pringles was releasing a Pecan Pie flavor this year, we started to feel a little nervous.
It was with serious trepidation that we popped the top on this tube of Pringles. We were met with the familiar Pringles smell with a hint of maple. The first bite was really rough, because the powder on these things is not shy about being sweet. But once we acclimated ourselves to how sugary they were going to be, these honestly weren't half bad. One of us thought they tasted like French toast. Another likened them to Waffle Crisp cereal. No one -- I mean no one -- said anything about them tasting like pecan pie.
We probably won't seek these out, but they definitely don't make us want to run away screaming and change our names and fingerprints like the White Chocolate Peppermint flavor did. Pringles, these aren't quite pecan pie potato chips, but they are oddly tasty. HOWEVER, we'd like to send a message to whoever is on this pie/hot chocolate/sugar-town trip in Pringles flavor development: make us some gravy flavored Pringles! How about green bean casserole? How about turkey? How about Christmas Ham?? Just ideas, but someone told you that dessert Pringles were a good idea and we think they might be out for your job.
Want to read more from HuffPost Taste? Follow us on Twitter, Facebook, Pinterest and Tumblr.
BEFORE YOU GO
PHOTO GALLERY
Recipes Using Potato Chips