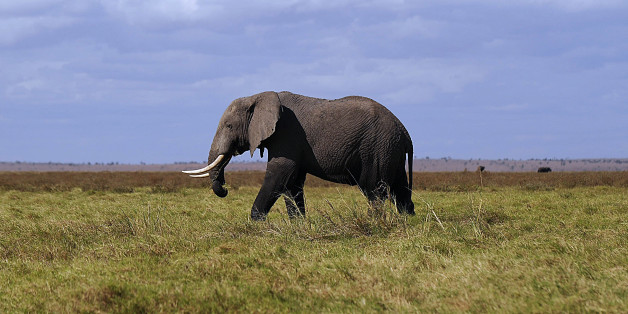 The government of one African country has reportedly suspended its campaign to crack down on elephant poaching.
According to the Agence France Presse, Tanzania shelved its anti-poaching operations on Friday in order to investigate reports of wrongful property seizure, torture and killings that were allegedly perpetrated by officials during the campaign, dubbed "Operation Terminate."
Natural Resources and Tourism Minister Khamis Kagasheki defended the program, arguing: "I admit that there is an ugly side in the operation," he said. "But what is happening now in arresting culprits and impounding tusks is part of the success of the operation."
Illegal ivory poaching is a big problem in Tanzania, a country that is estimated to have lost about half its elephant population to poachers in the last decade, primatologist Jane Goodall said last year.
However, the recent crackdown against elephant poaching has been swift and thorough. Tanzanian officials promised the country would use all the resources it had in combating poachers and said more than 950 poachers had been arrested in the past two months alone, Chinese news agency Xinhua reports.
As recently as Saturday, authorities seized nearly two tons of ivory from a house in the city of Dar es Salaam, an amount that represents the deaths of hundreds of elephants.
But the campaign has brought its share of controversy, too. Kagasheki was criticized after suggesting last month that ivory poachers be shot on the spot.
Some argue that's not the best way to deal with the matter.
"[Killing poachers] would lead to an escalation in violence; it's very difficult to control who is actually killing," Bell'Aube Houinato, the World Wildlife Fund's country director in Tanzania, told The Guardian. "There are law enforcement and judicial systems and they should be made more effective."
(hat tip, Reddit)
BEFORE YOU GO
PHOTO GALLERY
Elephant Overload