WASHINGTON -- On the eve of Virginia's election for governor, a handful of new surveys conducted over the weekend confirm the result shown by every public poll since July: Democratic nominee Terry McAuliffe appears poised to defeat Republican Attorney General Ken Cuccinelli.
If the polls prove to be collectively accurate, the only uncertainty appears to be the size of McAuliffe's margin.
A final poll from Quinnipiac University, conducted over the past week and released Monday, shows McAuliffe leading Cuccinelli by 6 percentage points, 46 percent to 40 percent, with libertarian Paul Sarvis at 8 percent.
Similarly, a final automated telephone poll from the Democratic-affiliated firm Public Policy Polling (PPP), gives McAuliffe a 7-point lead (50 to 43 percent) but shows Sarvis winning just 4 percent of the vote.
The race largely became a referendum on Cuccinelli, polling indicates -- one that he appears to have lost. Nearly a third of McAuliffe's supporters said they were voting for him because they disliked Cuccinelli, Quinnipiac found.
Voters did not view either main candidate favorably. But while McAuliffe's rating was narrowly negative, at 42 percent favorable to 45 percent unfavorable, Cuccinelli's numbers were far underwater. A 52 percent majority of voters, including 53 percent of independents and 54 percent of women, gave him an unfavorable rating.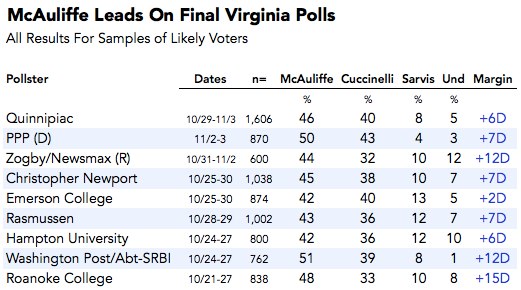 More polls from other organizations released over the last week have all shown McAuliffe leading, though by margins varying between 2 and 15 percentage points. In fact, McAuliffe has led on 38 consecutive public polls conducted since July and gathered by The Huffington Post. As of this writing, the HuffPost Pollster chart for the Virginia governor's race, which uses a poll tracking statistical model to combine the results from all available public polls, currently gives McAuliffe a lead of nearly 7 percentage points (45.2 to 38.3 percent) with Sarvis at 8.8 percent.
The outcome of the race for attorney general, between Democrat Mark Herring and Republican Mark Obenshain, remains much harder to predict. The final PPP poll gives Democrat Herring a 2-point edge (47 to 45 percent), but other polls released in the last week have produced different leaders, with results ranging from 6-point Obenshain advantage (Hampton University) to an 11-point Herring landslide (Roanoke College). The undecided percentage in the attorney general's race was high -- greater than 1 percent in three of the five recent polls -- suggesting the potential for late shifts in voter preference.
BEFORE YOU GO
PHOTO GALLERY
United States Governors