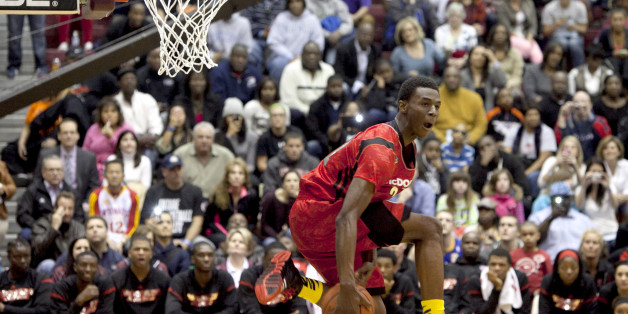 Kansas' rising freshman Andrew Wiggins is among college basketball's all-time most hyped players. But the 18-year-old Canadian is hardly the only freshman to watch for this season. Kentucky boasts a splendid quartet of baby-faced assassins, Duke has the consensus best U.S. player in Chicago product Jabari Parker, and the list goes on:
Fantastic Freshmen
Wiggins, Parker, Aaron Gordon, Julius Randle, the Harrison brothers -- 2013 has an overabundance of talented freshmen. Wiggins is the consensus top pick for the 2014 draft and has gotten most of the hype, billed as the next LeBron James. Gordon is headed to Arizona, where he should be a matchup nightmare with his ability to score from anywhere. Parker has a basketball acumen that most pros don't have, as well as sound fundamentals that will allow him to fit in perfectly at Duke. Randle is a 6-foot-9 inside-outside forward who can overpower smaller players and outpace other bigs. He is sensational in transition and could wind up being the best player of the bunch. His teammates Andrew and Aaron Harrison are both 6-foot-5 and can really score; of the two, Andrew is a true lead guard and a bit further along. Add shooting sensation James Young and Kentucky head coach John Calipari has assembled quite a quartet.
Smart Choice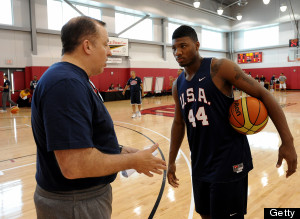 Oklahoma State's Marcus Smart, shown here with Chicago Bulls coach Tom Thibodeau, was one of two non-NBA players (Creighton's Doug McDermott) to attend Team USA's minicamp in July. (Getty Images)
Oklahoma State point guard Marcus Smart pulled a fast one when he elected to return to school for his sophomore season. After a terrific freshman campaign, Smart was a potential top-five pick in a rather light draft. This summer, the Texas native received an invitation to USA Basketball's July minicamp, making him the only non-NBA player to attend. Smart is not perfect: Last year he shot just 29 percent and posted a poor 21.1 percent turnover rate. But with his immense talent and physical skills (he's listed at 6-foot-4, 220 pounds), the Cowboys should be in good hands this year and the powerful Smart still rates a lottery draft pick.
Trouble In Austin
It has been a tumultuous run for sports figures in Austin, Texas. First, Lance Armstrong made his troubling disclosure, then Longhorns head football coach Mack Brown escaped a firestorm, and lately the school's basketball coach Rick Barnes has been under fire. Barnes' team went 16-18 last year and missed the NCAA Tournament for the first time in his 14-year tenure. Making matters worse is that last year's top three scorers are all now gone. Barnes is unlikely to emerge unscathed should the team have another subpar year.
New Man in Westwood
Former UCLA head coach Ben Howland wasn't exactly John Wooden, but he did lead the Bruins to three consecutive Final Fours during his decade-long run. Newly minted head man Steve Alford brings a slower pace and the four Mountain West titles won at New Mexico. But at UCLA, winning comes first, second and third -- and that means higher expectations than what Alford has previously done in the NCAA Tournament.
LA's Other Program
Andy Enfield, the new coach at USC, led Florida Gulf Coast to the Sweet 16. 'Nuff said.
Repeat? Louisville senior guard Russ Smith will be key to a Cards' repeat. (AP)
Louisville lost its catalyst in senior point guard Peyton Siva, but on the plus side it added junior college transfer Chris Jones, who can really score. Returning are the electric Russ Smith, along with forwards Chane Behanan and Montrezl Harrell, who seems poised for a breakout sophomore season. Playing behind first-round draft pick Gorgui Dieng, Harrell showed glimpses of production, averaging a healthy 5.7 points and 3.6 rebounds in 16 minutes per game. Coach Rick Pitino doesn't have the most talented team in the country, but another deep tournament run is a strong possibility.
"Big Least"
Gone are Syracuse and Pittsburgh, two stalwarts of the classic Big East program, along with defending national champion Louisville -- off to the ACC, which is known now as the American Conference. As a consequence, the Big East takes a considerable step backward, even with the emergence of St. John's and Marquette and the addition of Butler and Creighton.
Correction: A previous edition of this article incorrectly stated that Oklahoma State's Marcus Smart was the only non-NBA player to attend the Team USA minicamp in July. Creighton's Doug McDermott participated as well.
For more college basketball 2013, check out my top seniors, best mid-majors and premier returnees.
Email me at jordan.schultz@huffingtonpost.com or ask me questions about anything sports-related at @Schultz_Report. Also, be sure and catch my NBC Sports Radio show, Kup and Schultz, which airs Sunday mornings from 9-12 ET, right here.