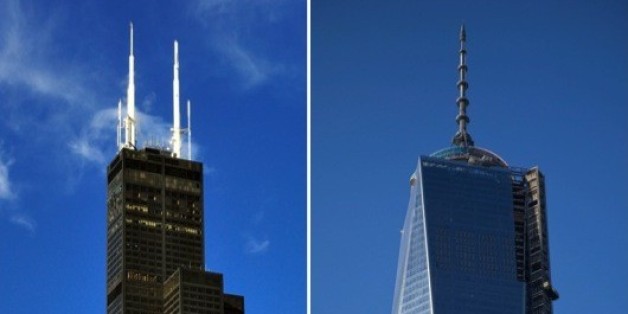 It's a tale of two towers.
One, a giant of the Midwest that stood as the nation's tallest building for 39 years; the other, a resurrection that stands in the place of two former heavyweights of height.
And officials can't agree which building is taller.
The call on whether One World Trade Center in New York City or the Sears Willis Tower in Chicago is the tallest building in America now hinges on a technicality.
According to the Tribune, the height committee of The Council on Tall Buildings and Urban Habitat is set to decide whether One World Trade Center's mast should be considered a spire or a broadcast antenna; if the council rules it a spire, that would put the skyscraper's official height about 325 feet taller than the Willis.
"We want to get the communication of that (discussion) and the decision of the committee correct," Antony Wood, the council's executive director, said Monday. The council was supposed to issue a ruling Friday but hit a delay; it did not disclose an exact date for the ruling.
As the Sun-Times notes, the Willis Tower stands 1,451 feet tall, from the pavement to roof. One World Trade Center, meanwhile, measures 1,368 feet tall from the same distance. WTC architects argue the spire is "an integral part of the building's architecture" which should factor in to the official overall height.
One World Trade Center was touted as the U.S.'s new tallest freestanding skyscraper this May.
Over the summer, the council came out against the current architectural trend of so-called "vanity height," or the distance between a skyscraper's "highest unoccupiable floor and its architectural top."
Chicago's skyscraper held that distinction since 1974 and was the tallest building in the world until it was surpassed by the Petronas Twin Towers in Kuala Lumpur, Malaysia in 1998.
Correction: An earlier version of this article stated One World Trade Center would be taller than the Willis Tower if the council ruled its mast was an antenna; it will be taller if the council decides the mast is a spire.
BEFORE YOU GO
PHOTO GALLERY
The 'Tallest' U.S. Buildings