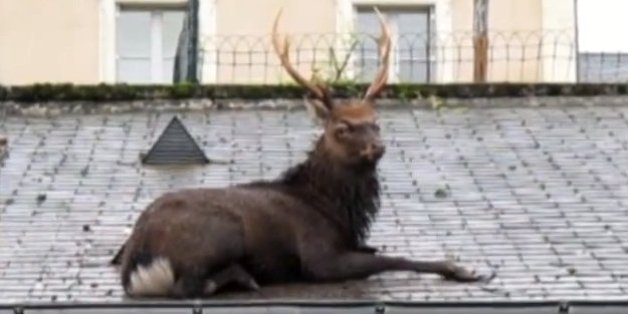 Christmas may drawing near, but in one French town, the winter holiday seems to have arrived early.
Residents of Verneuil-sur-Indre were baffled when they spotted a male deer stuck on a roof near the town center Monday night. The stag had somehow managed to climb onto the garage, where it became stranded.
According to local reports, authorities believe the deer may have made its way on to the roof from an adjacent garden and was unable to escape because of slippery roof tiles. (Flying must not have been an option.)
"He tried hard to turn back but slipped and was lying on the roof. We had to find a solution," the town's mayor, Philippe Bruneau, told French news channel BFMTV.
By Tuesday morning, a team of firefighters -- along with Bruneau and a member of a hunting federation -- launched a rescue mission to free the stranded stag.
However, removing the deer from the roof was not without difficultly. Since the town did not have any tranquilizers on hand, some improvisation was required, France Bleu reports. Using a long pole and a tarp to provide some solid footing, rescuers were able to gently nudge the deer just enough so that it could find its way down.
The stag, believed to be a sika deer, returned to the North Pole a nearby forest after the successful rescue.
Watch the rescue of the stranded deer in the video below.
BEFORE YOU GO
PHOTO GALLERY
Animals In The News