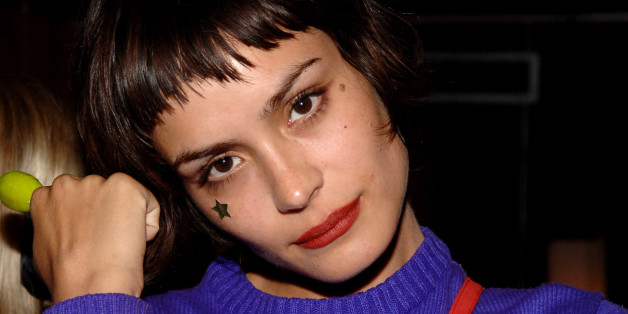 Attention men with insanely specific criteria for your "dream woman" -- please stop posting about it, especially on Craigslist.
One such dude took to the Missed Connections section of the Brooklyn site on Nov. 1 to ask the world whether his "Imaginary Girlfreind [sic]" exists. Sorry to break your heart, man, but probably not.
Here are eight of this 25-year-old gentleman's imaginary lady-friend requirements:
1. They've known each other for over a decade.
We have been going out in my head since I was 12. We have aged and grown together. You are my safe warm place. I daydream about your fictitious character when the world gets dark. I think about us watching a movie that changed both our lives or how we back each other up in conversations with other people.
2. She needs to be very tall and hip -- but NOT a hipster.
You are about 6 foot tall now. Short black hair with a bit of a fringe. Your skin is sallow. You dress well but you don't let ''hipster culture'' define anything you do.
3. She should be a creative photographer and musician with complementary alternative-rock tastes to her would-be lover's.
You like photography, and making music. You like Grouper, Health and japanese math-rock but you also have a long running teenage soft spot for the Goo Goo Dolls. Like my soft spot for Incubus. We both love to listen to Crack The Skye and just lie on my bed and talk and touch.
4. She must be friendly, warm, sensitive, strong, deep, innovative, trustworthy and OK with watching her boyfriend cry.
Your eyes are friendly, your character is warm, your sensitive but strong. You appreciate me as much as I appreciate you and I trust you to care for me. I trust you. You don't mind that I cry. You are infinitely deep and love to discuss the nature of the universe late into the night just as much as I do. You are an innovator.
5. If her man feels sad, she should be ready and waiting -- with a predetermined meal.
When I feel down, you make me salmon and water melon cuts with a glass of coke and we watch Lost In Translation for the millionth time. We like staying in. We like going out. We like cycling.
6. She must be willing to uproot her life and head off to Japan for the sake of art.
We plan to move to Japan someday and raise our kids in the suburbs of Tokyo. Art is not a hobby for us.
7. She should look like Shannyn Sossamon -- but not now, because now the actress is too old -- but think like a fictitious character Scarlett Johansson played in 2003.
Our sex is intimate and monogamy is our fetish. We love to explore each other and love to experiment. I am in love with your butt and sometimes you get jealous. A young Shannyn Sossamon with the mind of Charlotte from Lost In Translation and the musical aesthetic of noise rock.
(Side note: As Jezebel's Kate Dries pointed out, monogamy is really not a fetish.)
8. Her name needs to be Zoe.
And for some reason you like tall, bald, skinny dudes with large noses?!?!?! Your name is Zoe in my day and night dreams. It could be anything out here. Do you exist?
We're going to guess this Craigslist post won't deliver his manic pixie dream girl. A word of advice to this young man: You'll probably have better luck in the real world, simply meeting lots of people until you find someone you connect with. It'll be great -- even if her name isn't Zoe and she looks nothing like Shannyn Sossamon.
[H/T Jezebel]
BEFORE YOU GO
PHOTO GALLERY
Online Dating Fails