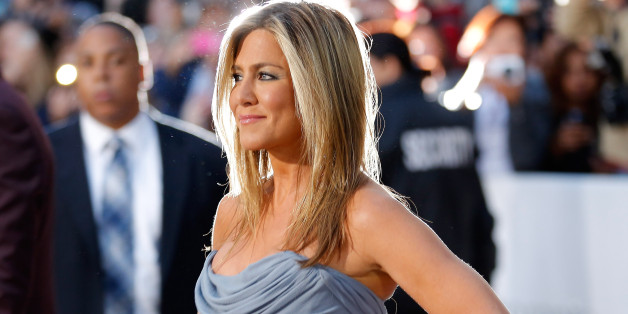 Jennifer Aniston's come a long way since "The Rachel," but she hasn't become too strategic when it comes to haircuts. In fact, she's surprisingly just like us when it comes to making big styling decisions.
Just this week, the actress chopped off more than six inches of her enviable hair, leaving many to wonder what went into such a major change. "It was kind of spur-of-the-moment," Aniston told Vogue about allowing hairstylist Chris McMillan to chop off her locks. The jaw-grazing length (see a pic below) might seem like a daunting choice for a woman known for her long, golden hair, but Aniston seems pretty chill about the matter:
"I feel great. I feel lighter. It's simple, it's really simple, that's for sure. But I'm always one of those girls who does a big old chop just to get it really healthy, to repair all the [damage from] hair coloring and stuff like that. And I just got bored, honestly. It's fun to change it up once in awhile."
Yeah, but we bet she said the same thing back when she got The Rachel. And look how that turned out.
It's cool, Jen, be spontaneous. But we're already missing your long locks.
PHOTO: (Photo courtesy of X17Online.com.)
See how we got here:
PHOTO GALLERY
The Many Hairstyles Of Jen Aniston
Want more? Be sure to check out HuffPost Style on Twitter, Facebook, Tumblr, Pinterest and Instagram at @HuffPostStyle.