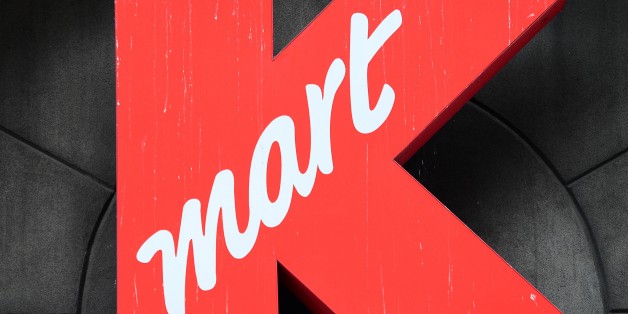 It's been less than 24 hours, but Kmart's decision to open at the ungodly hour of 6 a.m. on Thanksgiving Day is already eliciting online outrage.
Angry shoppers took to Facebook Monday and Tuesday to complain, with some declaring that the move would push them to stop shopping at Kmart during the holiday season. Here's just a smattering of the complaints.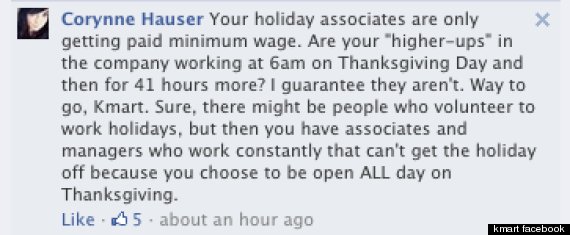 Kmart responded to some of the angry customers with a Facebook post of its own.

That wasn't enough to satisfy everyone though: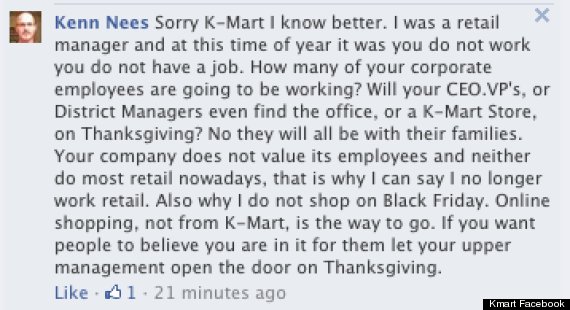 Based on the large number of retailers that are opening their doors on Thanksgiving Day, it seems extending Black Friday -- traditionally one of the most profitable periods of the year for retailers -- just may be too good of an opportunity to pass up.
This year the rush to get shoppers into stores is especially urgent this year, as a calendar quirk means the holiday shopping season is losing six days, according to a recent report from Adobe Digital Marketing.
But none, not even Sears, which is owned by the same parent company, are opening as early as Kmart. Officials decided to open the stores earlier this year after customer feedback indicated shoppers wanted more flexible shopping hours during the holiday, Kmart spokeswoman Shanelle Armstrong wrote in an email to The Huffington Post.
"Kmart has been a destination for early-bird shopping and last-minute entertaining needs on Thanksgiving Day for 22 years," she wrote. "We staff with teams & seasonal associates when possible, giving them the opportunity to make extra money during holiday."
Kmart probably knew the backlash was coming. After all, the retailers who decided to open on Thanksgiving last year dealt with quite a bit of backlash of their own.
Are you a Kmart employee working on Thanksgiving? We want to hear from you. E-mail jillian.berman@huffingtonpost.com.
BEFORE YOU GO
PHOTO GALLERY
Black Friday 2012