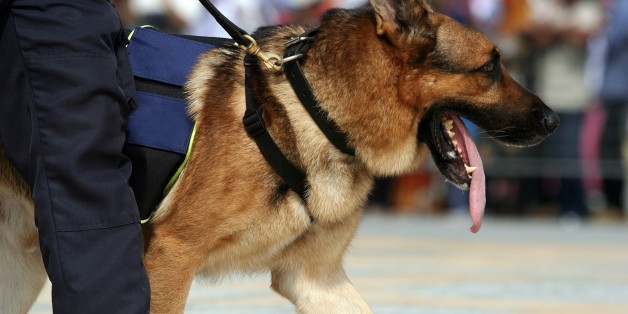 Canine heroes who help fight crime in the UK are finally getting the compensation they deserve.
Police dogs in Nottinghamshire, England, will now receive up to £1,500 ($2,394) -- £500 a year for three years -- for medical bills after retirement, the Telegraph reported.
The funding, which will begin next month, is being put in place to recognize the dogs for their "hardworking service tackling crime," according to BBC News.
"These dogs give willing and sterling service over the years in protecting the public," Police and Crime Commissioner Paddy Tipping told the BBC. "This will ensure continuing medical help once their work is done."
Twenty-six dogs currently work for Nottinghamshire's police force, according to the Nottingham Post. Typically, dogs become their handlers' pets after retirement, but sometimes, they're given to a new family.
"We look after the people who work for us who have been police officers and staff," Tipping told the paper. "They get a decent retirement and I think it's important the same is done for the dogs."
Organizations in the U.S. have been fighting for similar rights for both working and retired police dogs. In September 2012, a nonprofit called the National K-9 Working Dog, Inc., proposed its "Police K-9 Bill Of Rights," which would provide medical benefits for retired police dogs and ensure better protection for working dogs.
Several outlets also exist, such as Save-A-Vet.org, to help retired dogs find adoptive families.
H/T msnNOW
BEFORE YOU GO
PHOTO GALLERY
20 Moving Encounters Between Grown Men And Dogs