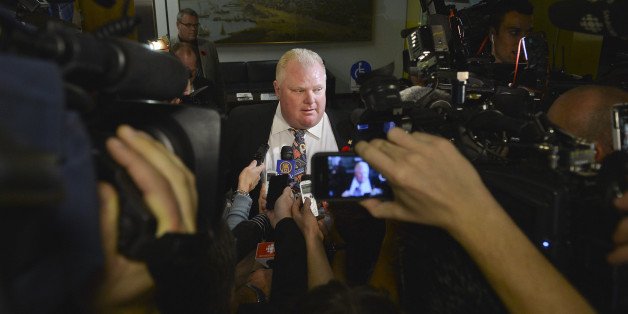 Toronto mayor Rob Ford finally admitted on Tuesday what everyone already knew was true: he's smoked crack before.
But it was this part that got us riled up.
"I wasn't lying. You didn't ask the correct questions," Ford explained to why the admission was so long in coming.
"You guys kept referring to alcohol," he told the media.
Yeah, that's crazy talk. Let's bring up just a few examples from the past two days!
Two seconds before Ford accused the media of not asking the right questions, as recounted by Gawker:
In an impromptu press conference at city hall, Ford invited reporters to repeat "a question you asked me back in May," after Gawker and the Toronto Star published reports that crack dealers were attempting to sell a video of the mayor smoking crack cocaine.

After a few confused seconds, one reporter piped up: "Do you smoke crack cocaine?"

"Exactly," Ford replied. "Yes, I have smoked crack cocaine."
A day earlier, as recounted by the Star:
Facing an unusual grilling from AM640 host John Oakley, the man who made him famous as a city councillor, Ford repeated his Sunday apology for public drunkenness and would not answer directly when Oakley asked twice if he has used crack.

"I'm not a drug addict," he responded. "I'm not an alcoholic."
The same day, in an interview with radio host Lorne Honickman:
Ford: I have to curb my drinking! There's no doubt about it.

Honickman: "I think they're calling it crack. They're not calling it alcohol when they're referring to drugs."
Moral of the story: Toronto's crack-smoking mayor was not telling the truth about the media's questioning of him. Shocker!