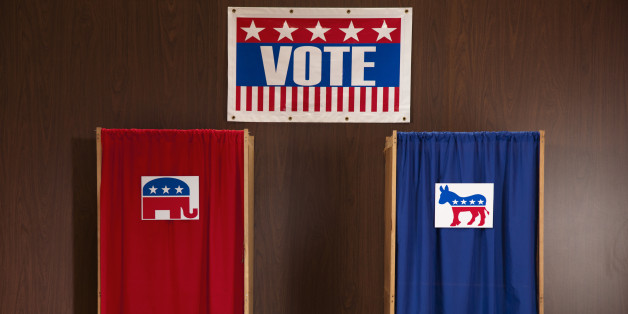 It's Election Day 2013! Who needs anecdotes? We have analysis of the early vote in Virginia plus guides to reading exit polls watching the returns. And don't miss the HuffPost Election Results scatterplots! This is HuffPollster for Tuesday, November 5, 2013.
EARLY VOTE IN VA FAVORS MCAULIFFE - GMU political scientist and election turnout guru Michael McDonald crunched the initial early voting statistics in Virginia: "Virginia early voting turnout data point in a similar direction as the polls that Democratic gubernatorial candidate Terry McAuliffe is doing substantially better than the Democratic ticket did four years ago....As of Election Day morning, the number of persons who voted in-person early, the preferred method for Democrats, rose from 53,042 in 2009 to 79,011, a 49% increase. Mail ballots, the preferred method for Republicans, rose from 50,259 ballots cast in 2009 to 61,395 ballots requested in 2013, a 22% increase...In localities where Obama defeated Romney, the total early vote counting in-person votes and mail ballot requests has increased 48%, while in localities where Romney defeated Obama, the increase is only 22%...Projecting the overall 36% increase in early voting to the 2 million overall turnout in 2009 suggests that overall turnout will be about 2.3 million (adjusting downward for an upward trend in early voting and factoring in that not all mail ballots will indeed be returned), or a voter registration turnout rate of 48%...Supporters of Republican Ken Cuccinelli have not been shy to say that they need Democrats to stay home if they are to win the Virginia governor's election. Nothing in the early vote data supports the notion that Democrats are going to stay home." [HuffPost]
McAuliffe campaign models show similar result - Nate Cohn: "The McAuliffe campaign goes further. According to the campaign, their models estimate that McAuliffe leads by 8,900 votes, or 7.7 points, among the 116,000 early votes counted through this morning. The campaign notes that their margin has widened further since yesterday. Altogether, the early voting data is highly consistent with the public polling, which shows McAuliffe ahead by about 7.2 percentage points." [New Republic]
In Boston, runoff draws higher mid-day turnout - MassINC Pollster Steve Koczela complies a spreadsheet of official mid-day turnout statistics and provides this report via Twitter: "3 PM turnout, 77,887 up 26% from 61,813 in prelim." [MassINC, @SKoczela]
WHERE TO WATCH THE RESULTS - HuffPost has live election results in Virginia, New Jersey, and a host of other races. For Virginia, we will once again provide an interactive map linked to a scatterplot showing county level comparisons of the live count to prior Virginia contests and demographics. Does the level of insurance coverage correlate with support for either candidate? The HuffPost results page will have the answer. And we may have an additional feature to debut before the night is out. [HuffPost]
If that's not enough... - David Wasserman of the Cook Political Report has published a spreadsheet showing prior percentages by county for past Virginia Democratic candidates Warner (2001), Kaine (2005) and Deeds (2009) and what Terry McAuliffe winning by a 7.5 margin (of the two-party vote) might look like. [Google Docs]
...here are yet more VA benchmarks - David Jarman of Daily Kos has put together target benchmarks for what McAuliffe needs to reach in all of Virginia's counties to reach 50 percent of the two party vote statewide. [DailyKos]
YES, THERE WILL BE EXIT POLLS - As confirmed last week by Joe Lenski of Edison Research, the company that has conducted exit polls for the five networks and AP since 2004, his company is conducting exit polls today in New Jersey, Virginia and New York City. Expect results to be published by AP, the five television networks, the New York Times, the Washington Post. [@JoeLenski]
What to look for - Scott Clement and Sean Sullivan suggest five things to look for in Virginia's exit poll including "how, and whether, Republicans vote," whether Robert Sarvis proves to be a spoiler and whether there are "lots of ticket-splitting McAuliffe-Obenshain voters." [WaPost]
Shot - Fox News polling director Dana Blanton: "Just voted at PS 9. All going smoothly. I was #33 at my machine. Disappointed no #exit poll at my site. Next time @JoeLenski? #nycvotes" [@DanaBlanton_nyc]
Chaser - Joe Lenski: ".@danablanton_nyc ...One can always dream of being exit polled. Just like winning the lottery. Maybe next time. #nycvotes" [@JoeLenski]
MORE ELECTION DAY COMMENTARY -
-Harry Enten offers up the most interesting aspects of Election 2013. [Guardian]
-Sean Trende is impressed that Chris Christie, "the most conservative politician elected to statewide office in New Jersey in the past 60 years," is poised to have the fourth best showing of any Republican in the state since World War II. [RCP]
-Nate Cohn thinks Christie could help the GOP in 2016, but may not be a model for the party [TNR]
-President Barack Obama, offers the quote of the day, after being asked about Tuesday's elections: "Never predict elections. That's a losing proposition - better to predict the World Series than elections." [Politico]
TWO TEXAS GOVERNOR POLLS, TWO DIFFERENT RESULTS - HuffPollster: "Texas state Sen. Wendy Davis (D-Fort Worth) is lagging 15 points behind Republican Greg Abbott in next year's race for Texas governor, according to a poll released Tuesday by the Democratic firm Public Policy Polling -- a significantly different result than a survey released Monday that found her just six points behind. The Tuesday poll finds Davis taking 35 percent of voters to Abbott's 50 percent, with 15 percent of the voters polled remaining undecided. In contrast, an online University of Texas/Texas Tribune poll released Monday found Davis at 34 percent and Abbott at 40 percent….The polls' different results stem at least in part from very different methodologies: the PPP poll used automated phone calls and drew its sample from a list of registered voters, while the UT/TT poll made use of an online panel. But both polls are still coming early in a race that, despite Davis' increasing prominence, has yet to capture much public attention." [HuffPost]
HUFFPOLLSTER VIA EMAIL! - You can receive this daily update every weekday via email! Just enter your email address in the box on the upper right corner of this page, and click "sign up." That's all there is to it (and you can unsubscribe anytime).
TUESDAY'S 'OUTLIERS' - Links to more news at the intersection of polling, politics and political data:
-Charlie Cook ponders whether the problems of Obamacare have limited the Democrats gains from the government shutdown. [National Journal]
-Gene Ulm (R) thinks Republicans will do best by standing down and letting the Democrats own anger over Obamacare. [POS]
-Kristen Soltis Anderson (R) sees doom for Obama in his declining favorable rating. [National Review ]
-Roll Call lists the 10 most vulnerable house incumbents. [Roll Call]
-PPP (D) releases new 2016 polling. [PPP]
-John Sides explains how numbers help explain the way voters judge the temperament of the candidates, and whether Romney lost in 2012 because voters didn't like him. [WaPost's Monkey Cage]
-Nate Silver hires "Numbers Guy" Carl Bialik. [@FiveThirtyEight]
-An Open Data Index shows how much data countries around share with their citizens. [Open Knowledge Foundation, via Flowing Data]