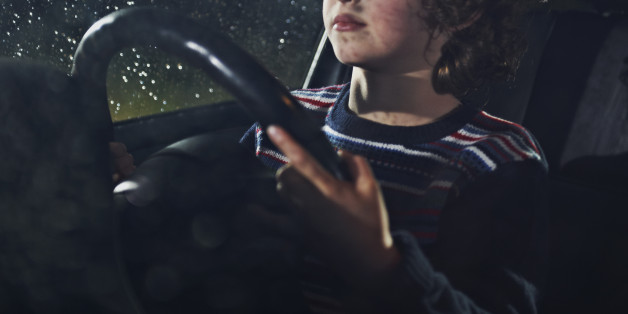 He likely has trouble seeing over the steering wheel, but that didn't stop this 9-year-old from going for a drive with a 5-year-old pal -- and, authorities say, he had his mom's permission.
The Livingston Daily Press & Argus reports that a 33-year-old woman in Green Oak Township, Mich. faces charges of allowing an unlicensed minor to drive a vehicle and contributing to the delinquency of a minor after she allegedly admitted to letting her son drive a car.
A witness called police after the boy told the bystander that he was "taking out garbage."
This isn't the first time a parent has let a child get behind the wheel. In 2011, Shawn Weimer of Romulus, Mich. was caught on tape letting his 9-year-old drive. He allegedly told a gas station attendant he was drunk and she was his designated driver. Weimer pleaded guilty to second-degree child abuse and allowing an unlicensed minor to operate a motor vehicle and received two years of probation.
"What did you stop me for? I was driving good," the girl reportedly said to an officer when she was pulled over around 3 a.m.
Just a few weeks later, Nathan Walter Sikkenga, a man from Gillette, Wyo., made a similarly poor decision when his family was visiting Orlando, Fla. He reportedly gave his 9-year-old son the keys and instructed him to drive. The child crashed their van into a security gate.
But some kids have been known to take a turn behind the wheel without the okay from their parents. In April, a 6-year-old from Lapeer, Mich. drove off while his dad was sleeping, according to the WJBK-TV. When he was stopped around 7:30 a.m., he told authorities he wanted to get some Chinese food.

BEFORE YOU GO
PHOTO GALLERY
Questionable Parenting