Angelica Galindez was diagnosed with alopecia when she was 12 years old. By the time she was in high school, she'd lost nearly all of her hair.
"The hard part was just looking at myself in the mirror," she recalled to KUTV. "It was very challenging. I cried a lot, I slept a lot, just to sleep away the pain."
But now, seven years later, the 19-year-old from San Francisco is the picture of confidence. She proved that on Saturday when she ditched her wig to compete in the Miss Philippines Earth USA beauty pageant and took home one of six victory crowns.
Story continues below.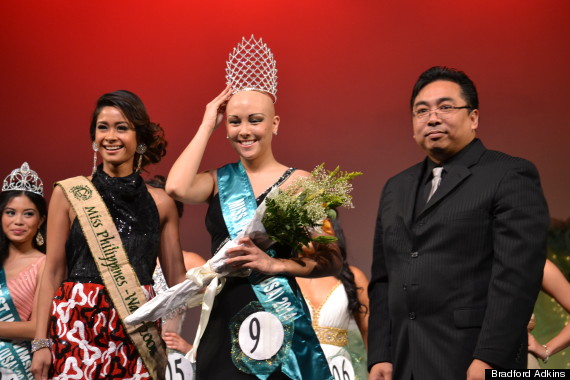 Galindez was accepted into the pageant based on a picture of her wearing a wig, according to a press release from Bradford Adkins, the event's producer. It was her first time entering a beauty pageant. But prior to competing, she had one question for organizers: "Can I not wear my wig?"
Fortunately, they said yes.
Galindez told ABS-CBN News that she joined the pageant because she wants to be an inspiration to other young girls, especially those affected by alopecia. It's the same reason she became a hair stylist in Salt Lake City, where she now lives.
"I wasn't into pageants. At first, I entered for myself, to boost my own self-esteem," she told The Huffington Post in an interview. "But it soon became more about spreading awareness about both alopecia and environmental issues, which I'm passionate about, too."
Please Support me as I am spreading the awareness of Alopecia #Alopecia #MPEUSA https://t.co/q6Af02EvZh pic.twitter.com/PoQ8bUKrkI

— Angelica Galindez (@Angelica12693) November 1, 2013
The 19-year-old will now move on to the pageant's national-level competition in April.
"It proved to me that beauty is in any shape or form. If you want to do something, go for it," she told HuffPost. "Every day will make me stronger."
The taped pageant will air on Sunday, November 17 on The Filipino Channel and The LifeStyle Network.
H/T The Daily Mail
BEFORE YOU GO
PHOTO GALLERY
Teen With Alopecia Wins Pageant