"Like" it or not, Facebook just made a big change.
Facebook announced changes to their "Share" and "Like" buttons on Wednesday, the first time the "Like" button has been redesigned since its introduction in 2010. (Full disclosure: The Huffington Post was a launch partner on the redesign.)
While the aesthetic switch may seem minor, consider just how ubiquitous these buttons are across the Internet. Collectively, they are seen more than 22 billion times a day on more than 7.5 million websites, helping Facebook's referral traffic top that of all other social networks combined, according to a Shareaholic report. The redesigned logos get rid of the signature Facebook thumb for a pronounced blue color palette and the "F" Facebook logo.
Take a look at the new Facebook "Like" and "Share" logos below.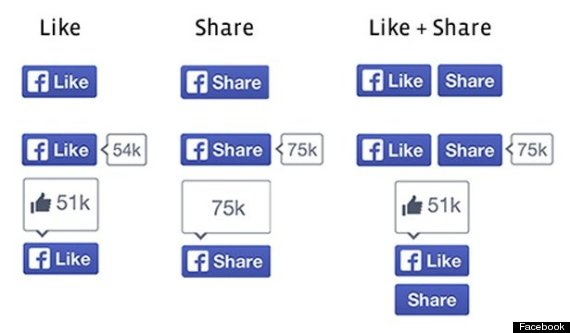 And here's the old version of the "Like" button for comparison.
"We're already seeing a favorable increase in Likes and Shares with the new design and will be rolling these buttons out to everyone in the coming weeks," wrote Ray C. He, a software engineer at Facebook. Ironically, the post on the new "Like" and "Share" buttons still features the old versions of both.
Facebook hopes websites will feel inclined to use both "Like" and "Share" buttons on their pages. After all, there is a difference between the two, which many don't realize. Using the "Like" button will instantly post the content to Facebook, while the "Share" button will allow you to add a comment to the content or place it in a more specific place, such as a group page you manage or in a private message.
BEFORE YOU GO
PHOTO GALLERY
9 Common Facebook Scams