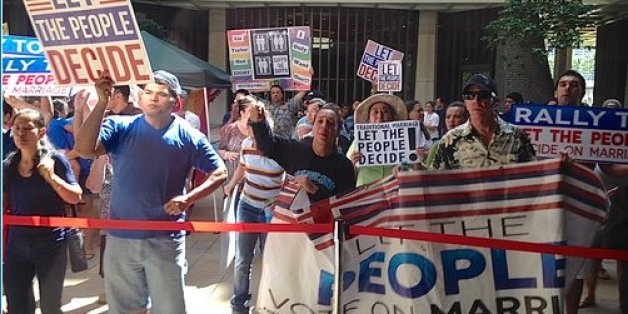 As passage of Hawaii's same-sex marriage bill grows ever closer and more likely, opposition groups are growing ever louder and more angry.
On Wednesday, it became nearly impossible for the Hawaii House of Representatives to conduct business. Dozens of protesters crowded the State Capitol Rotunda chanting 'Let the people vote' so loudly that the doors to the House chambers had to be closed so that representatives could hear themselves speak.
Thirty faith leaders who had scheduled a press conference to express their support of the bill were interrupted when the protesters moved to their location on the Capitol steps, continuing their chants.
Public safety officers moved in to closely monitor the situation.
Yesterday, two committees of the Hawaii House of Representatives voted to pass SB1, the bill that would make same-sex marriage in Hawaii legal, prompting members of the House to spend Wednesday reading the bill a second time, with a third reading scheduled for Friday at which point the full House will likely vote. The bill would then return to the Senate for a final vote next week and is expected to pass.
Hundreds of people formed a seeminly endless line in the Rotunda, hoping to be able to sit in on the House's reading of the bill.
While visually and acoustically chaotic today, the same-sex marriage debate had already turned ugly in Hawaii. A state representative received a death threat last month for supporting SB1, and the president of Hawaii's police union declared 'You would have to kill me' before he would enforce a law allowing same sex marriage.

BEFORE YOU GO
PHOTO GALLERY
Supreme Court Proposition 8 Case