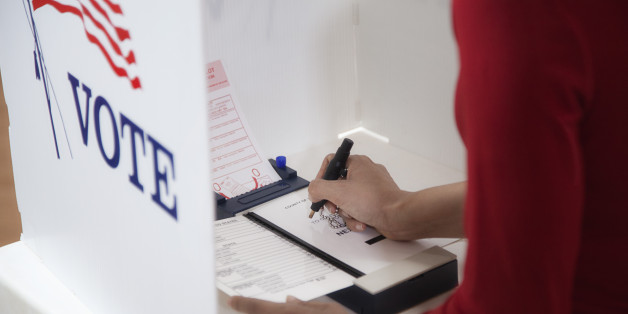 Remember this? "Don't be shocked if [McAuliffe's] margin is closer than expected." Told ya. We dig deeper into why the Virginia polls missed and talk to the campaign pollster that got it right. Plus, election 2013 takeaways. So many takeways. This is HuffPollster for Wednesday, November 6, 2013.
ABOUT THAT VIRGINIA POLLING MISS - The emerging narrative about the performance of polling in the Virginia election is one of surprise: "Everybody who works in politics thought this thing was going to be a blowout," said Republican strategist Steve Schmidt said on MSNBC Tuesday night. "How the heck did that happen?" asked Politico's James Hohmann. "Most public polls leading up to Election Day had Democrat Terry McAuliffe coasting to victory, some by double digits, in the Virginia governor's race. Instead he squeaked by, beating Republican Ken Cuccinelli by less than 3 percentage points." [Politico]
How big an error? - Collectively, the vote preference estimates of the final public polls were off. But while individual polls showed considerable variation, including a handful of surveys producing double digit McAuliffe leads, the collective polling miss was neither vast or without precedent. The final estimate of Pollster's poll tracking model, based on all public polls, gave Democrat Terry McAuliffe a 7.2 percentage point lead over Republican Ken Cuccinelli (45.3 percent to 38.1 percent) with Libertarian Robert Sarvis a 9.1 percent. As of this writing, the Associated Press vote count puts McAuliffe's lead at 2.5 percentage points (48.0 to 45.5 percent) with Sarvis at 6.6 percent. And provisional ballots and late absentee votes remain uncounted that could nudge McAuliffe's margin slightly higher (Obama's 2012 victory margin in Virginia grew from 3.0 percent to 3.9 percent between the day after the election and the certified count). [HuffPollster chart, election results]
How surprising? - In the last two off-year election cycles (2010 and 2006), polling averages were wrong by 4 percentage points on the margin in at least eight of 35 races decided by 10 points or less. So, as HuffPollster reported on Monday, there was a "reasonable possibility" of a much closer finish than the polling predicted. [HuffPollster]
The McAuliffe campaign was not surprised. Democratic pollster Geoff Garin, who conducted the campaigns polling, shared the following comments with reporters on Wednesday via email: "Our final poll on Thursday was 45% McAuliffe, 42% Cuccinelli, 5% Sarvis, so this outcome is pretty close to what we expected. The poll before that was plus 4 for McAuliffe. In fact, with the exception of the a bump up during the shutdown, Terry's lead from mid-summer on was always in the 2--4 range. I was confident that Terry would win, because his lead was consistent and stable throughout our polling. But this was always bound to be a close race, given the structure of the electorate. Our terrific Blue Labs analytics team, which conducted modeling calls on an ongoing basis, consistently modeled this as a 2-point race."
Why believe Garin? - HuffPollster spoke to Garin on the Friday before the election. In a conversation that he requested be kept off the record, Garin offered the same message: that their polling had consistently shown McAuliffe leading by 4 percentage points or less. Asked at the time, whether he would make an "over or under" bet on the 7 percent McAuliffe lead being shown by the polling averages, he was emphatic: "The under!" (Garin has subsequently given us permission to reveal details of that conversation).
Garin believes that the key to the accuracy of his surveys was their use of samples drawn from registered voter lists and the probability scores that Democrats have added to their lists that predict the partisanship of individual voters and their likelihood of voting. "The combination of vote history and modeled party scores have become essential to all of the survey work we do in politics," he explained to HuffPollster on Wednesday. "Given the other new challenges that are occurring with doing accurate polling in terms of compliance rates and the difficulty of finding people on cell phones, it really is at this stage hard to imagine accurate polling without us having the benefit of that information in drawing the sample and analyzing the data."
Why no miss on Attorney General? - Pollsters and politicos struggled with this puzzle about the Virginia race: Why did the same polls that exaggerated McAuliffe's lead come so close, collectively, in the race for Attorney General? The final Pollster poll tracking model estimate forecast a tie (at 43.7 percent each) for Republican Mark Obenshain and Democrat Mark Herring. As of this writing, the Associated Press found the race effetively deadlocked. [Pollster Virginia AG chart, election results]
Here are three theories:
1) The Sarvis Factor - Republican pollster Kristen Soltis considers whether "complications stemming from polling with a third-party candidate" for Governor led to a polling miss on that race but not Attorney General, a contest featuring just two candidates. "Quinnipiac asked respondents how likely they were to stick with the choice they'd just made. Cuccinelli and McAuliffe supporters said they were quite certain they'd stick with their man; only 2 percent of McAuliffe and 3 percent of Cuccinelli voters said there was a good chance they'd change their minds. Meanwhile, nearly one out of four Sarvis voters said they might change their minds.
The volatility of Sarvis voters seems to have added some uncertainty to the ballot test." [HuffPost]
Via Twitter, political scientist Drew Linzer explains further: "Setting aside undecideds, the VA Gov polling avgs had McA right; they overestimated Sarvis by 4, and underestimated Cucc by the same." So the theory goes, some expressed support for Sarvis on the polling but ultimately supported Cuccinelli. [@DrewLinzer]
2) Too many non-voters - This is the argument made by Garin and other proponents of voter list sampling who believe they do a better job than traditional polling in identifying the truly likely electorate. The public polls included many who do not vote in off-year elections who lean Democratic. Turnout in the Virginia election was just over 40 percent of registered voters. Yet on the Washington Post poll, the "likely voters" interviewed amounted to 72 percent of the registered voter sample. On the Christopher Newport University survey, the likely voter respondents were 88 percent of the registered voter sample. [WaPost, CNU]
One piece of evidence on this issue is the number of voters who described themselves as undecided on the various Virginia races. The final estimate of our poll tracking models showed showed nearly twice as many undecided about the race for Attorney General (12.6 percent) as the race for governor (7.6 percent). HuffPollster asked Dr. Quentin Kidd, the pollster behind the Christopher Newport University poll, for an additional crosstab on their final survey. Among all likely voters, their poll gave McAuliffe a seven percentage point lead (45 to 38 percent), the same margin as the overall average. But when we dropped the 15 percent who were undecided about the Attorney General's race from the likely voter pool, McAuliffe's lead drops to just four points (45 to 41 percent).
3) An Obamacare surge - That's the argument advanced by Cucinelli as reported by Politico's Hohmann: "Cuccinelli called the off-year election a referendum on Obamacare at every stop during the final days. 'Despite being outspent by an unprecedented $15 million, this race came down to the wire because of Obamacare,' Cuccinelli said in his concession speech Tuesday night." [Politico]
The argument rests on the notion that support for Cuccinelli increased in the campaign's final week, while support for Herring and Obenshain plateaued. But the public polling through October, a tracked by the Pollster chart, shows a relatively stable margin with no late break to Cuccinelli. And Democratic pollster Garin isn't buying it: "To the extent that there was any real movement in the last five days of the race, it was in the Herring race not in the gubernatorial race," he told HuffPollster on Wednesday, adding that his surveys showed Democrat Herring gaining.
Stay tuned tomorrow for part two of our election post-mortem with a little more on the polls in Boston.
MORE TAKES FROM THE EXIT POLLS
Results reflect 'a tale of two Republicans' - Gary Langer: "Broad personal and professional appeal lifted Chris Christie to easy re-election in New Jersey, yet without the clear home state endorsement for the presidency he might have wanted. His fellow Republican, Ken Cuccinelli, lost a far closer contest in Virginia, done in by a mismatch on ideology in general and abortion in particular. More than six in 10 New Jersey voters viewed Christie favorably overall and 64 percent approved of his handling of the state's economy – a remarkable achievement, in that six in 10 rated the economy negatively and just three in 10 said it'd improved since he took office....Other results marked a changing racial and ethnic makeup in Virginia: The share of the electorate that's white fell from 78 percent in 2009 to 72 percent this year – and nonwhites, overwhelmingly Democrats, voted for McAuliffe by a 65-point margin. The issue is a critical challenge for Republicans nationally, as shown by Mitt Romney in 2012, when he won whites by 20 points but lost the presidency nonetheless."
[ABC]
Women and unmarried voters carried the day for McAuliffe - HuffPollster: "Polls throughout the race found Cuccinelli, a tea party-backed social conservative, lagging among women. While final exit poll results weren't yet available, data late Tuesday showed McAuliffe leading Cuccinelli by 9 percentage points among women, 51 percent to 42 percent. Cuccinelli had a 3-point lead among men, 48 percent to 45 percent. The division along the lines of marital status was especially stark. Cuccinelli was ahead among married people of both genders, with a 6-point lead among married men and a 9-point lead among married women. But unmarried voters, especially women, preferred McAuliffe by wide margins. He beat Cuccinelli by 25 points among unmarried men and 42 points among unmarried women. Unmarried voters made up about a third of Tuesday's electorate, according to polls….Preliminary exit polls found that about 60 percent of Virginia voters think abortion should be legal in all or most cases." [HuffPost]
AND REACTIONS FROM TWITTER:
-Washington Post reporter Ben Pershing: "Last night was a good reminder why pollsters caution against reading too much into preliminary rounds of exit poll data. #vagov" [@benpershing]
-Political scientist Brendan Nyhan: "Beware exits MT @DanNewman2011: pundits get causation wrong. Voters decide who they support, then adopt msg (I like Obama & he's for change)" [@BrendanNyhan]
-Cook Political's Amy Walter: "VA electorate in '13 mirrored '12. Obama won VA +4- TMac won it by +3. Why the freak out about closeness?" [@amyewalter]
-Jessica Valenti: "McAuliffe's gender gap was thanks to black women (91%) - only 38% of white women voted for him http://t.co/l3D8CsfDvg h/t @Tara_CR" [@JessicaValenti]
-Political Scientist Kevin Collins (D): "Divining implications for future votes from nonsignificant diffs btwn '12 and '13 exit polls is political numerology not political science" [@kwcollins]
HOW MUCH DID THE SHUTDOWN HURT REPUBLICANS? - Peter J. Woolley and Dan Cassino: " Reminding Democratic voters of national Republican policy did not turn more Democrats against Christie, but it did make them more uncomfortable saying that they approve of him. Christie, a well-known quantity in the Garden State, was insulated from the negative effects that Congressional Republicans were having on the electorate, but other Republicans running without their own brand may not be so lucky. These findings are important for two reasons. First, they show how much damage the fight over the government shutdown may do to Republicans, not just in New Jersey but nationwide. If the shutdown fights continue - and there are indications that they will - Republicans will continue doing well among their base, but their base will be much smaller. Second, the results are a caution to pollsters everywhere: partisanship measures do get pushed around by the questions asked beforehand." [HuffPost]
HUFFPOLLSTER VIA EMAIL! - You can receive this daily update every weekday via email! Just enter your email address in the box on the upper right corner of this page, and click "sign up." That's all there is to it (and you can unsubscribe anytime).
WEDNESDAY'S 'OUTLIERS' - Links to more news at the intersection of polling, politics and political data:
-Sean Trende sees no evidence in the 2013 results of a wave building against either party. [RCP]
-Harry Enten says Christie's victory shows Latino's and young voters aren't wedded to Democrats. [Guardian]
-Christine Matthews (R) finds some surprises in yesterday's Virginia results. [Bellwether]
-John Sides' four takeaways on the 2013 results include cautionary notes for Democrats. [WaPost's Monkey Cage]
-Jason Linkins compiles 73(!) takeaways from the 2013 elections. [HuffPost]
-EPIC-MRA has a bad night in Detroit. [@DKElections]
-Uninsured Americans are increasingly interested in Obamacare. [Reuters]
-David Hill (R) argues pollsters are giving Obama a free pass by not asking about his "perceived motives and public demeanor." [The Hill]
-Mark Mellman (D) looks at the demographics of the Tea Party. [The Hill]
-More than a quarter of millennials admit to bumping into people because they text while walking. [Washington Examiner]
-How to make a terrible infographic. [SMBC]