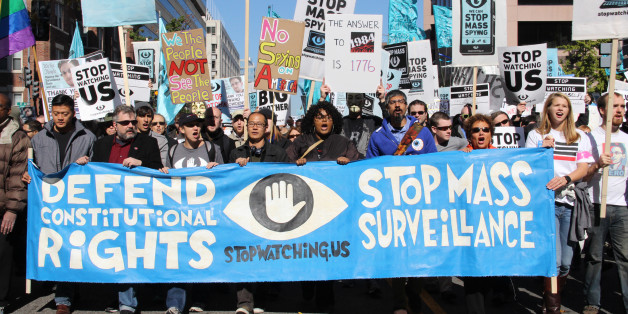 Four decades ago, a special Senate committee exposed what was then the worst of domestic surveillance abuses by the FBI, CIA and National Security Agency, from spying on left-wing counterculture groups to collecting every cable message entering the United States.
The Church Committee, named for Chairman Frank Church (D-Idaho), spawned headlines that still sound fresh today. One, from The New York Times in 1975, read: "National Security Agency Reported Eavesdropping On Most Private Cables; Pentagon Unit Is Said to Use Computers to Sort Out Intelligence Data From Messages; Legality Is Debated."
Sen. John McCain (R-Ariz.) last month called for a new Senate select committee to investigate the NSA. The Electronic Frontier Foundation, battling the Obama administration in court for more transparency around the NSA's actions, has called for a new Church Committee.
Now, a former senator who sat on that legendary committee and a former staff member -- members of a fraternity who see themselves as keepers of the flame in preventing government surveillance abuses -- have spoken to HuffPost about the idea.
"It does make sense," said Loch Johnson, who was Church's top staffer on the committee in 1975. "To quote Harry Truman, the government needs a house-cleaning every now and then." Church died in 1984.
Former Vice President Walter Mondale (D), who sat on the old Church Committee as a senator, said he also believes a new Church Committee is needed. Neither he nor Johnson seemed satisfied with the work of today's Senate and House intelligence committees, which are supposed to provide oversight to the spy agencies' classified work.
The revelations that the NSA had spied on German Chancellor Angela Merkel seemed to go one step too far for Senate Intelligence Committee chair Dianne Feinstein (D-Calif.). She has begun what she calls a "major review" of the NSA's operations. Before that revelation, Feinstein was one of the agency's staunchest defenders in Congress, asserting that activities like scooping up records of every American phone call are necessary to prevent terrorism.
"These committees are under tremendous pressure to work with the agencies," Mondale said at a Georgetown University event in September. "But the committee has a unique and different function, in addition to working with the agencies, to keep the Congress informed and, if necessary, the public … and I'm not comfortable that that part of the committee's work is being pursued."
Another Church Committee member -- former Sen. Gary Hart (D-Colo.) -- told HuffPost he did not think much of McCain's call for a new select committee.
"It seems to me that Senator McCain is in a way scoring political points here," Hart said. "He's poking the Senate Intelligence Committee in the eye.
"If established committees are not doing their job for whatever reason … you don't layer on top another committee, that is to compound the problems of congressional oversight," Hart said. Instead, he suggested reforms like "reconstituting" the committees with new members and imposing term limits on committee memberships to prevent so-called agency capture.
So far, said Trevor Timm of the Electronic Frontier Foundation, there has been little momentum in Congress for a new Church Committee.
"Unfortunately, we haven't seen much legislative movement," Timm wrote in an email to HuffPost. "Better late than never though, and it seems with each revelation more and more are calling for one."
Hart said he believes that instead of a new committee, it is time for President Barack Obama to rebuild the President's Intelligence Advisory Board, which is supposed to act as an independent advisory body within the White House. That board has just four members today, down from 14 in 2012.
Obama has set up a special review panel to look into the NSA revelations. But critics charge it is stocked with administration loyalists.
For Johnson, that panel's very existence is one more reason to set up a new Church Committee. It would "rivet attention" on NSA practices, and "when Obama's report comes out in December, be prepared to give that a complete scrubbing and critique."
What findings these various committees may come to is still very much uncertain. Months of revelations from former NSA contractor Edward Snowden's files have revealed startling surveillance activities by the NSA. So far, however, concrete examples of domestic surveillance abuses, like those exposed by the Church Committee, have not been forthcoming.
For Hart, comparing Snowden's leaks to the Church Committee's report is "apples and oranges." Hart and Mondale have added their names to an amicus court brief in the American Civil Liberties Union's federal lawsuit against the NSA calling for an end to the bulk collection of American phone call records. But nobody should be surprised, Hart said, that the NSA spies on wireless communications or foreigners.
Johnson, meanwhile, said he just doesn't know -- yet.
"Right know, I'm not sure we know exactly how serious this is, because so much of it is still shrouded in ambiguities and different points of view," Johnson said. "There's a lot to be done here, but it's all within the bailiwick of apparent abuses or overreaches."
BEFORE YOU GO
PHOTO GALLERY
Politicians React To NSA Collecting Phone Records