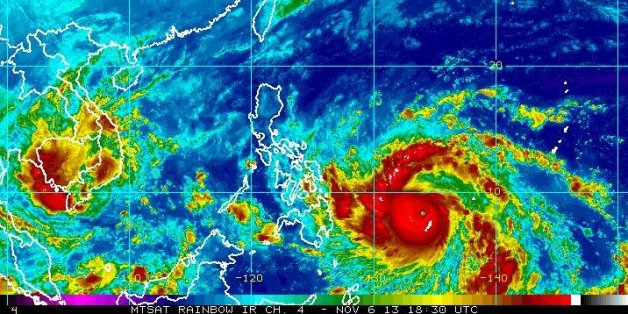 A super typhoon equivalent to a Category 5 hurricane is bearing down on the Philippines, posing a major threat to people and property across the island nation.
With sustained winds of 175 mph, Super Typhoon Haiyan is the most powerful tropical cyclone of any kind in 2013 and will likely make landfall early Friday local time (Thursday night, EST), the Weather Channel reports. Additionally, the Japanese Meteorological Agency estimates the storm's pressure at 905 millibars, which is not unheard of for the Western Pacific region, but would be among the strongest storms on record if it were in the Atlantic.
A typhoon becomes a super typhoon when it achieves winds of 150 mph. Haiyan, called "Yolanda" in the Philippines, is expected to make landfall with winds of 155 mph.
Accuweather warns rainfall along the storm's path could measure over 8 inches (200 mm), with mudslides becoming an increasing concern at higher elevations. Making matters worse, a tropical cyclone has already drenched parts of the central Philippines, meaning Haiyan's rainfall will likely lead to worse flooding and mudslides.
Super Typhoon Haiyan's anticipated path will also take it directly over the Filipino region struck hardest by a 7.1-magnitude earthquake in October. Around 12 million people live in the Manila metro area, where the storm is expected to hit Saturday, with another 10 million in the central Philippines, where the storm will likely hit hardest.
BEFORE YOU GO
PHOTO GALLERY
Typhoon Utor Strikes