From the makers of bacon condoms, bacon lube and bacon shaving cream comes Power Bacon, a deodorant heady with the scent of bacon. (Of course.)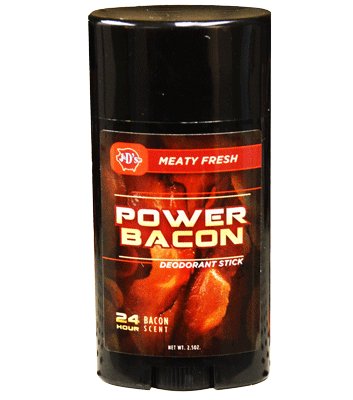 "Power Bacon deodorant is designed specifically for those with active lifestyles –- or people who just sweat like pigs," reads the product page on J&D Foods' website. And, lucky you, the stuff is on sale for just $9.99.
In the video below, J&D Foods co-founders Justin Esch and Dave Lefkow give us their take on the product. Shocker, they love it.
And about halfway through, the video cuts to the devious folks at Seattle radio station Movin 92.5, who got a blindfolded coworker to sniff the armpit of a station employee who'd just used Power Bacon. The aftermath is hilarious.
WATCH:
[h/t Kirotv.com]
BEFORE YOU GO
PHOTO GALLERY
Archie McPhee's Novelty Bacon Products