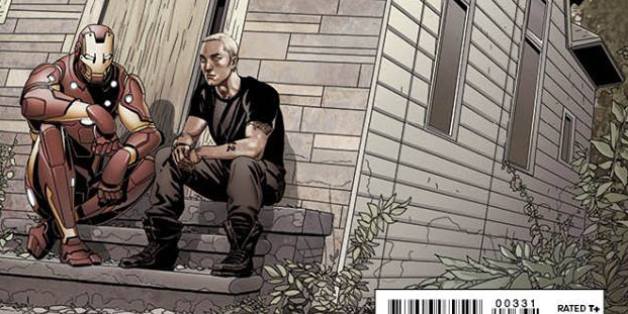 Eminem has long been a superstar in the rap world, but is he also a superhero?
The Detroit artist, whose new album "The Marshall Mathers LP 2" dropped Nov. 6, appears to have made a very special friend on the variant cover of Marvel Comic's "Mighty Avengers" series, where he is depicted chilling with Iron Man.
Eminem's Marvel-ous venture should not surprise his fans, as the rapper has made no secret of his love for comics over the years. In fact, Shady Records exec Riggs Morales once described the rapper's comic book collection as "otherworldly" to MTV News.
"When the opportunity came up for us to do a variant cover with Eminem and Marvel, we immediately thought about how cool it would be for Eminem to be sitting with one of his favorite super heroes on the steps of the now abandoned house that he grew up in," Eminem's manager Paul Rosenberg said in a Marvel press release. "It ties together perfectly with the campaign for 'The Marshall Mathers LP 2.'"
Drawn by artist Salvador Larroca, the cover's artwork takes cues from the cover of "The Marshall Mathers LP 2" and includes the house where Eminem grew up.
It should be noted this is not the first time "The Real Slim Shady" rapper has gotten the comic book treatment. In 2009, Eminem starred in "Eminem/Punisher: Kill You," a Marvel comic book featuring a bloody battle involving Eminem, antihero the Punisher and, of all things, a very murderous Parents Music Council.
So far, the majority of critics have given "The Marshall Mathers LP 2" strong reviews, with Associated Press reviewer Chris Talbott declaring Eminem's eighth studio album "satisfying on every level — as a story, as poetry, as a performance." Eminem has experienced a bit of a backlash, however, following criticism that his single "Rap God" included homophobic references. The rapper has since denied that the song's lyrics target the LGBT community.