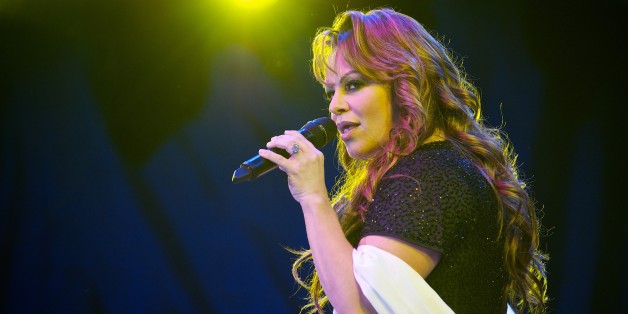 In honor of the one year anniversary of Jenni Rivera's death, a collection of songs and video from her last performance will be released this December.
Her musical legacy and last live performance at the Arena Monterrey in Mexico will be available in a special CD/DVD combo produced by her brother Juan Rivera. The production is backed by Universal Music Latin Entertainment/Fonovisa and has the support and approval of Jenni Rivera's children and her sister, Rosie Rivera.
"For our family, it's a great pleasure sharing this treasure with fans of our mother, daughter and sister," Rosie said. "This effort has brought us tears and made us proud and now it gives us much happiness to continue with the company that worked with Jenni in other large projects."
The live production is estimated to be released this December and features the sold out concert JENNI in which Jenni Rivera performed for more than three consecutive hours to the audience last year, before her untimely death in a plane crash on Dec. 9, 2012.
"Jenni Rvera will always be present in our lives through her music," UMLE President, Victor Gonzalez said. "It is now our work to share with audiences many songs that Jenni left for other times."
Jenni Rivera tribute, one year after her death
Before her passing, Jenni Rivera designated her sister, Rosie Rivera, as the head of her financial endeavors. Rosie recently met with Gonzalez and the rest of the Universal Music Latin Entertainment team to sign a contract to continue "providing Mexico, the United States and Latin America" with Jenni Rivera's music.
"Thanks to this new agreement, we have made a commitment to Rosie Rivera and the rest of Jenni's family that her music will remain alive for the next years, transmitting emotions to its loyal audience," Gonzalez said.
The production of this special CD/DVD combo comes as a type of opener for a future event which is scheduled to be held in Monterrey, Mexico.
The event is aimed to honor Jenni Rivera as "La Gran Señora" and will feature an array of musical artists who will come together on stage to give voice to some of Jenni's songs and pay tribute to her.
"In honor and tradition to what Jenni Rivera is, we remain loyal to those whom have been loyal to her," Rosie said.
Rosie extended her thanks to UMLE and to her brother Juan for his dedication and time which she credits for making the project possible.
Originally published on VOXXI as Jenni Rivera's last live performance to be released on CD/DVD
BEFORE YOU GO
PHOTO GALLERY
Jenni Rivera's Plane Crash