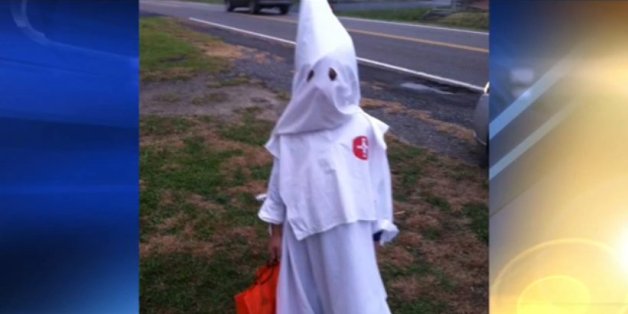 A Virginia boy's now-infamous Ku Klux Klan Halloween costume has attracted an unexpected critic: the Imperial Wizard of the United Klans of America.
That's right, Imperial Wizard Bradley Jenkins told The Atlantic Wire that Jessica Black, of Craigsville, disgraced the organization by letting her son, Jackson, dress in a floor-length white robe and traditional KKK hood.
"The Klan has seven sacred symbols and the robe is one of them," he explained, adding, "None of this is a joke."
Jenkins criticized Jessica Black's judgement, saying, "That woman had a choice to [dress her kid up as] Frankenstein or an Angry Bird. She made the choice -- I don't know, I have no clue why."
Jessica Black has defended the offensive costume by explaining that her brother wore the outfit twice. She also appeared to side with the Klan's teachings, telling local news outlet WHSV: "It's supposed to be white with white, black with black, man with woman and all of that. That's what the KKK stands for."
While the Klan seems miffed at Black's lack of "respect" for the organization, most critics have condemned her for letting her child wear a costume symbolizing the KKK's history of racism. Locals were "shocked when they saw [Jackson] Black's costume," according to WHSV, and many took to Facebook to criticize his mother's judgement.
Craigsville Mayor Richard Fox also spoke out after Black's news interview went viral. "My take is there is no Ku Klux Klan in Craigsville," he told NewsLeader. "And we don't want any activity from them in Craigsville."
In case you missed it, here's Black's interview with WHSV: