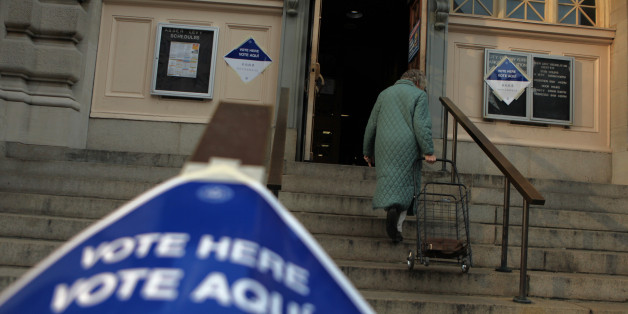 Despite the growing importance of the Latino vote, the community continues to face a massive obstacle to building its political clout.
Just 51 percent of Hispanics are registered to vote, according to a Gallup survey released Wednesday. That number falls way behind the figure for the general public (78 percent), and even farther behind non-Hispanic whites (85 percent) and non-Hispanic blacks (81 percent).
It's a problem that may, however, self-correct with time. Gallup attributes the low registration rate to the high number of immigrants in the Latino population, a feature shared with Asian Americans:
Asians and Hispanics in large part have lower rates of voter registration overall because many members of these racial and ethnic groups were not born in the United States. When it comes to voter registration, where one is born seems to make more of a difference than one's racial or ethnic background. That could be largely because many non-native-born people living in America are not U.S. citizens, and thus unable to register.
The data appears to bear out the assertion. U.S.-born Hispanics register to vote at a much higher rate than Hispanics as a whole -- 76 percent versus 31 percent. But since 36.2 percent of the county's 52 million Latinos were born in another country, foreign-born nonvoters will likely continue to dilute Hispanic strength at the ballot box for a while.
That's not the only thing holding Latino registration rates back, however. The Latino population is also disproportionately young and is concentrated in non-battleground states, where electoral stakes are not as high. More than half of Hispanics live in the three non-battleground states of California, Texas and New York, according to the Pew Hispanic Trends Project.
Pew noted last year that the number of Latino voters dropped from 11.6 million in 2008 to 11.0 million in 2010.
BEFORE YOU GO
PHOTO GALLERY
American Latinos: By The Numbers