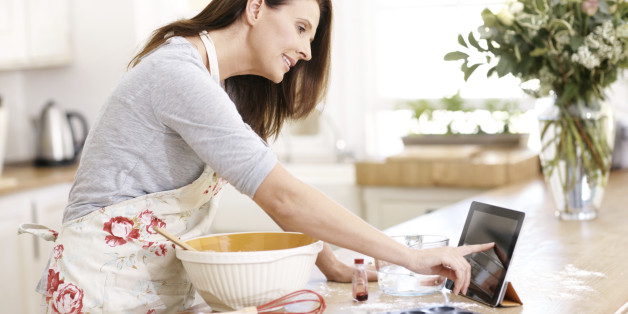 Sure, cooking at home can be a healthier alternative to eating out because you control what ingredients go into your dishes. But have you stopped to think about the nutrition profile of the recipes you're using?
Researchers from Simmons College in Boston took a look at 96 entree recipes from the six most popular food blogs according to BlogRank: Pinch My Salt, Chocolate and Zucchini, Simply Recipes, Smitten Kitchen, The Pioneer Woman and Busy at Home. They found that while calorie counts were acceptable for the examined recipes, they tended to be high in saturated fat and sodium and low in carbohydrates and fiber. This is in comparison with one-third of the Dietary Reference Intakes, which researchers noted is "similar to menu planning techniques used in the National School Lunch Program."
Vegetarian entree recipes -- which made up 38 percent of the recipes in the study -- tended to be lower in calories, saturated fat and sodium than meals that included meat, according to the Journal of Nutrition Education and Behavior study.
Interestingly, sodium levels tended to be higher in recipes posted from December to May, versus recipes posted from June to November, researchers noted.
"It is really surprising that these blogs may have more than 2 million visits per month," study researcher Elizabeth Schneider, MS, RD, said in a statement. "This large reach makes the food blog an important component for nutrition education."
But still, there's no overestimating the value of a home-cooked meal. A recent study in the journal Public Health Nutrition showed that cooking for at least five times a week is associated with a longer lifespan, compared with people who cook less frequently.
What are your favorite recipe blogs for nutritious meals? Share them in the comments!
BEFORE YOU GO
PHOTO GALLERY
What Calorie Amounts Really Look Like