Welcome to "Moving Image," our roundup of the best photos from around the world this week.
The following images tell the story of the past seven days' most compelling events, capturing happenstance moments and monumental occurrences all over the globe. Our picks for this week are:
1. This mourning mother in Bangladesh.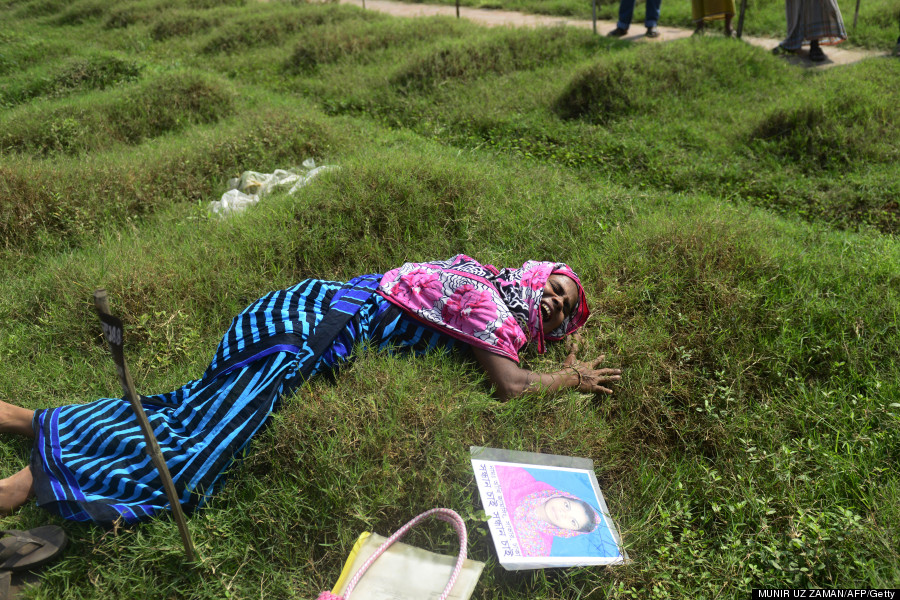 Bangladesh mother, Nazma Begum, grieves at the grave of her garment worker daughter Aakhiat who was identified through DNA matching, at Jurain graveyard in Dhaka in on November 7, 2013. Authorities have failed to identify the final 165 victims of Bangladesh's Rana Plaza factory collapse, an official said November 4, 2013, meaning their families still cannot be compensated six months after the disaster. (MUNIR UZ ZAMAN/AFP/Getty)
2. This pigeon encounter in Venice.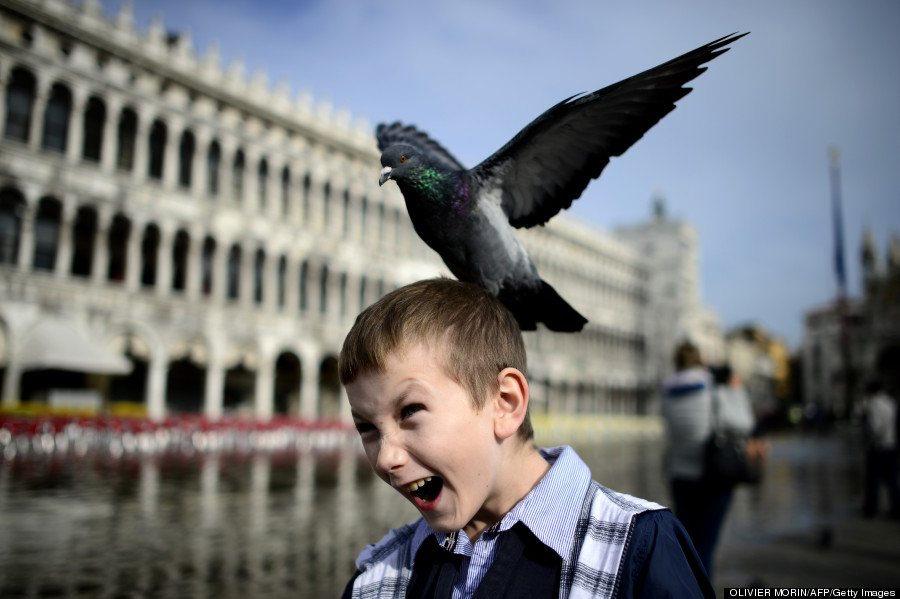 A pigeon lands on a boy's head in the flooded Piazza San Marco (Saint Mark's Square) on November 4, 2013 in Venice. Saint Mark's Square, as the lowest point of Venice, is always the first place to be flooded. (OLIVIER MORIN/AFP/Getty Images)
3. This waterfront freeway in Brazil.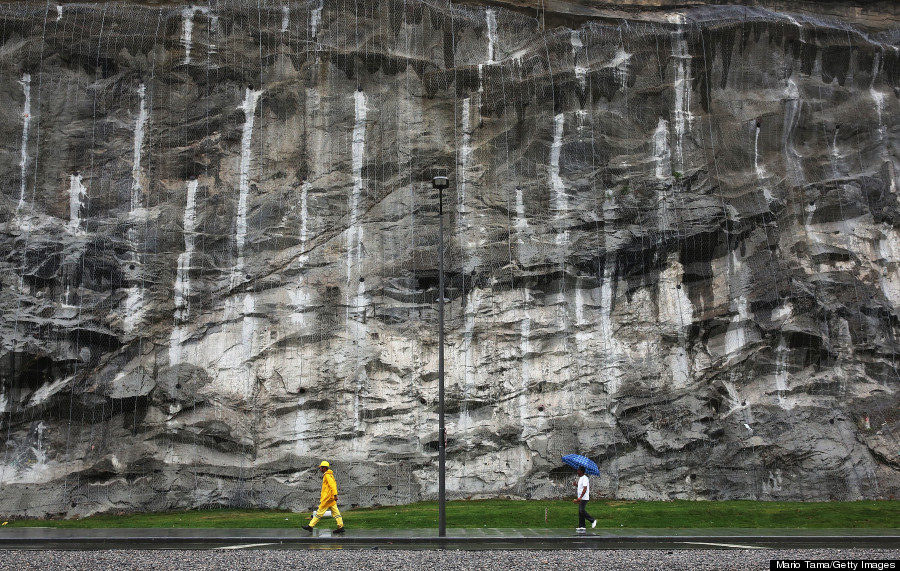 A man and construction worker walk along the newly inaugurated Via Binario do Porto, a new transit route in the port district, on November 6, 2013 in Rio de Janeiro, Brazil. Ahead of the 2014 World Cup and Rio 2016 Olympic Games, Rio has started a multibillion dollar urban renewal program of its port district which includes a double decker waterfront freeway being torn down to be replaced by tunnels, repaved roads, a tram network and other infrastructure improvements in the area. The 'Porto Maravilha' project is also expected to displace around 1,000 local residents. (Mario Tama/Getty Images)
4. This steampunk in England.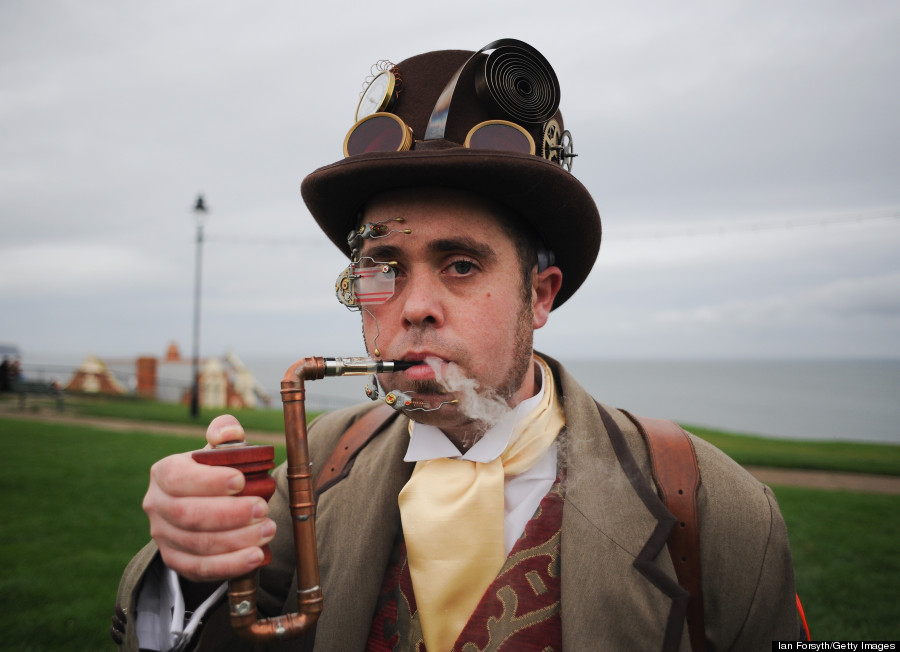 Chris Simpson from Chesterfield dresses in the classic steampunk style as he visits the Goth weekend on November 2, 2013 in Whitby, England. The Whitby Gothic Weekend that takes place in the Yorkshire seaside town twice yearly in Spring and Autumn started in 1994 and sees thousands of extravagantly dressed followers of Victoriana, Steampunk, Cybergoth and Romanticism visit to take part in celebrating Gothic culture. (Ian Forsyth/Getty Images)
5. This rocket in Kazakhstan.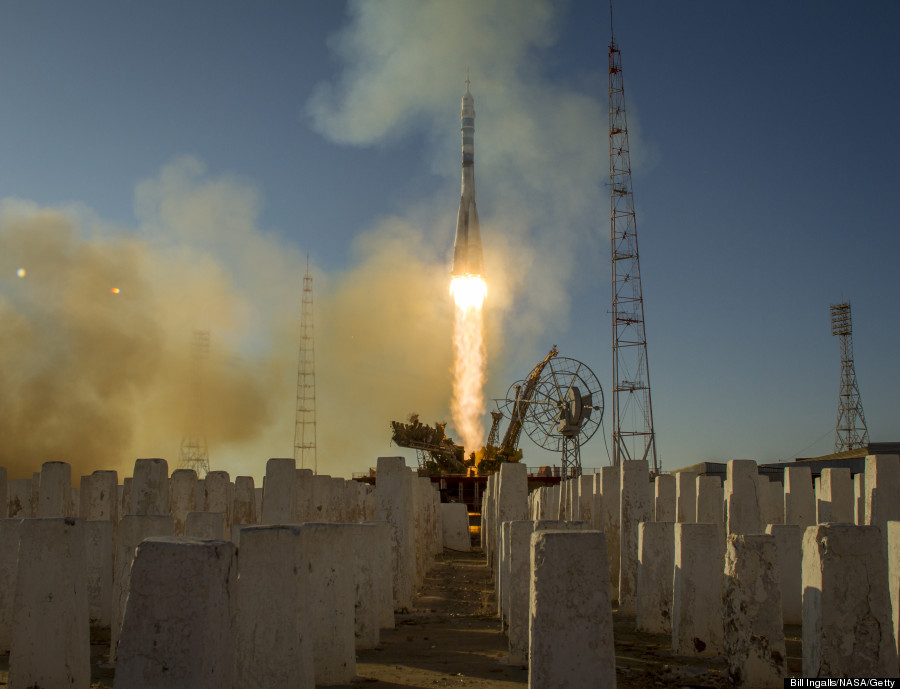 In this handout photo provided by NASA, The Soyuz TMA-11M rocket is launched with Expedition 38 Soyuz Commander Mikhail Tyurin of Roscosmos, Flight Engineer Rick Mastracchio of NASA and Flight Engineer Koichi Wakata of the Japan Aerospace Exploration Agency onboard, on November 7, 2013, at the Baikonur Cosmodrome in Baikonur, Kazakhstan. Tyurin, Mastracchio, and, Wakata will spend the next six months aboard the International Space Station. (Bill Ingalls/NASA/Getty)
6. This snapshot of volcano ash in Indonesia.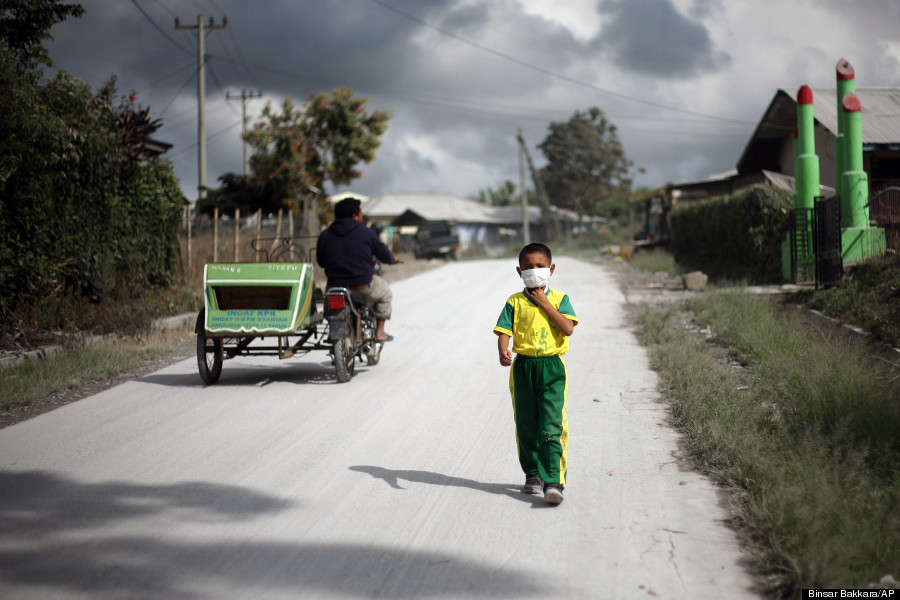 A boy walks on a road covered with volcanic ash from the eruption of Mount Sinabung in Sukandebi, North Sumatra, Indonesia, Thursday, Nov. 7, 2013. The 2,600-meter (8,530-foot) -high volcano has been erupting since Sunday, unleashing volcanic ash high into the sky and forcing the evacuation of villagers living around its slope. (Binsar Bakkara/AP)
7. These portraits of the Dalai Lama in India.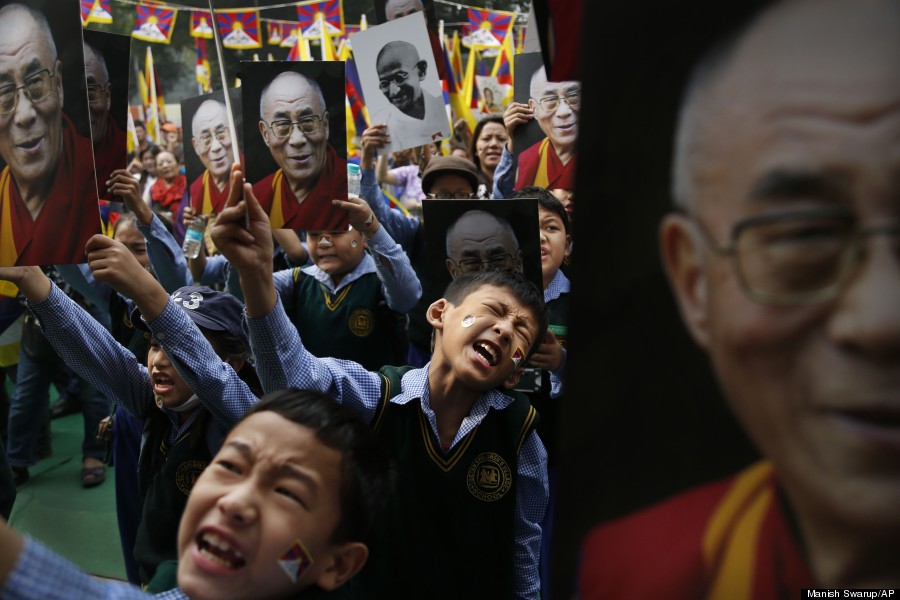 Tibetan schoolchildren hold up portraits of spiritual leader the Dalai Lama and Indian freedom fighter Mahatma Gandhi during a protest rally in New Delhi, India , Wednesday, Nov. 6, 2013. The rally was held to seek the attention of the international community towards the plight of Tibetans in Tibet and for the release of Tibetan political prisoners in China, among others, according to a press release. (Manish Swarup/AP)
8. These soldiers in vintage uniforms in Russia.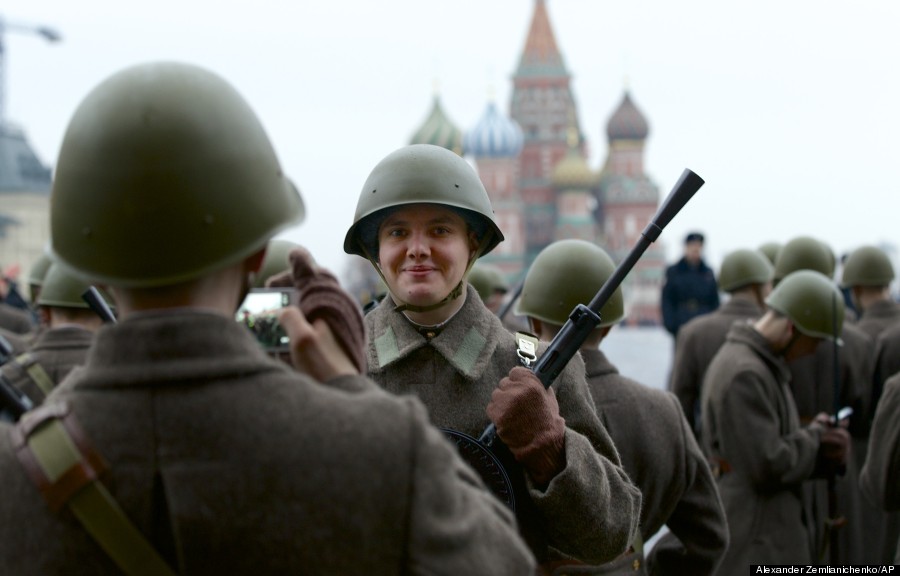 A Russian soldiers dressed in Red Army World War II uniform poses for a photo while preparing to parade in Red Square, in front of St. Basil Cathedral in Moscow, Russia, Thursday, Nov. 7, 2013.. Thousands of Russian soldiers and military cadets marched across Red Square to mark the 72nd anniversary of a historic World War II parade. The show honored the participants of the Nov. 7, 1941 parade who then headed directly to the front to defend Moscow from the Nazi forces. The parade Monday involved about 6,000 people, many of them dressed in World War II-era uniforms. (Alexander Zemlianichenko/AP)
9. These friendly camels in India.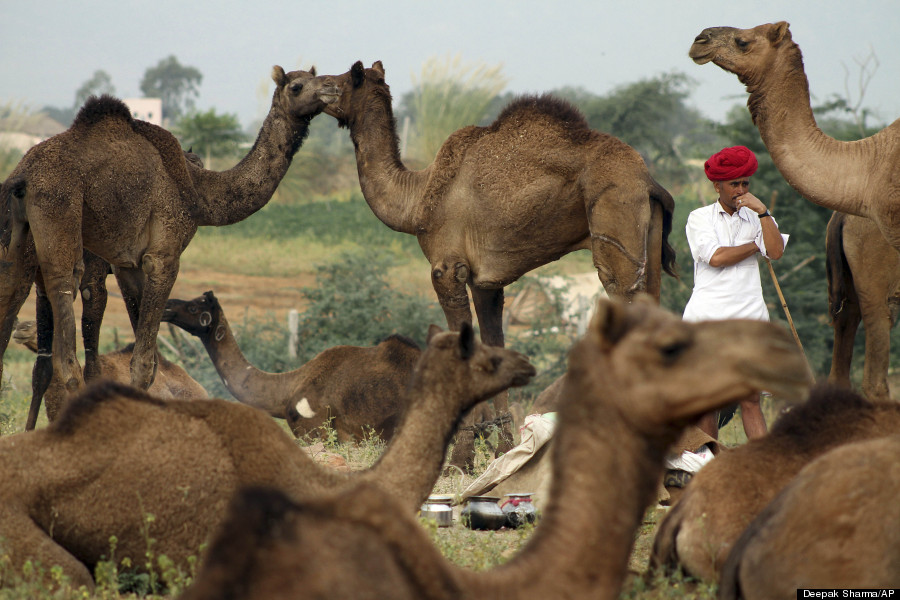 An Indian camel herder stands among camels as he arrives for the annual cattle fair in Pushkar, in the western Indian state of Rajasthan, Wednesday, Nov. 6, 2013. Pushkar, located on the banks of Pushkar Lake, is a popular Hindu pilgrimage spot that is also frequented by foreign tourists who come to the town for the annual cattle fair and camel races. (Deepak Sharma/AP)
10. This striking snapshot of contamination vehicles in Corsica.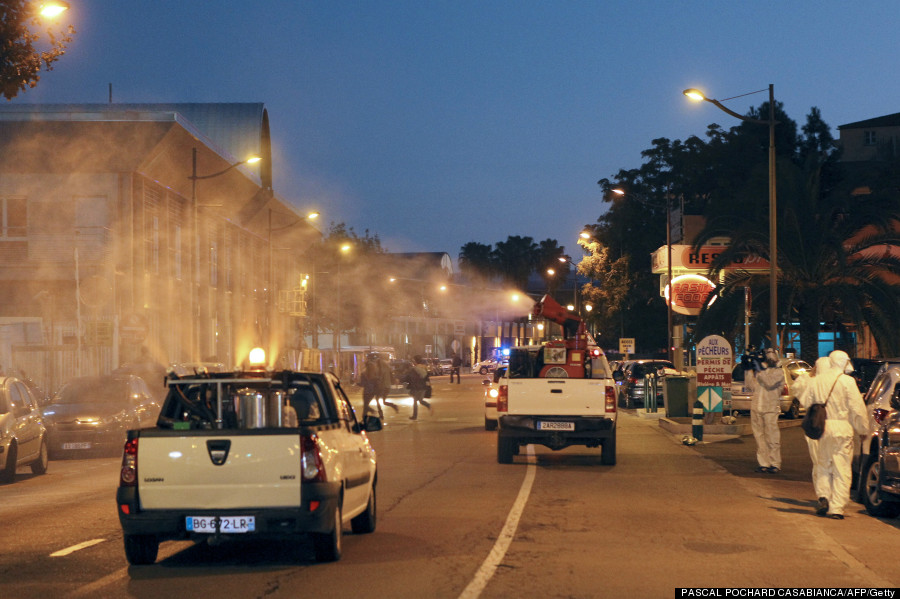 Health services vehicles spray chemicals during an operation to disinfect of tiger mosquitos an area in the centre of Ajaccio, on the French Mediterranean island of Corsica, on November 7, 2013. Two people back from vacation with dengue fever caused the health services to decontaminate an area in the centre of the city. (PASCAL POCHARD CASABIANCA/AFP/Getty)
11. These Hindu devotees in India.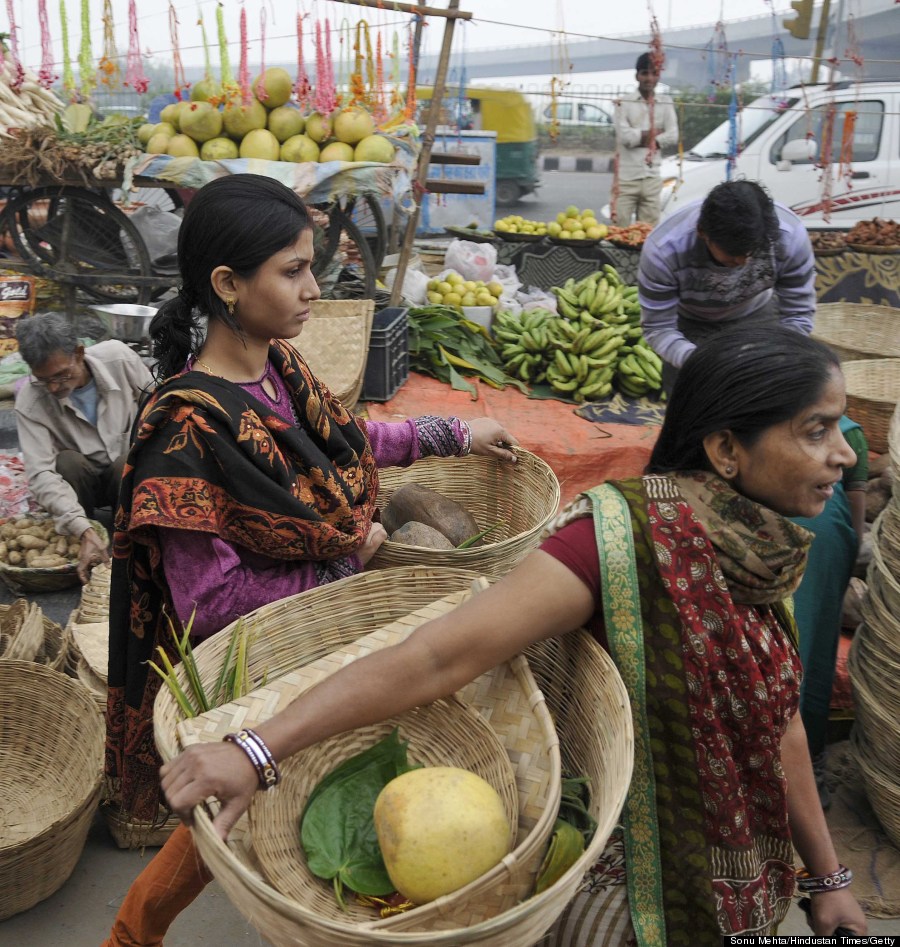 Hindu devotees purchasing for Chhath Puja on November 7, 2013 in New Delhi, India. The Chhath festival, observed in a water body, begins with the puja of the setting sun tomorrow and will end after paying obeisance to the rising sun the day after. (Sonu Mehta/Hindustan Times/Getty)
12. This sunset behind the Washington Monument in D.C.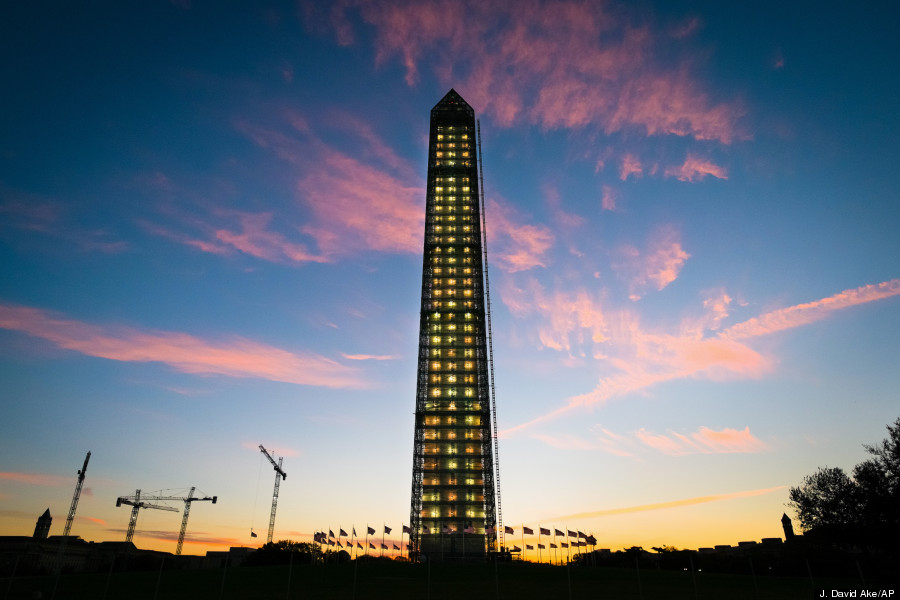 The sunrises behind the scaffolding clad Washington Monument in Washington, early Monday, Nov. 4, 2013. The National Park Service has announced the decorative lighting will be turned off as work crews begin the task of removing the scaffolding from around the earthquaked damage monument. The work is scheduled to completed and the monument reopened in the spring of 2014. (J. David Ake/AP)
13. This photo of a firefighting effort in India.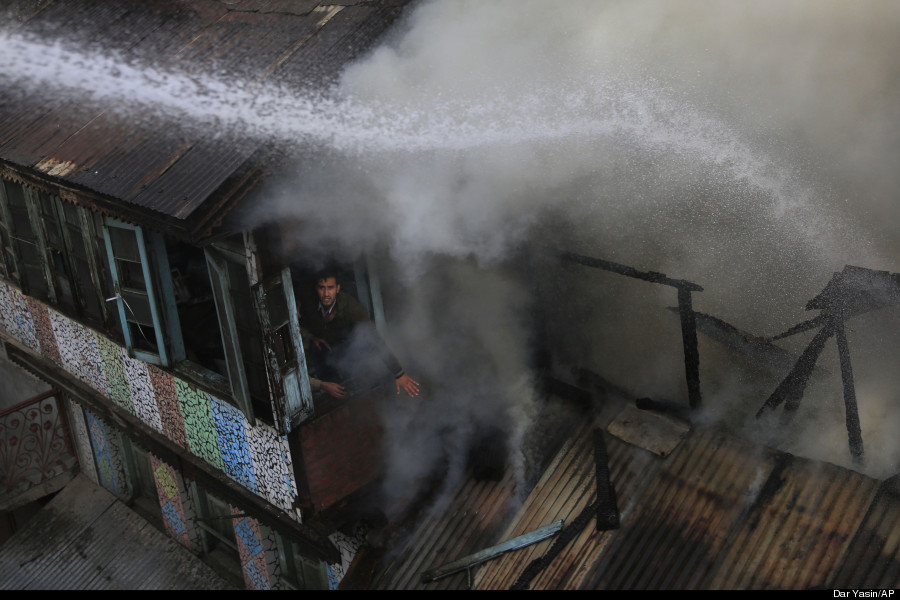 A Kashmiri man gestures to firefighters to spray water while extinguishing a fire in Srinagar, India, Thursday, Nov. 7, 2013. At least three buildings housing dozens of warehouses in a busy shopping area of Srinagar where damaged by the fire Thursday. Winter in Indian Kashmir brings not only freezing cold and snow, but also widespread incidents of fire blamed mainly on accidental ignition of charcoal, usually stored for fighting cold and cooking purposes on the top floors of Kashmiri homes. (Dar Yasin/AP)
14. This centurion in Toronto.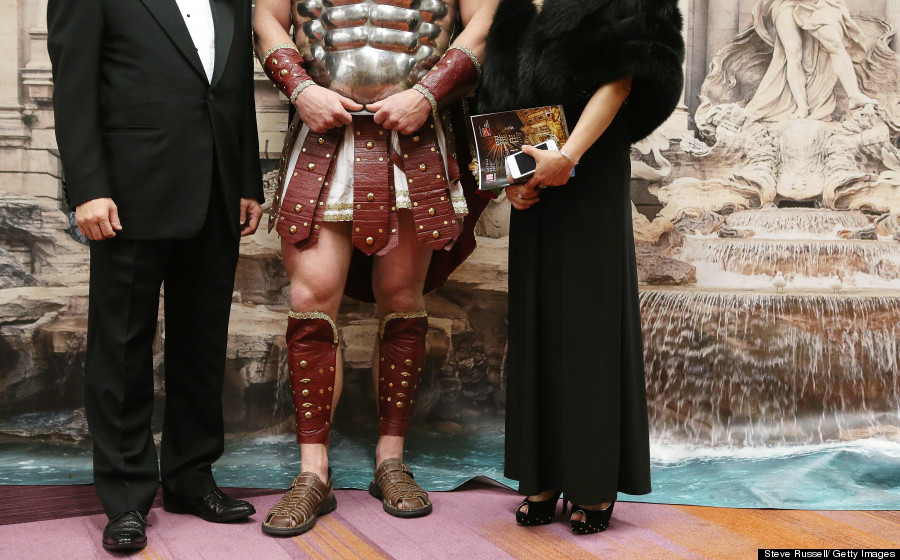 Guests pose with a centurion at the Cathay Ball 2013. The gala was themed, "An Evening in Rome," to raise money for the Mon Sheong Foundation for senior care and cultural programs. The Black-tie event with more than 1,000 guests was expected to raise $500,000. In Toronto, November 2, 2013. (Steve Russell/ Getty Images)
15. This victorious horse in England.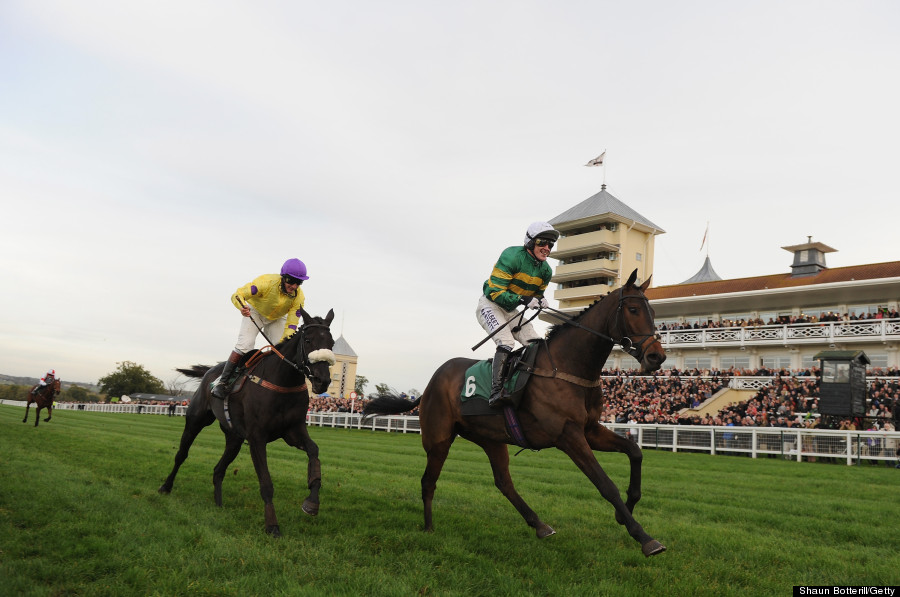 Tony McCoy riding Mountain Tunes wins the Weatherbys Novices' Hurdle Race for his 4000th winner on November 7, 2013 in Towcester, England. (Shaun Botterill/Getty)
Let us know your favorite photos in the comments section and check back next week to see new images.
This story appears in Issue 74 of our weekly iPad magazine, Huffington, in the iTunes App store, available Friday, Nov. 7.
BEFORE YOU GO
PHOTO GALLERY
Moving Image 2013: The Year's Best Photos