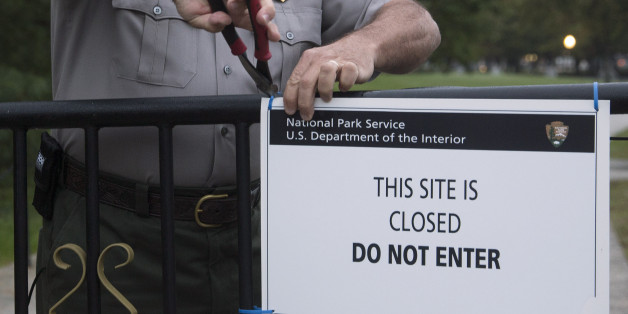 WASHINGTON -- A new report finds that the 16-day government shutdown had economic impacts on a number of energy and environmental programs that the federal government oversees. Those effects stemmed from problems like delays of drilling review and permitting, the suspension of fisheries management, and lost tourism at national parks.
The report, which White House Office of Management and Budget Director Sylvia Mathews Burwell released Thursday, attempts to quantify the losses. During the shutdown:
The Bureau of Land Management was not able to process 200 permit applications to drill on public lands.
The National Oceanic and Atmospheric Administration was not able to apportion harvest limits on time, which delayed the start of the Alaskan crab fishing season by several days and cost fishermen thousands of dollars.
The National Park Service estimates that the closure of parks across the country led to the loss of $500 million in visitor spending. The service also directly lost an estimated $7 million in revenue from entry fees.
The Smithsonian lost $4 million in revenue.
Ninety-eight percent of National Science Foundation (NSF) staff were furloughed.
Environmental Protection Agency inspections at 1,200 sites -- including hazardous waste and chemical facilities -- stopped.
Burwell noted that the furloughs directly affected programs. The NSF, for example, issues about 765 grants and continuations in an average two-week period, she said, "so you can get the sense of a magnitude of that from a programmatic sense." The NSF also had to cancel some research programs at the U.S. Antarctic Program, including the launch of research balloons for NASA.
"I think one thing that did come out of the shutdown is a greater appreciation for a number of the things that the government did," said Burwell. "People did understand the things in their daily lives that were being disrupted."
The report estimates that the furlough of workers cost the federal government $2.5 billion. See Sam Stein's piece on the report for more.
Burwell told reporters on Thursday that she hopes detailing the costs of the shutdown can help avoid one in the future. "The most important way to avoid a shutdown is to pass a budget, and to pass appropriations bills on a regular basis," she said. "That's the way to prevent something as harmful as this from happening again."