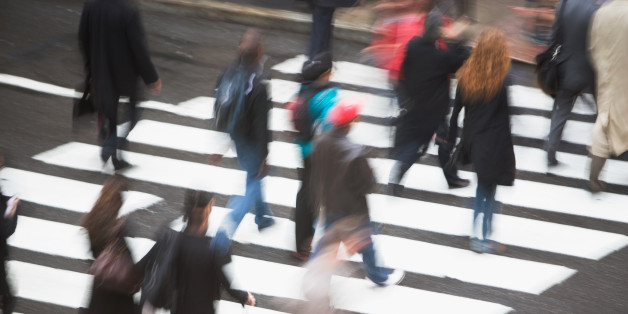 Last month, Amy Tam and Hsi-Pei Liao lost their 3-year-old daughter Allison Liao when she was fatally struck by a car while crossing the street with her grandmother.
Allison and her grandmother had the right-of-way while crossing Main Street in Flushing that evening on October 3rd, but a driver in a black Nissan SUV turned left at a green light.
According to a breathalyzer test at the scene, the driver was not under the influence of alcohol and no charges were filed.
Allison's death was among several other traffic fatalities commemorated by an activist group called "Right of Way" during a street-art based demonstration. Members stenciled body outlines with names and statistics on the respective accident locations.
By doing so, the group hopes to provide visibility into the dangers pedestrians and bikers face.
The Queens Chronicle reports an investigation into Allison's death has prompted the Department of Transportation to add a "No Standing Anytime" sign and remove two parking spaces to provide better visibility where the young girl was fatally hit. Officials also plan to conduct a study about the potential benefits of adding a signal to give pedestrians more time to cross.
While that street-corner will probably be a little safer, Gothamist points out that traffic accidents are still the leading cause of injury-related deaths among New York City children with an average of five children hit by cars daily.
On Friday, Liao and Tam published a powerful op-ed in the Daily News asking mayor-elect Bill de Blasio to uphold his campaign promises, especially those regarding "Vision Zero," to make city streets safer for pedestrians:
There is no time to waste. New York City is the nation's best city for pedestrians, and walking in the five boroughs is far safer today than it was a decade ago. But when drivers are breaking the law with impunity and children are dying as a result, something remains terribly wrong. Now is the time to rapidly make our city safer, because too many of New York's streets are still far too dangerous.
For the full op-ed, head over to the Daily News.
BEFORE YOU GO
PHOTO GALLERY
Cities With The Worst Traffic: 24/7 Wall St.