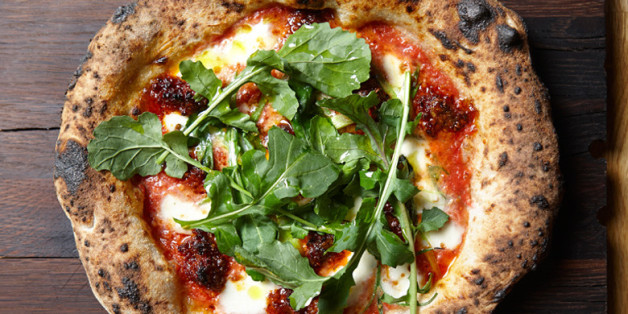 This story comes courtesy of DailyCandy.
By Jessica Lawson
MASA OF ECHO PARK


Masa = dough, and plenty of it. The family-owned joint serves Chicago deep dish stuffed with savory toppings and cheese under a blanket of house-made tomato sauce. Pies bake for 40 minutes in an 80-year-old oven to maximize flavor. Masa of Echo Park, 1800 West Sunset Boulevard, Echo Park (213-989-1558 or masaofechopark.com).
MOTHER DOUGH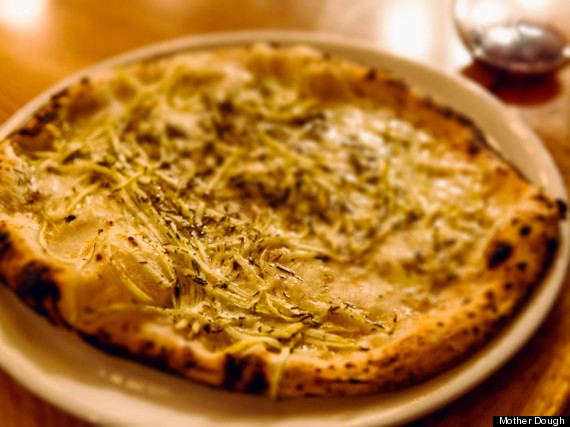 Exposed brick walls and concrete flooring frame the hip, inventive pizzeria with a bratwurst pie on the menu and a persimmon version in the works. One of the original varieties from owner/chef Bez Compani remains its most popular: zucchini, buffalo mozzarella, Manchego, and thyme. Mother Dough, 4648 Hollywood Boulevard, Hollywood (323-644-2885 or motherdoughpizza.com).
PIZZERIA MOZZA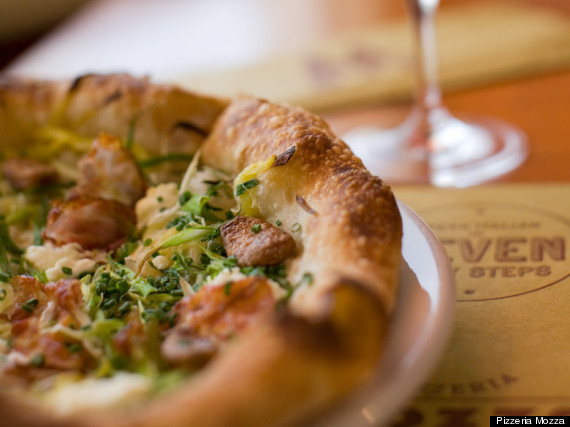 From a distinguished culinary trio (with more James Beard accolades than you can shake a homemade fennel sausage at) come fluffy crusted pies that serve as the ideal vehicles for vegetables: broccoli with caciocavallo cheese and chilies; Brussels sprouts with guanciale, red onion, and mozzarella; or squash blossoms, tomato, and burrata. Pizzeria Mozza, 641 North Highland Avenue, Mid-City (323-297-0101 or pizzeriamozza.com).
PIZZERIA IL FICO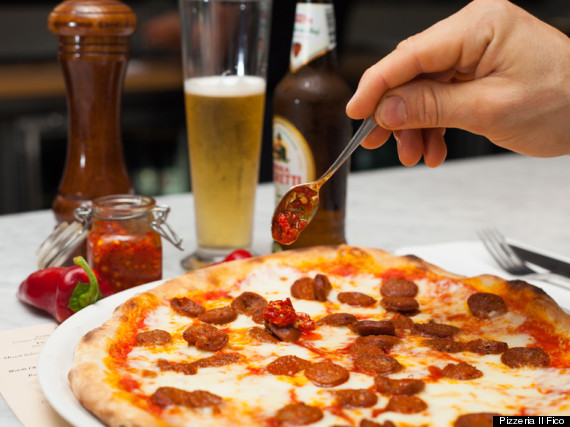 Look no further than the house special, Fico, with fig, gorgonzola, and Parma prosciutto, served on Roman-style crust that chef Giuseppe Gentile spent two years perfecting. All pies are baked in an oven using only olive wood for flavor. Pizzeria Il Fico, 310 South Robertson Boulevard, Mid-City West (310-271-3426 or pizzeriailfico.com).
OLIO PIZZERIA & CAFE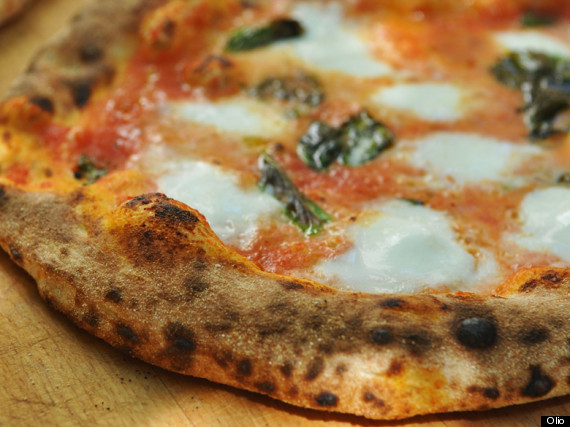 Sometimes you want to keep things simple, but you never want them to be boring. The Margherita Plus at Olio is one of the better pies in town, with slightly sweet tomato sauce, dollops of fresh burrata, and basil-infused olive oil on a crisp but chewy crust. Have a seat on the patio for Third Street people-watching. Olio Pizzeria & Cafe, 8075 West Third Street, suite 100, Mid-City (323-930-9490 or pizzeriaolio.com).
HOSTARIA DEL PICCOLO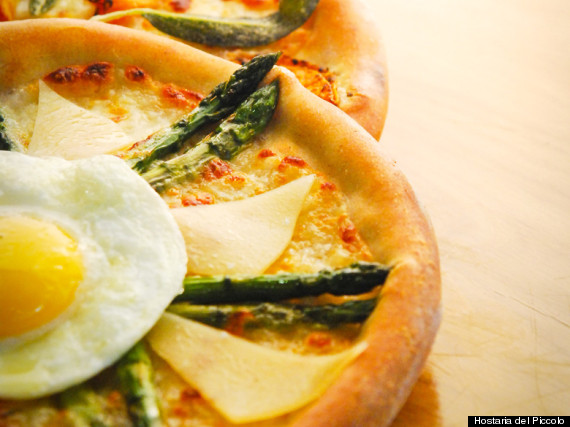 You may think you're well-versed in crust, but Hostaria del Piccolo wants you to think outside the (pizza) box. Black squid ink dough looks intimidating but pairs wonderfully with fresh seared tuna and green onions. Hostaria del Piccolo, 606 Broadway, Santa Monica (310-393-6633 or hostariadelpiccolo.com).
APOLLONIA'S PIZZERIA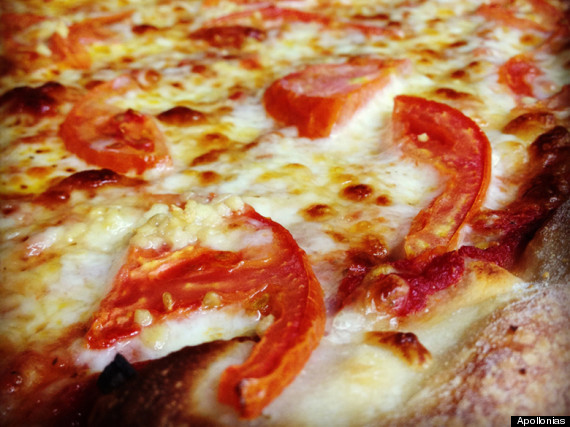 Leave it to L.A. to hide a gem in a strip mall. This fairly new pizzeria is community focused and glutenphobe friendly. Mix up your margherita by adding surprising sausages like rattlesnake, alligator, duck, and bacon, or sample the soy sun-dried tomato and basil. Apollonia's Pizzeria, 5176 Wilshire Boulevard, Miracle Mile (323-937-2823 or apolloniaspizzeria.com).
VITO'S PIZZA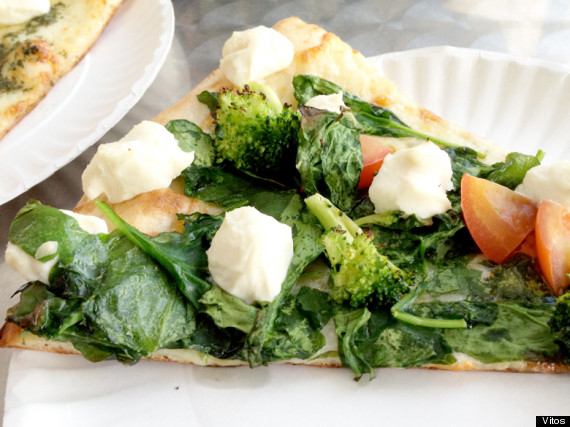 For more than twenty years, Vito DiDonato has risen with the sun to make fresh sauce and dough for his New Jersey-style pizzas. Pack a punch with meatballs and jalapenos on The Garibaldi, or go green with the Mediterranean Veggie (ricotta, spinach, broccoli, and tomatoes). Vito's Pizza, 846 North La Cienega Boulevard, West Hollywood (310-652-6859 or vitopizza.com).
SLICETRUCK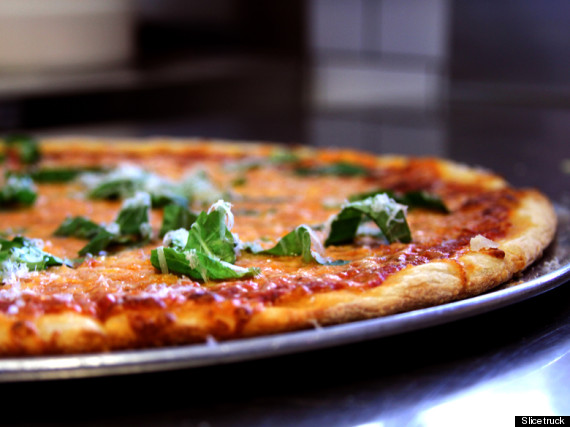 No longer on the move, Slicetruck has become the neighborhood pizza place for West L.A. residents. Opt for the pan-style Grandma with San Marzano tomatoes, garlic, and additional toppings of your choice, including anchovies, crimini mushrooms, artichokes, and hot cherry peppers. Slicetruck, 2012 Sawtelle Boulevard, Little Osaka (310-444-9550 or slicetruck.com).
BESTIA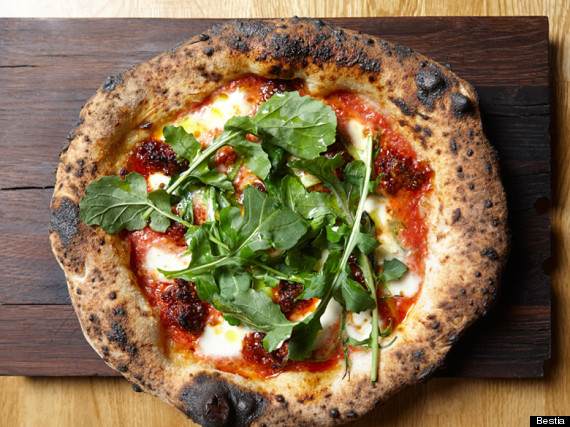 In a word: complex. From raising his own yeast culture to aging 'nduja (spicy, spreadable salami), chef Ori Menashe doesn't cut corners and keeps taste buds guessing with an extensive array of pies. Bestia, 2121 East Seventh Place, Downtown (213-514-5724 or www.bestiala.com).
For the rest of LA's Best Pizza Places, click over to DailyCandy LA.
BEFORE YOU GO
PHOTO GALLERY
LA's Best Hungover Brunch