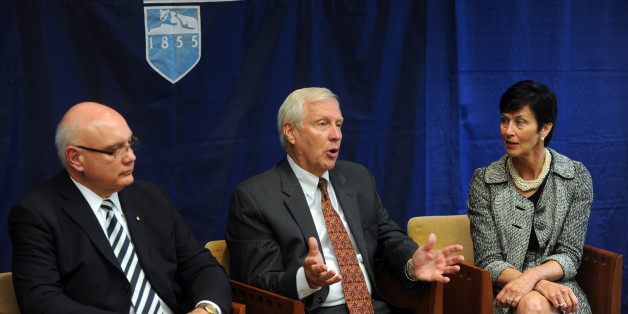 David R. Smith was on his way to becoming the next president of Penn State University. Instead, he resigned Thursday amid a pay scandal.
Penn State trustees scheduled a meeting for Oct. 30 where they were expected to vote on a new president, but canceled it abruptly. Then on Nov. 5, the Albany Times Union revealed that Smith, president of the State University of New York's Upstate Medical University, was the preferred pick for the new job, but was in the middle of an investigation into allegations he padded his state pay without authorization.
Smith was taking home $625,000 in compensation from SUNY. Smith allegedly took in outside money from two companies linked to SUNY: Medbest Medical Management Inc. and Pediatrics Service Group LLP.
The same day the Time Union report came out, SUNY announced Dr. Gregory Eastwood would become officer-in-charge of SUNY Upstate Medical University "effective immediately" while Smith was on leave. Eastwood previously served as president of the campus from 1993 to 2006.
Two days later, Smith announced Thursday he would resign from his post at SUNY.
Smith said in a statement he'd been working with SUNY system leadership to "conduct a review of all of sources of my compensation" while he recovers from surgery.
"To avoid further distraction for the University from its important mission," Smith said, "I intend to submit my resignation as president of SUNY Upstate Medical Center, so that this great institution can move on to even greater success."
Eastwood confirmed Smith's resignation and said the outgoing president left behind a "substantial legacy."
Penn State's trustees said they still plan to pick a new president before Rodney Erickson vacates the position on June 30, 2014.
BEFORE YOU GO
PHOTO GALLERY
The Richest Colleges - NACUBO-Commonfund Study FY 2012