For the 129th birthday of Swiss psychiatrist Hermann Rorschach, Google is conducting perhaps the biggest inkblot test in history. Go to Google's homepage and try to out yourself. The search giant's logo has been repurposed as a Rorschach test.
The inkblot test was designed as a way to peek into the minds of psychiatric patients. According to Rorschach's theory, what people in a random patch of ink reveals their personality.
While the validity of the tests have been called into question by modern psychologists, that doesn't mean you can't have fun with Google's Doodle today. The search engine lets you share your test results on Twitter, Facebook or Google+.
Some are obvious..
I see a kitty and a butterfly. Like.....it's pretty obvious. I don't think this is how these work.
#RorschachDoodle http://t.co/h2LG4jkS0E

— John (@Noozy642) November 8, 2013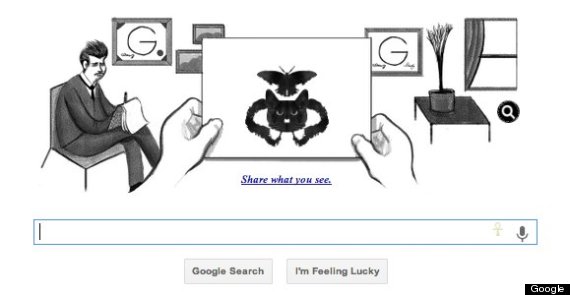 I see...two elves holding hands. Very holiday-like!
#RorschachDoodle http://t.co/W8efJOMXMA

— Amul (@lumanicious) November 8, 2013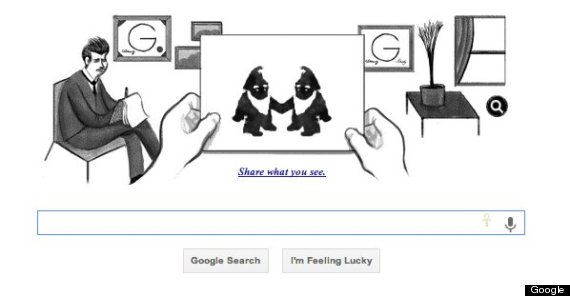 ..while others aren't.
I see... ugh, Batman. But I see Batman everywhere, so...
#RorschachDoodle http://t.co/kLFSLjJEmI

— T.U.R.K.E.Y. Agent (@chadbowers) November 8, 2013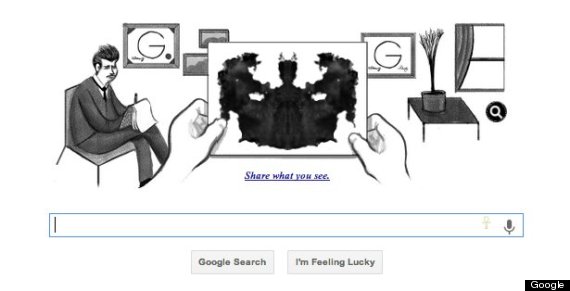 I see two robotic sheep leapfrogging over two smaller sheep and about to collide in mid-air.
#RorschachDoodle http://t.co/tTLY6CrMLA

— Joshua Skogerboe (@jskogerboe) November 8, 2013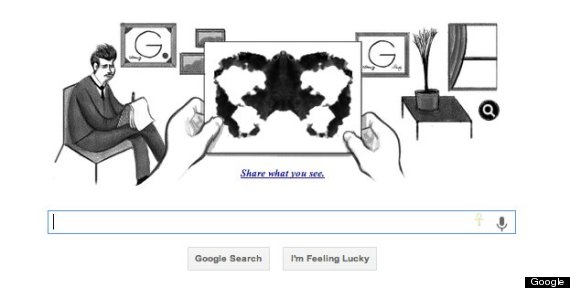 I see... two unicorns giving eachother a hi-five!
#RorschachDoodle http://t.co/tpcJsVKY2o

— ForeverTheForgotten (@CodyLackins) November 8, 2013