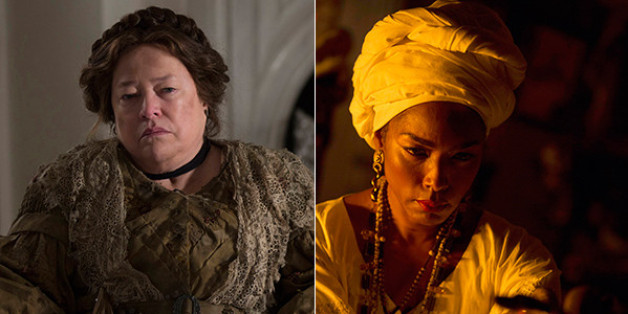 Kathy Bates and Angela Bassett have been approached about "American Horror Story" Season 4, according to EW. Even better news? They're into it.
"I have approached them and they wanna do it," "AHS" co-creator Ryan Murphy said. Murphy said the two have been "loving" working on "American Horror Story: Coven."
Prior to "Coven's" October premiere, Bates told The Huffington Post she would do another season. "I would love to be part of his company. I think it's doing exciting work. I love the people. You bet, I'd like to stay on the team," she said.
Murphy told EW that Bates sent the writers a "basket of plush toys all in the shapes of disemboweled organs." "It doesn't get better than when an Oscar winner sends you a grab bag of stuffed pancreas to say 'Thank you and job well done,'" he said.
Jessica Lange, who has appeared in all three seasons of the series along with Evan Peters, Lily Rabe and Sarah Paulson, is already signed on for the fourth season that FX just announced, but it may be her last.
"I'm going to do the next season of this and hopefully a play and then maybe one or two movies and then I think -- I feel like maybe then it's time to start something brand new in life," Lange told The Huffington Post about her acting future.
No official word on what Season 4 entails, but Murphy told EW he has honed in on an idea. Earlier, he told The Hollywood Reporter that Lange "has always wanted to play a Marlene Dietrich figure, and now she gets to."
"American Horror Story: Coven" airs Wednesdays, 10 p.m. EST on FX.