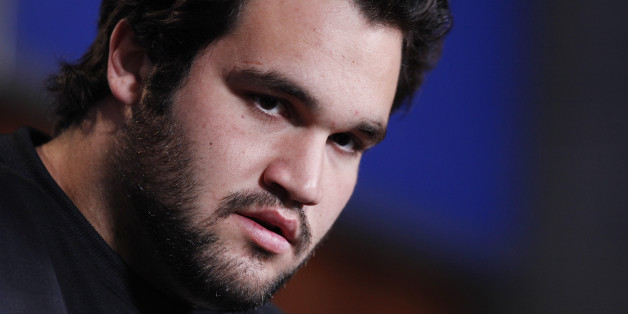 It's often said that "money can't buy happiness" and one NFL player appears to have found that the adage still holds true.
John Moffitt seemed to have it all. In August of his third year of an NFL career, he was acquired by the Denver Broncos from the Seattle Seahawks and had already made just shy of $2 million dollars as a professional athlete. He was famous and playing on arguably the biggest stage in sports.
And then just last Tuesday on Twitter, Moffitt did something that some of his teammates, or even fans, will probably never understand. He quit:
Football was fun but my head hurts-haha kidding roger goodell. I'm on to new things, thanks to everyone along the way!!!

— John Moffitt (@Moffitt74) November 5, 2013
His tweet came a little more than 30 minutes after the Denver Broncos announced his placement on the Broncos reserve list via Twitter:
The #Broncos have activated JD Walton & placed John Moffitt on reserve/left squad list: http://t.co/25bGIlxvkt pic.twitter.com/iRdnT2Jh1p

— Denver Broncos (@DenverBroncos) November 5, 2013
With about $1 million on the table, Moffitt walked away. Because he just wants to be happy.
"I just really thought about it and decided I'm not happy. I'm not happy at all," Moffitt told The Associated Press. "I just want to be happy."
Moffitt says he's not bitter. He's not leaving the NFL because he wasn't a bigger star, was recently put on the Broncos reserve list, didn't play enough minutes or make enough money. He's said that he's grateful for his time playing football in the NFL and in college.
"I look back and I'm thankful for the whole experience. That's enough for me," he said.
But how did the third-year-guard get here? Some reflective readings of Noam Chomsky and the Dalai Lama which really altered his world view, Moffitt told the AP.
Moffitt began asking the questions that many have asked of themselves before like just how much money does a person need to be happy? What do you really want out of your life? And for him, the answer to both of those questions was: "I don't really need to be a millionaire," he said.
Football is a dangerous sport. And Moffitt understood that the punishment his body was taking and would take over the course of a 6 to 12 year span that an average player spends in professional football could cost him more than he was willing to sacrifice.
"It's really madness to risk your body, risk your well-being and risk your happiness for money," he said.
The Dalai Lama would very likely agree with Moffitt's feelings about risking physical health for happiness. When asked what surprised him most about humanity, the Dalai Lama famously said:
Man surprised me most about humanity. Because he sacrifices his health in order to make money. Then he sacrifices money to recuperate his health. And then he is so anxious about the future that he does not enjoy the present; the result being that he does not live in the present or the future; he lives as if he is never going to die, and then dies having never really lived.
In his book "The Art of Happiness", the Dalai Lama also wrote:
"So let us reflect on what is truly of value in life, what gives meaning to our lives, and set our priorities on the basis of that. The purpose of our life needs to be positive. We weren't born with the purpose of causing trouble, harming others. For our life to be of value, I think we must develop basic good human qualities-warmth, kindness, compassion. Then our life becomes meaningful and more peaceful -- happier."
And although Moffitt expressed concern that his fans and fellow professional football players wouldn't understand his questioning of his purpose, quitting pro sports and doing something else with his life, Noam Chomsky probably would.
"I was never aware of any other option but to question everything," Chomsky said to The Guardian in 2003.
Words that John Moffitt is really living by.