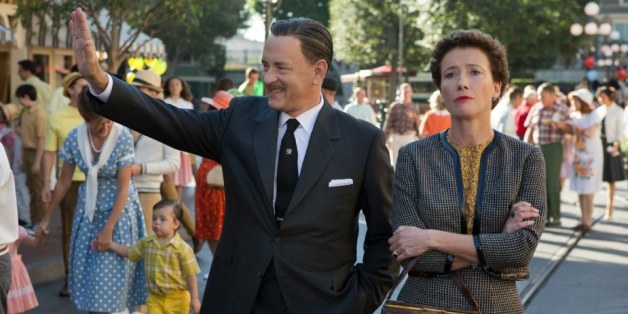 The first time you hear the about the concept of "Saving Mr. Banks," you might be tempted to turn away. Not because Disney has made a movie that would cast Tom Hanks as Walt Disney. (He's excellent, in fact.) But the whole concept of Disney (the studio) making a movie that featured Disney (the man) might seem, at the very least, self-serving and, at worst, grossly indulgent.
Stick with it, though.
In 1964, "Mary Poppins" was released theatrically and became the biggest box office hit of the year. It was a grand success that almost never happened because the book's author, P.L. Travers (played in "Saving Mr. Banks" by Emma Thompson), vehemently opposed almost everything Disney (the studio) and Walt Disney (the man) wanted to do with her beloved story. Travers fought unsuccessfully against the use of songs or animation in the film. At one point, Travers even went so far as to demand that the color red not be in the film. Anywhere.
"Saving Mr. Banks" is not so much a film about the making of "Mary Poppins" as much as it is a film about Walt Disney (Hanks) doing whatever he can to appease Travers in the hopes she will, eventually, trust him enough to sign over the rights to her beloved story so that a movie can be made.
The story actually shifts between Travers' interactions with Disney in the early '60s and Travers' childhood in Australia, circa 1907. The flashbacks are necessary to understand Travers' motives with Walt Disney, but, boy, does it soak the fun out of the movie. These scenes are fine (and Colin Farrell does a particularly great job as Travers' alcoholic father; never abusive, just a man with a terrible disease) but they do slow down the proceedings at Disney because the proceedings at Disney are just so darn entertaining.
Particularly entertaining is the group that Walt Disney taps to appease Travers -– namely her film's co-writer Don DaGradi (Bradley Whitford), and the songwriting brothers Richard and Robert Sherman (Jason Schwartzman and B.J. Novak, respectively). Whitford is a delight, dancing and shuffling his way through the role in an effort to do anything to make Travers happy. The Shermans almost act as a good cop/bad cop team, with Novak's Sherman eventually being sent out to the hallway for daring to defy Mrs. Travers. (Of note: Jason Schwartzman has played earnest characters in the past, but always with a dash of irony. I've never seen Schwartzman play a guy this earnest before, and he's actually really good at it.)
And then there's Tom Hanks as Walt Disney. I mean, look, there was no way Disney (the studio) was going to finance a movie that tarnished the legacy of its founder with anything that resembled some sort of true character study. But that's not the point here – even though Disney is a major presence in "Saving Mr. Banks," it's not a movie about Walt Disney. And, in fact, Hanks takes the Disney character farther than you might expect. We see Disney so frustrated by Travers that the shrewd businessman is portrayed using some fairly underhanded tactics to get his way. Disney even goes so far as to not invite the unpredictable Travers to the "Mary Poppins" premiere in an effort to "protect the movie." (In other words, if Travers hated the movie, there's a better-than-average chance that Travers would have told the press in attendance that she hated the movie.) And hey: We even see Walt Disney smoke! (Just once, but, still.)
The straightforward earnestness of "Saving Mr. Banks" is its greatest asset. It works tremendously. And it's smart enough not to get too bogged down with the flashbacks to Travers' alcoholic father – which, to be fair, does pay off eventually. But I did just find myself in those scenes thinking, "Why can't we just be spending more time with Thompson, Hanks, Schwartzman, Novak and Whitford?" Because that's the sweet part of the story. Then again, as the song says, a spoonful of sugar does help the story of a dying, alcoholic father go down.
Mike Ryan is senior writer for Huffington Post Entertainment. You can contact him directly on Twitter.
PHOTO GALLERY
Celebrity News & Photos