Huffington Post Gay Voices and RaiseAChild.US are collaborating in an 10-part "Let Love Define Family" series for November's National Adoption Month. Each series installment will introduce you to another aspect of fostering and adoption. Together we will meet foster youth, hear from culturally competent foster and adoption agency leaders, chat with cast members from the ABC Family television series "The Fosters," and celebrate LGBT parents and the successful and healthy families they create across the United States. -- Rich Valenza, RaiseAChild.US

The talented Sherri Saum stars as Lena Adams in the Jennifer Lopez produced television show "The Fosters," an ABC Family drama series featuring a multiracial two-mom family with biological, adopted, and foster children. The role has given her insight into the joys and heartaches faced by LGBT people who want to build their families through fostering and adoption. It also has increased her desire to encourage LGBT people to foster and adopt.
Sherri is an Emmy-nominated actress who has had starring roles on HBO, Showtime, and network series, as well as numerous guest appearances on awarding-winning shows. Earlier this year, Sherri volunteered to record radio and television public service announcements for RaiseAChild.US. This month, she recorded additional radio spots, including one in Spanish, to promote RaiseAChild.US adoption events for prospective parents. We caught up with Sherri between taping scenes of the winter season of "The Fosters," which premieres January 13 on ABC Family.
As a lead cast member, you play an extremely relatable character that just happens to be a gay parent. What have you learned -- in the process of playing that role -- that maybe surprised you about the experience of being a gay parent?
Sherri Saum: I didn't really have a preconceived notion when I began the role. A lot of people asked me, "How are you are going to prepare to play a lesbian mom?" and it struck me as a weird question. Playing the role of Lena, I just had to love Stef, Teri Polo's character, as I love my husband in real life and love the kids just as I love any kid in my life who I'm charged with caring for. It really brought home the fact that there really is no difference between gay parents and straight parents. There are some shades of difference, but the main fundamental things are just absolutely the same -- the frustrations and triumphs. It's never been more clear to me that it's absolutely absurd that gay people who want to adopt are met with any resistance.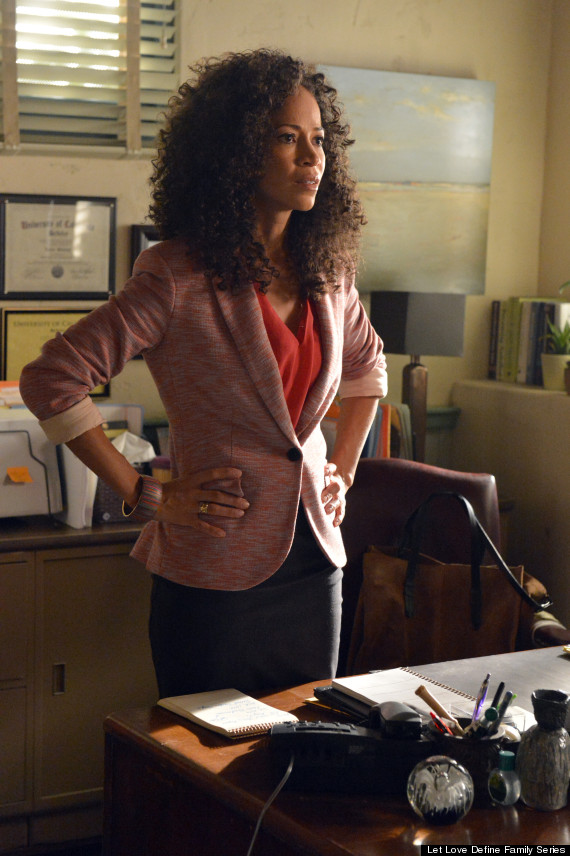 What assumptions or ideas did you have about foster care or foster kids before you got involved with "The Fosters"?
I had absolutely no initiation into this world. I grew up in an average middle-class family. I don't think I even knew any friends who were fostered or adopted. So this was a fresh education for me, and a really profound one at that. It just opened my eyes in so many ways. It even opened my heart to the point that at some point in my life I'd like to be a foster parent or find a way to help. It's easier than you might think to make a difference in a kid's life. There are no special requirements you have to have -- you just kind of have to love the kids and that comes naturally for me.
How have your ideas changed as you have progressed through the first season of "The Fosters" and begun taping the next season?
My level of understanding has definitely deepened and I'm really keenly aware that it's hard to be a kid no matter what your stage in life. But kids who are bisexual or gay, they really have a tough time when it comes bullying and just trying to get through school. Bullying is something that's really come to the forefront in my mind, about how devastatingly traumatic it can be for a kid who is going through gender identity issues. I think it's really important that the anti-bullying messages get into schools and become a staple in every school.
The show is immensely popular. What role do you think "The Fosters" has in changing the image of LGBT foster and adoptive parents in the U.S.?
I think that every time you bring a subject into the mainstream landscape of television, it can have a huge impact. Television is such an influential medium. From the feedback I'm getting, it's just been such a relief for LGBT parents and parents who are fostering and adopting to see themselves represented in a way that is realistic and not played for laughs or high comedy. It's realistic and shows their struggles and their similarities to straight couples raising kids. I'm sure it must feel really validating.
What would you like to say to LGBT people who are thinking of becoming parents through fostering and adoption?
My hope is that LGBT people who want to adopt might start feeling like the environment is becoming more hospitable and more open. I am very proud that "The Fosters" might have a small part in that.
Sherri, we at RaiseAChild.US want to thank you for your help and involvement with our "Let Love Define Family" Outreach Campaign for National Adoption Month.
You all are doing great work. It is my true honor and pleasure. Thank you!
Rich Valenza is the founder and CEO of RaiseAChild.US, a nonprofit organization that believes all children deserve a safe, loving, and permanent home. We educate and encourage the LGBT community to build families through fostering and adoption to answer the needs of the 400,000 children in our nation's foster care system. RaiseAChild.US works with foster and adoption agencies that have received training in LGBT cultural competence through the Human Rights Campaign Foundation's "All Children – All Families" initiative [link: http://www.hrc.org/resources/entry/all-children-all-families-about-the-initiative] and received its Seal of Recognition. RaiseAChild's National Adoption Month campaign includes special events for prospective parents in Chicago (November 18), Los Angeles (November 20), Kansas City (November 21), New York City (December 3), and San Francisco (December 5). To RSVP, visit www.raiseachild.us or email info@raiseachild.us.