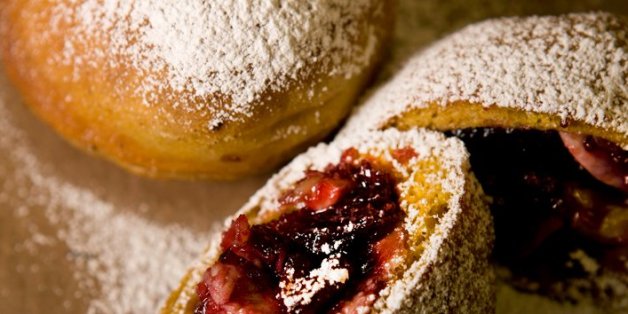 Combining Thanksgiving leftovers into a pile on one's plate is one of the highlights of post-holiday meals. Like the mix of cranberry sauce and mashed potatoes? Rock on. Enjoy eating your stuffing with Brussels sprouts? Get on with your bad self.
But Zucker Bakery, located in New York's East Village, has created a Thanksgiving combination that is both awesome and a little scary. Now you can order a donut stuffed with turkey.
There are two options available: a pumpkin donut with turkey and gravy or a pumpkin donut with turkey and cranberry filling. We've got to wonder -- why not go all the way and offer a pumpkin donut with turkey, gravy and cranberry?
The treat is in honor of the fact that Thanksgiving falls on the first night of Hanukkah (anyone else sick of the term "Thanksgivukkah" yet?) and donuts are often served during the Jewish holiday.
The treat is being nicknamed "stuff-ganiyot," a play on "suffganiyot," the Hebrew word for donut. At least that's better than "turdoughnuts."
[h/t Grub Street]
BEFORE YOU GO
PHOTO GALLERY
Wild Dunkin' Donuts Flavors