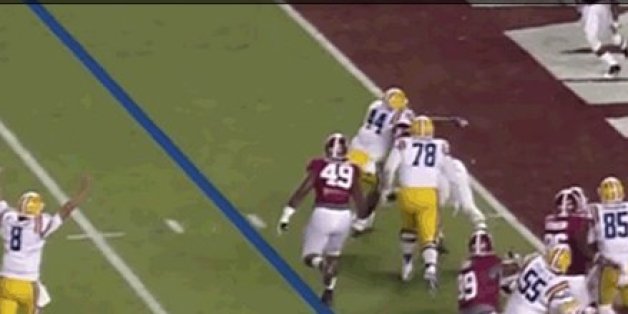 CBS announcers Gary Danielson and Verne Lundquist know what happens when LSU quarterback Zach Mettenberger assumes: Alabama forces a fumble to foil what seemed a sure touchdown run.
With LSU fullback J.C. Copeland a step away from barreling into the end zone in the first quarter at Bryant-Denny Stadium on Saturday night, Mettenberger raised his arms in celebration. While Mettenberger was getting slightly ahead of himself, Alabama linebacker Tana Patrick was getting to Copeland and punching the ball free. Alabama defensive back Landon Collins recovered the ball and LSU came up empty on its first trip int the red zone.
(GIF via @BuzzFeedSports)
"I know you're not supposed to assume things but Zach Mettenberger assumed a touchdown on this one," Danielson said during a replay of the turnover. "Verne, you know that word can be broken apart."
"Mmmmm-hmm," replied Lundquist." Nicely put. That was very subtle."
(GIF via @SBNation)
Thanks in part to plays like the one made by Patrick, Alabama had outscored its previous 6 opponents by a combined score of 151-0 in the 1st half entering this showdown with LSU, per ESPN Stats & Info.
BEFORE YOU GO
PHOTO GALLERY
PHOTOS: College Football Week 11