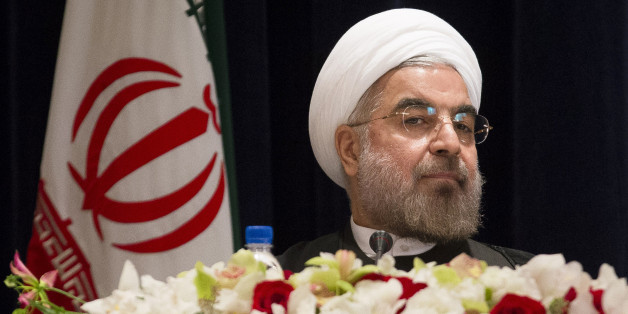 By Marcus George and Stephanie Nebehay
DUBAI/GENEVA, Nov 10 (Reuters) - President Hassan Rouhani, architect of Iran's diplomatic opening to world powers, said on Sunday it had "red lines" and would not bow to threats in an apparent bid to keep hardliners on side as Tehran edges toward a deal on its nuclear programme.
He was speaking to the Iranian parliament, a bastion of conservatives, a day after the Islamic Republic and the six powers narrowed differences at talks in Geneva and decided to resume them on Nov. 20 to try to defuse a decade-old stand-off and fears of a drift towards a wider Middle East war.
The sides seemed on the verge of a breakthrough - before cracks materialised among U.S. and European allies as France declined to endorse the proposal under discussion, believing it did not adequately neutralise the risk of an Iranian atom bomb.
French Foreign Minister Laurent Fabius told France Inter radio that Paris desired a nuclear settlement with Iran but could not accept a "fool's game" - in other words, a weak deal.
Diplomats said the main stumbling blocks included the status of Iran's Arak heavy-water reactor of potential use in making bomb-grade plutonium, the fate of Iran's stockpile of higher-enriched uranium - both acute issues for France - and the extent of relief from trade sanctions demanded by Tehran.
Israel, which calls Iran's nuclear drive a mortal threat, condemned the interim deal taking shape in Geneva as it would leave some of Iran's nuclear fuel-making capacity intact rather than dismantle it, while giving Tehran respite from sanctions.
Prime Minister Benjamin Netanyahu served notice that Israel would not feel bound by such a deal, unmistakably reiterating a veiled threat to take military action if it deems diplomacy to restrain Iran's nuclear ambitions a dead end.
Rouhani told the Iranian parliament that his negotiators had told their big power interlocutors in Geneva, "We will not answer to any threat, sanction, humiliation or discrimination."
He did not elaborate on his reference to threats against Iran, but Netanyahu's condemnation of the talks loomed large, as did the ideological resistance of Iranian conservatives to any mending of fences with the West.
By "discrimination" and "humiliation", he may have been alluding to pressure from hawks in the West for Iran to scrap its entire nuclear programme, which Tehran says is wholly peaceful in nature.
"The Islamic Republic has not and will not bow its head to threats from any authority," Rouhani said. "For us there are red lines that cannot be crossed. National interests are our red lines that include our rights under the framework of international regulations and (uranium) enrichment in Iran."
Netanyahu said on Sunday it was good that no deal with Iran was clinched at the weekend and that he had lobbied against scaling back sanctions by telling leaders: "What's the rush?"
But he said he recognised there was still "a strong desire" to reach an accord with Iran and promised an all-out Israeli effort to prevent "a bad agreement" - a stance that could cause more friction with Israel's main ally, the United States.
DIPLOMATIC OPENING FROM TEHRAN
The fact that any deal might be feasible after a decade of increasingly heated confrontation between Iran and Western powers, shows the striking shift in the tone of Iranian foreign policy since Rouhani's landslide election victory in June.
Rouhani, a relative moderate, opened diplomatic windows to a nuclear compromise to alleviate economic sanctions that have throttled the OPEC giant's lifeblood oil industry and cut it off from the international banking system.
He has won crucial public backing from Supreme Leader Ayatollah Ali Khamenei, Iran's ultimate authority, who - despite his profound suspicion of Washington - has warned hardline loyalists not to discredit the negotiating path.
Rouhani has repeated Iran's longtime insistence on a right to sovereign nuclear energy for peaceful purposes as a member of the Non-Proliferation Treaty.
Most diplomats concede that, since Tehran has expanded its nuclear capacity exponentially since 2006 and publicly equated the programme with national pride and progress, the time for demanding its total shutdown - although enshrined in several U.N. Security Council resolutions - has now passed.
The powers do remain concerned that Iran is continuing to amass enriched uranium not for future nuclear power stations, as Tehran says, but as potential fuel for nuclear warheads.
They are searching for a preliminary agreement that would cap Iran's nuclear capacity and open up the programme to U.N. anti-proliferation inspectors. In exchange, Tehran would obtain phased and initially limited relief from sanctions.
Under discussion is a temporary deal entailing a freeze to higher-grade uranium enrichment - which Iran bills as fuel for a medical research reactor but which is also potential material for bombs - lasting about six months.
During that time, Iran and the six powers would negotiate a permanent agreement aimed at ensuring that none of Iran's nuclear activities could be diverted towards bomb-making.
KERRY PLAYS DOWN TALK OF RIFT IN RANKS
Fabius's barbed remarks irked others in the Western camp. But U.S. Secretary of State John Kerry played down notions of a rift as the arduous negotiations ended late at midnight on Saturday, saying: "I think tonight there is a unity in our position and a unity in the purpose as we leave here."
A Twitter account Iran experts believe is run by the office of Khamenei criticised France on Sunday after Paris expressed reservations about the outline deal.
A message posted in English on the account @khamenei_ir said: "French officials have been openly hostile towards the Iranian nation over the past few years; this is an imprudent and inept move."
But British Foreign Secretary William Hague said on Sunday there was a good chance of the negotiations producing a deal within the next few weeks after making "a lot of progress".
"It is vital to keep the momentum... A deal is on the table and it can be done," he told the BBC, while noting that any deal would inevitably involve compromises that would not please all countries.
European Union foreign policy chief Catherine Ashton said senior foreign ministry officials from Iran and the United States, Russia, China, Britain, France and Germany would meet again on Nov. 20 to work on a deal.
"There is no question in my mind that we are closer now as we leave Geneva than we were when we came," Kerry told reporters, "and that with good work and good faith over the course of the next weeks, we can, in fact, secure our goal."
GAPS NARROWED, DIFFERENCES CLARIFIED
"We came to Geneva to narrow the differences and I can tell you without any exaggeration we ... narrowed the differences and clarified those that remain," he said.
Iranian Foreign Minister Mohammad Javad Zarif said he hoped an agreement would be signed later this month. "We had a very good three days, very productive three days, and it is something we can build on."
The latest talks began on Thursday and Kerry unexpectedly arrived on Friday to help bridge differences and secure an agreement. From the time he arrived in Geneva, Kerry played down expectations of a deal.
Fabius, Hague and counterparts from Russia and Germany, Sergei Lavrov and Guido Westerwelle, also attended, along with Chinese Vice Foreign Minister Li Baodong, demonstrating the sextet's commitment to striking a long-elusive deal.
"ON SAME WAVELENGTH"
Zarif, asked about the role Fabius played in the talks, did not criticise the French minister. "It was natural that when we start dealing with the details there will be differences of views and we expect it," he said. "I am not disappointed at all because the meeting we just had ... was a good meeting.
"I think we are all on the same wavelength and that is important and that gives us the impetus to move forward when we meet again next time."
One concession from the big powers under consideration is the disbursement to Iran, in installments, about $50 billion of Iranian funds blocked in foreign accounts for years.
Another step could be temporarily relaxing restrictions on precious metals trade and Washington suspending pressure on countries not to buy Iranian oil.
Negotiators have limited political room to manoeuvre as there is hard-line opposition to any diplomatic thaw both in Tehran - especially among its elite Revolutionary Guards and conservative Shi'ite clerics - and in the U.S. Congress.
Kerry appeared to respond to his critics in the U.S. legislature by saying, "This is an issue of such consequence that really needs to rise or fall on merits, not on politics."
(Additional reporting by Louis Charbonneau, Lesley Wroughton, Fredrik Dahl and Yeganeh Torbati in Geneva, William Maclean in Dubai; Editing by Mark Heinrich)
BEFORE YOU GO
PHOTO GALLERY
Iran Nuke Talks