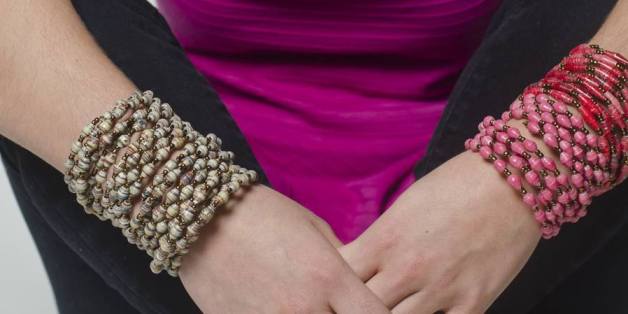 We love jewelry as much as the next girls, and we love it even more when there's a great backstory. (Why do you think thrift stores and flea markets are so popular?)
Our favorite new line comes from the Kwagala Project, an organization dedicated to empowering women victimized by human trafficking and/or the commercial sex trade. Through the Kwagala Project, trafficking survivors in Uganda are enrolled in a design school called Free Thereafter, where they learn the art of bead-making.
"Free Thereafter is teaching them something that's viable in their community," Kwagala Project's executive director Kristen Hendricks told HuffPost Style, "but also that we can leverage on our side," meaning it's something women will actually want to buy.
The priority when launching the jewelry-making program was always to keep style and wearability in mind. "We didn't want it to be like some of this jewelry you get when you travel, the kind of thing that's cool when you're there but then you bring it back and it doesn't translate back into your actual wardrobe," Hendricks told us (describing at least half the trinkets in our jewelry boxes). "This jewelry looks like it came from, say, Urban Outfitters, but it just has this awesome story behind it."
And it is a truly great story. The bead-making, an indigenous craft in Uganda, provides the girls and women who make them with a skill that they can take with them. "A lot of them have been in trafficking since they were young," Hendricks said, and they never had the chance to develop real, marketable skills. The jewelry not only gives them an income, but also sends money back into the Kwagala Project to support the organization's other efforts.
Plus, the stuff is really cute. Check out some of the accessories, including bracelets and headbands, and go to KwagalaJewelry.org to purchase.
PHOTO GALLERY
Kwagala Jewelry
Want more? Be sure to check out HuffPost Style on Twitter, Facebook, Tumblr, Pinterest and Instagram at @HuffPostStyle.