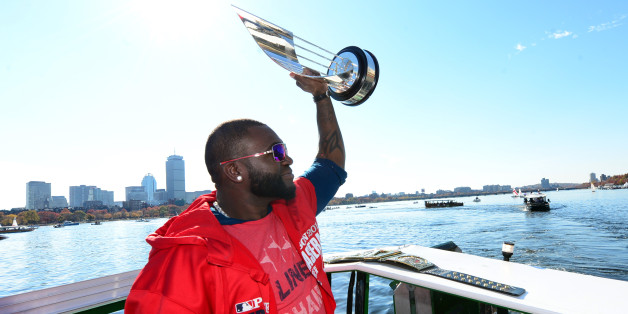 When the 2013 baseball season ended, slugger David Ortiz of the Boston Red Sox could quite easily have announced he was running for mayor of the city or governor of the state – and he might have been taken as seriously as the politicians holding those offices.
That is how big a name he has made for himself in a country where professional sports heroics sometimes transcends into American pop and political culture.
And Big Papi is not alone.
If switch-hitter Carlos Beltran had led the Cardinals to the World Series championship, he too might be the new spirit of St. Louis.
Or if the Dodgers had made it all the way to the Fall Classic and won, perhaps it would be Hanley Ramirez, Adrian Gonzalez, Juan Uribe or maybe even rookie sensation Yasiel Puig who could write his ticket in Los Angeles.
The fact that all those players are Hispanic is significant. For in almost every Major League Baseball city – Mariano Rivera and Robinson Cano in New York or Yoenis Cespedes in Oakland, for instance – the fan shout-outs that once might have hailed players with names like Mantle, Yastrzemski or Ripken were now calling out Spanish apellidos.
For this past season wound up being as historic as it was special: 2013 was the year of the Latino in baseball.
Latinos prominent in baseball
Latinos, of course, have been prominent in baseball since the 1990s when their ranks in the game grew from 13 percent at the beginning of that decade to 20 percent in six years — and reached 30 percent in 2006.
Those numbers leveled off to just under 30 percent today.
Within 10 years, former Chicago White Sox Manager Ozzie Guillen predicted in 2011, "American people are going to need a visa to play this game because we're going to take over."
If there was one incident this year that may have underscored that this was the season of the Latino, it came at the All-Star break when ESPN reporter Pedro Gomez interviewed ballplayers Melky Cabrera and Yoenis Cespedes in Spanish and translated their comments on the air.
Within hours, there was an explosion of complaints on Twitter, which lit up with criticism from viewers who demanded he speak English because "this is America."
This had not been the first time that Gomez has switched between Spanish and English during a television interview, but it had come before a record audience that transcended the borders of sports.
"If we are able to do something like this," said Gomez, defending foreign-born ballplayers who conduct their interviews in Spanish, "where we can hear their voice and then just do a quick translation for it, I've heard from so many people saying: What exactly is the harm?
"To expect somebody who has been here 18 months or 24 months to already be able to conduct an interview in front of millions of people in a language that's not theirs, I'd like to know if any of these people (critics of bilingual interviews) moved to Germany, in two years would they have German mastered? And I believe that the answer would be no."
Impact of Latinos
From the controversy over Spanish interviews during the All-Star break to leading their teams to the World Series, Latino players in 2013 made an impact like never before in the history of Major League Baseball.
But it was not all just in the drama of home runs and game-winning hits. This season also was filled with a year-long sentimental good-bye to Yankee pitcher Mariano Rivera, the widely beloved record holding closer who retired and is expected to be headed to the Hall of Fame in Cooperstown.
All of baseball, but especially the Yankees, showcased Rivera's final season, even honoring members of the Latino Baseball Hall of Fame and the Hispanic Heritage Baseball Museum Hall of Fame.
"These two great Hall of Fame institutions honor the rich history of our national pastime, with a particular focus on the undeniable impact of the Latino ballplayer," said Manuel Garcia, the Yankees' director of Latino Affairs.
And that impact, as big as it was this season will only increase in future years, according to people close to the game.
"We are currently in the golden age of the Latino impact in organized baseball," says Anthony Salazar, a Latino baseball historian and member of the Society For American Baseball Research. "We have nearly a third of all major league ballplayers being of Latin descent.
"And nearly half of all minor league players are of Latin descent."
Originally published on VOXXI as The year of the Latino in baseball
BEFORE YOU GO
PHOTO GALLERY
The Greatest Latino Baseball Players Of All Time