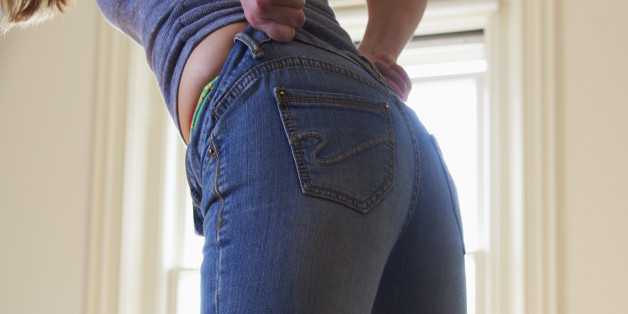 Step off the StairMaster, ladies: Alexandre Herchcovitch has introduced jeans that he claims will get rid of cellulite as you wear them.
Unveiled at the designer's winter 2014 show at Fashion Rio, Herchcovitch's "beauty denim" promises to turn your body heat into infrared rays to stimulate circulation. (Poor circulation is one of the main causes of the dreaded cottage cheese look.) The Brazilian brand now claims to have developed the "world's first anti-cellulite denim" after researching and testing its new technology for five years. Sounds like solar panels for your rear end, no?
Herchcovitch's claim will surely be met with skepticism, as many medical experts remain firm that no exterior cure exists to battle cellulite. "Realistically there is no cure for cellulite," Dr. Michael F. McGuire told the New York Times, discussing the many creams and other topical products on the market.
Despite the doubt in the medical world, the fashion industry has gladly hopped on the cellulite-fighting bandwagon, with Wrangler releasing moisturizing jeans earlier this year that supposedly fight cellulite (though the clinical testing required folks to wear them for four weeks straight for eight hours a day, five days a week). Similarly, Mohicano Jeans' "Denim Therapy" collection infused aloe vera right into the fabric to reduce the appearance of cellulite.
While none of the supposed cellulite-busting jeans have had enormous success rates, Herchcovitch's denim takes an entirely new approach, relying on heat technology -- not ingredients found in your typical anti-cellulite cream -- to stave off dimples. Think he's found the magic cure?
Cellulite shouldn't be your only concern...
Want more? Be sure to check out HuffPost Style on Twitter, Facebook, Tumblr, Pinterest and Instagram at @HuffPostStyle.