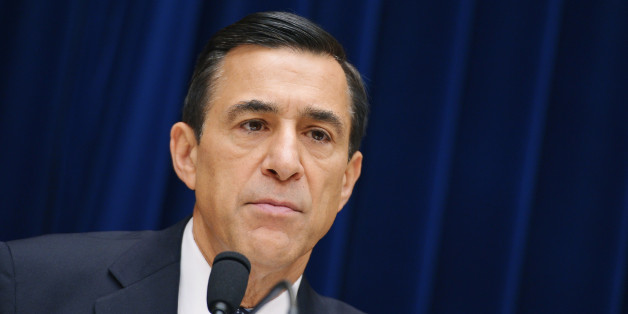 WASHINGTON -- The bid by Chairman Darrell Issa (R-Calif.) to compel the testimony of the top tech expert trying to fix the Obamacare website is sparking backlash from Issa's Democratic counterpart on the House Oversight and Government Reform Committee and from other experts in the technology community.
Issa wants U.S. Chief Technology Officer Todd Park to appear before his committee on Wednesday, so he subpoenaed Park last Friday night. The Obama administration had offered to send Park over to the Hill in a few weeks, but balked at the Wednesday hearing on the grounds that Park is deeply involved in fixing Healthcare.gov and that taking time out to prepare for and attend a congressional hearing would set back the effort.
On Monday, Rep. Elijah Cummings (Md.), the top Democrat on the Oversight Committee, pleaded for Issa to reconsider, saying that since the chairman was ignoring a "reasonable" offer to have Park testify in early December, his subpoena looked to be politically motivated.
"It appears that your subpoena to Mr. Park was part of a predetermined political strategy rather than a constructive effort to conduct responsible oversight," Cummings wrote to Issa in a letter co-authored by Rep. Gerry Connolly (D-Va.). "Unfortunately, rather than promoting improvements to the Healthcare.gov website, your subpoena could have precisely the opposite effect."
Park has also offered to brief committee members in a setting that requires less preparation and less time away from his top task than a full-blown hearing with official testimony.
In a letter to Park along with the subpoena, Issa said he found it unacceptable that Park had found time for a handful of press interviews but not for Issa's hearing.
"MIllions of Americans have lost their health insurance and are rapidly approaching a point where they must begin to prepare for the possibility of having no health insurance on Jan. 1, 2014," Issa wrote. "They deserve your sworn testimony before their elected representatives about what went wrong -- not simply media outlets that White House officials have deemed an appropriate use of your time away from working on the website project."
Issa's office did not respond to questions about why waiting a few weeks for Park to appear was unacceptable. A number of other administration officials are already scheduled to attend Wednesday's hearing.
Democrats have often accused Issa of political motivations in his investigations, but in this case, the tech-savvy Californian is also facing pushback from the tech sector, a community that generally has good relations with Issa but from which Park hails.
Clay Johnson, a former White House fellow who has been critical of the administration's health care efforts, has joined forces with two other former administration officials to start a website aimed at keeping Park on the job. It's called LetToddWork.org.
"Now, instead of continuing to fix Healthcare.gov (a mess he did not make), Mr. Park has to spend his hours preparing for his testimony," the group wrote.
Johnson went further in a Friday post on his Google page.
"Todd just got subpoenaed by Congressman Darrell Issa today and accused of lying to the [A]merican public. I don't believe Todd has the mental capacity to lie -- not because he isn't smart, but because he doesn't have the cognitive energy to expend on it -- he has better things to do," Johnson wrote.
"But the real shame of this, is that a member of Congress (and a chairman of a very important congressional committee) seemingly has a deep desire to get as close to the president as he can, so that he can mount a trophy on his wall, instead of being of service to his constituents and trying to make government more efficient, fix what's broken and solve problems," Johnson continued. "The spirit of Issa is one of politics and vengeance. This is what's wrong with Washington."
Michael McAuliff covers Congress and politics for The Huffington Post. Talk to him on Facebook.

BEFORE YOU GO
PHOTO GALLERY
Lies And Distortions Of The Health Care Debate