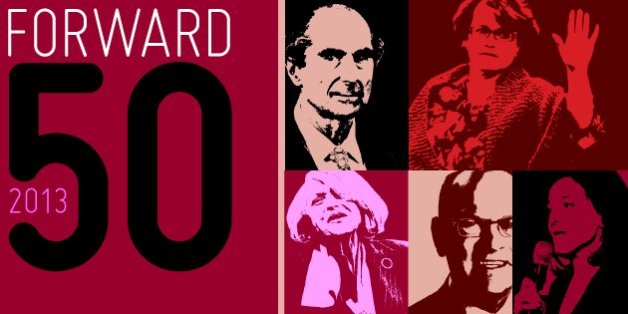 The Jewish Daily Forward just released its annual "Forward 50" list of newsworthy and notable Jews, with an additional "Plus" category to recognize the contributions of prominent non-Jews.
One of the names on the list this year is none other than Pope Francis, the global leader of the Roman Catholic Church.
The Forward cited Francis' outreach to the Jewish community, his clear denunciations of anti-Semitism, his intention of opening up the Church's Holocaust archive, and his plans to visit Israel as indications of significant change in the relationship between the Church and the Jewish world.
"It's a truism to say that Francis has the power to affect how more human beings view the Jewish people than any one else on earth. It's reason enough to take him at his word — and hold him to it," The Forward explained.
Angelina Jolie was the other public figure named in the "Plus" category, due to her courageous decision to undergo a preventative double mastectomy after testing positive for the BRCA gene mutation, which is disproportionally prevalent in people of Ashkenazi Jewish background.
The top five American Jews named by The Forward were Veronique Pozner, Edith Windsor, Philip Roth, Joseph Neubauer, and Sheryl Sandberg.
Veronique Pozner's 6-year old son, Noah, was the youngest victim of the Newtown, Conn. shooting in December 2012. In the midst of her grief, she became an advocate for gun control as well as a portrait of Jewish mourning.
Edith Windsor gained national attention for winning a Supreme Court suit which struck down the federal Defense of Marriage Act. After her partner Thea Spyer passed away, she was prohibited from the benefit of a tax exemption for surviving spouses, and filed suit to protest the unfair law. Her attorney, Roberta Kaplan, is also Jewish.
Acclaimed novelist Philip Roth announced his retirement in 2012, but the impact of his work will live on. During his career, he won the National Book Award, the PEN/Faulkner Award for Fiction, the PEN/Nabokov Award, th eMan Booker INternational Prize, and the PEN/Saul Bellow Award for Achievement in American Fiction.
Joseph Neubauer provided key financial support for the survey of American Jews done by the Pew Research Center. A lifelong businessman, he retired as CEO of Aramark in 20112. He has agreed to fund another Pew survey which will focus on Israeli Jews.
Sheryl Sandberg has become a household name in America for her simple phrase, "Lean in." With those words, she sparked a national conversation about family life, working women, and a new definition of success. She is the only woman to serve on Facebook's board of directors, and has inspired the creation of at least 10,000 circles of women who work together to support each other professionally.
BEFORE YOU GO
PHOTO GALLERY
Notable American Jews