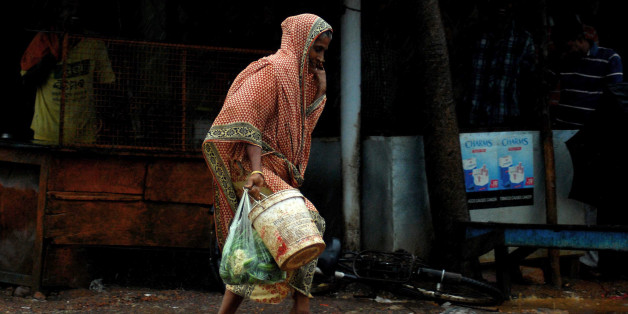 The writer is a student at the Asian College of Journalism in India. This article is part of a collaboration between The Huffington Post and journalism schools around the world.
CHENNAI, India -- Anuradha Basu could not leave her widowed mother, Sagarika, alone at her home in Kolkata after she was diagnosed with dementia in 2007. The progressive deterioration of Sagarika's brain affected her memory, language fluency and attention span.
As the months passed and the demands of her mother's failing health grew, Basu found herself grappling with a problem that confronts many Indian families: a stark shortage of services for people with dementia.
Today, more than 35 million people are suffering from dementia worldwide, Alzheimer's Disease International reported in this year's World Alzheimer Report. In India alone, there are 3.7 million patients with reported diagnoses of dementia, according to a 2010 report from the Alzheimer's and Related Disorders Society of India (ARDSI).
But there are only 18 ARDSI centers across seven Indian states, along with pockets of residential and institutional care. A few private facilities offer care to people diagnosed with dementia, such as the Dignity Foundation in Chennai and Nightingales Dementia Care center in Bangalore, the Silicon Valley of India. But these private locations often only cater to roughly 12 people at a time, so the number of people who can benefit is negligible compared to the number thought to suffer from the disease.
For what services do exist, the cost of formal care is formidable, and many in India can't afford it. The lack of sufficient services for dementia can lead to a fraying of family and social ties, or a member of a family being forced to stay home and informally care for his or her relative, also a heavy economic burden. According to the ARDSI, the societal cost of dementia in India was $3.415 billion (INR 147 billion) in 2010, with informal care accounting for 56 percent of the cost and direct medical costs for almost two-thirds of the total. The estimated total cost per person with dementia? $925 (INR 43,285).
But the government has yet to formulate a medical care policy for people suffering from long-term illnesses like dementia.
"There is a lot of negligence for dementia care in India and there are very few care centers," said Dr. Mohini Giri, former head of India's National Commission for Women. Giri chaired the National Policy For Senior Citizens report, published in 2011 by the Ministry of Social Justice and Empowerment. As a first step, Giri noted, the current minister of that department, Kumari Selja, has set up a council for the elderly.
"Through our national policy report we have tried to address the needs of senior citizens by recommending government social care, with the poor availing a heavily subsidized charge," Giri said. But, she continued, "We still have a long way to go in terms of dementia care."
In the meantime, people like Basu have often been left on their own.
Basu eventually brought her mother with her to Chennai, a coastal capital of the southern state of Tamil Nadu. She was shocked when she could not find a care center for her mother there; there weren't any specialized homes in the city, she said.
"I had to act fast as my mother's memory lapses became more frequent," Basu said. Sagarika seemed confused, restless and hyperactive, she recounted.
Basu then hired a home-nurse to take care of her mother, but said she was disappointed with the services.
"We had such a terrible time with these so-called professional help," she said. "I have had over 15 home nurses in a month and none of them took proper care of my mother. There were days when my mother was not given her medicines on time. On other occasions, she would wet the bed and the nurse would not have changed her."
Disillusioned by the lack of medical care and facilities, Basu decided to take care of her mother on her own.
"It was never easy. A lot of patience and time was needed. But I considered it my duty. She had done so much for me when I was a child, could I not do this much for her?" she reasoned. Basu's mother died in June 2010.
For Vasantha Ramaswamy, a schoolteacher, it is a struggle to take care of her 80-year-old husband, who was diagnosed with dementia six years ago.
"My husband was scared of being left alone. I am a teacher and he is a retired Integral Coach Factory employee. I found it very difficult to manage things. I could not leave my husband alone, nor could I let go of my job as we needed the money for the household," Ramaswamy said, in tears.
Her nephew suggested a day care center. It has been three months since her husband has started going to the Dignity Foundation in Chennai, which focuses on keeping patients like him active through exercises, games and other activities throughout the day.
"Dementia patients should never be left alone. They should always be kept active in some way or the other to avoid worsening their condition," said Dr. Sathianathen Ramanthan, secretary of the Madras Memory clinic and a senior member of the ARDSI's Chennai chapter.
Another problem Indians face is lack of awareness about the illness. Deepa Vijayan, a counselor at Dignity Foundation, said, "I have felt sorry for many patients. Their families know little about dementia and when elderly members show symptoms, they think they are going crazy."
This absence of understanding also extends to some doctors, Ramanthan noted.
"Even doctors have limited information about the disease and are unable to diagnose this illness early," she said.
Babu Varghese, a coordinator, research and development official of ARDSI's Kochi chapter, in the southwestern coastal state of Kerala, said cases are often in the later stages by the time people seek help.
"People approach residential care centers only when the patient is in an advanced stage of dementia," he said. "Each patient behaves differently, so the caregivers have to be very careful while looking after them."
The situation is likely to worsen even beyond India, according to the 2013 World Alzheimer Report, as the number of people with dementia worldwide is expected to double by 2030, and triple by 2050.
But India also struggles with cultural obstacles to improving care for those suffering from dementia. Institutional treatment is considered a taboo in India, as children do not want to be seen as abandoning their aging parents. Many even want to conceal the fact that their parents are suffering from dementia, at times preventing the patients -- and the families -- from getting the care they need.
Vijayan, the counselor at Dignity Foundation, described the feeling of many of the families impacted by dementia: "The simplest way out is to lock them up in their houses."