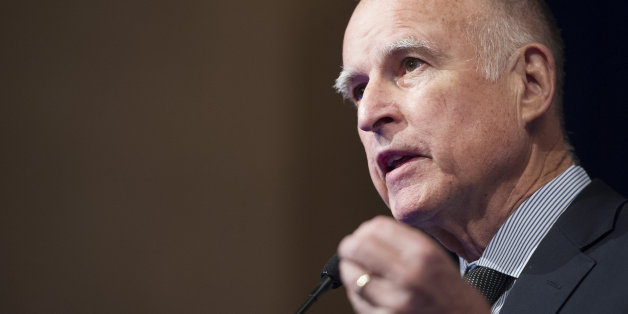 By Sharon Bernstein
SACRAMENTO, Calif., Nov 11 (Reuters) - Approval ratings for Democratic California Governor Jerry Brown are at their highest point since he took office, but that popularity may not translate into votes among independents in his bid for a fourth term next year, a new poll shows.
About 55 percent of Californians surveyed by the University of Southern California and the Los Angeles Times said they approved of Brown's performance, up from 50 percent in June and 49 percent about a year ago, the poll showed. (Poll: http://r.reuters.com/xyc64v)
Voters in the most populous U.S. state were split, however, on whether the 75-year-old deserves another term, with about a third in favor, a third opposed and another third undecided, the poll showed. Brown is widely expected to run in elections scheduled for next year.
"Democrats are going to support his re-election no matter what, and Republicans are equally likely to oppose it," said Dan Schnur, director of the USC/Los Angeles Times poll and the Unruh Institute of Politics at USC.
Independent voters in the state are conflicted, he said.
Brown has steered a centrist course since taking the helm in 2011 for a second stint as governor, after serving two prior terms from 1975 to 1983, despite near-complete Democratic domination of statewide political offices and majorities in both houses of the legislature.
He vetoed several tough gun control measures, and kept to a moderate course on other hot-button issues as well, nixing a proposal to allow non-citizens to serve on juries while supporting measures to allow undocumented immigrants to drive and practice law.
But that has not necessarily endeared him to the state's Republicans, who comprise about 30 percent of voters, the poll showed. Some 79 percent of Republicans thought the state was on the wrong track with Brown at the helm.
Only a third of voters surveyed said they would definitely or probably vote for Brown in 2014, the poll showed, roughly breaking along party lines, with independents more likely to be undecided. Among Democrats, 51 percent they would definitely or probably vote for Brown, while another 22 percent said it would depend on who was running against him.
But Schnur said that doesn't mean the governor is vulnerable to a Republican challenger.
"If the same question had paired Brown against a Republican challenger, we probably would have seen significantly different results," he said.
Not surprisingly, Brown's approval rating was highest among Democrats, 78 percent of whom liked the governor's performance.
The poll of about 1,500 registered voters included 442 Republicans, 661 Democrats and 325 who declined to state their affiliation. Another 75 were listed as "other." Interviews were conducted between Oct. 30 and Nov. 5, and the poll had a margin of error of 3.1 percentage points. (Reporting by Sharon Bernstein; Editing by Cynthia Johnston and Lisa Shumaker)
BEFORE YOU GO
PHOTO GALLERY
United States Governors