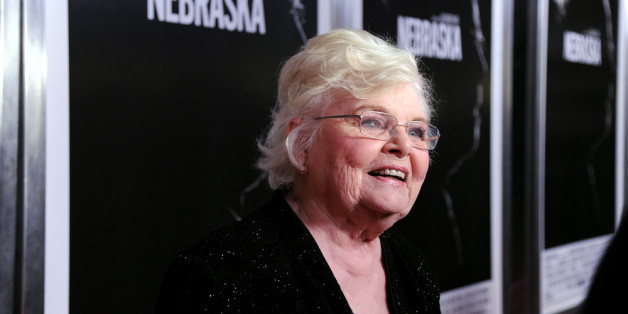 "Nebraska" star June Squibb celebrated her 84th birthday at Paramount's New York office on Nov. 6 with bread pudding and ice cream. "They do screenings and sometimes have lunches afterward," Squibb told HuffPost Entertainment. "Twice they had bread pudding, and they dragged me out before I could have any both times."
Fortunately for Squibb, there plenty more "Nebraska" screenings in her future -- and, perhaps, further opportunity to enjoy bread pudding. Alexander Payne's latest film ranks high on the list of this year's Oscar contenders, with Squibb in position to grab a nomination in the Best Supporting Actress category.
"Of course I think about it! I would be numb if I didn't," she said when asked about the growing awards buzz around her name. "It's terribly exciting. I love the film, I loved doing it, and I tell the producers all the time that we should do it again."
Written by Bob Nelson, "Nebraska" tells the story of Woody Grant (Bruce Dern), a Montana resident who thinks he won $1 million from a direct-mail sweepstakes and travels to Nebraska with his son (Will Forte) to collect the prize money. Squibb plays Grant's disapproving, loyal and loving wife, Kate.
"I knew this woman when I opened the script and started reading. I'm from a small town in Illinois, so I knew the Midwest really well," Squibb said of the role, which reunited her with Payne following the 2002 film "About Schmidt." (She played Jack Nicholson's onscreen wife in that film.) "I never thought of Kate in terms of my mother or aunts or anything like that when I was doing it, but when I first saw the finished film, I thought, 'My God, that's my mother up there.' I had become my mother."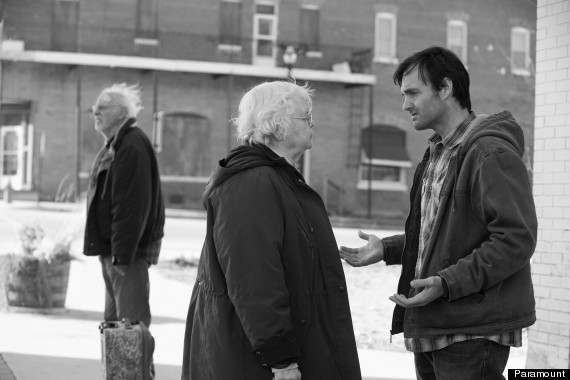 Dern, Squibb and Forte in a scene from "Nebraska."
Despite her Midwestern surroundings, Squibb always figured she would become an actor. "Truly from when I came out of the womb," she said of when her acting aspirations began. "I don't know what did it. Certainly not my family, or that part of the country. But I went to the movies. My early influence was film, but I never thought of myself working in film. I always thought of myself as being on stage."
After studying at the Cleveland Playhouse for five years, she came to New York in 1957 and didn't leave until 2011 (she now resides in Los Angeles). Over the years, Squibb starred in Broadway musicals, went on USO tours and even performed on cruise ships. ("We saw Asia!" she recalled with a bright smile.) She didn't appear on screen, however, Woody Allen cast her in "Alice"; Squibb was 55 when it was released in 1990.
"If I had become a film actress when I was very, very young, I would not have had the opportunity to do all these things that I did," she said of her career arc. "I just love the fact that I did them."
Since "Alice," Squibb has starred for directors like Martin Scorsese, Todd Haynes and Payne. She's also worked on television, having recently filmed guest spots on three series, including HBO's "Girls."
"Lena Dunham is amazing," Squibb said of the show's 27-year-old creator and star. "She is the boss. She did not write nor direct the segment I did, but she acted in it. We were together in the scenes. At her age, to be doing what she's doing, is just amazing. She's dear! She's a very dear young lady." Squibb will play Dunham's onscreen grandmother when the show returns for new episodes in January.
After that, though, it's more focus on the awards circuit, where Squibb could find herself competing with Oprah Winfrey, Lupita Nyong'o, Julia Roberts and Margo Martindale for Best Supporting Actress.
"Margo Martindale and I are neighbors from New York for almost 40 years," Squibb said of Martindale, who has a scene-stealing part in "August: Osage County." "She and I laugh about the awards. On the red carpet, I can wave at her. 'Hey, Margo!'"
As for what it's like to have Hollywood stand up and notice her after 84 years, Squibb is pragmatic and good-humored.
"I feel it's great that it has happened. As Alexander says, 'This is a bigger role, June!'" she said. "We laugh about that too; you have to, I think. I feel I've had breakout roles on stage. In a sense, there have been small ones on film, but nothing like this."
"Nebraska" is out in limited release on Nov. 15
PHOTO GALLERY
"Nebraska" Photos